Nicholas Temple is a Senior Professor of Architectural History at the School of Art, Architecture and Design. He is also the Director of the Centre for Urban and Built Ecologies (CUBE)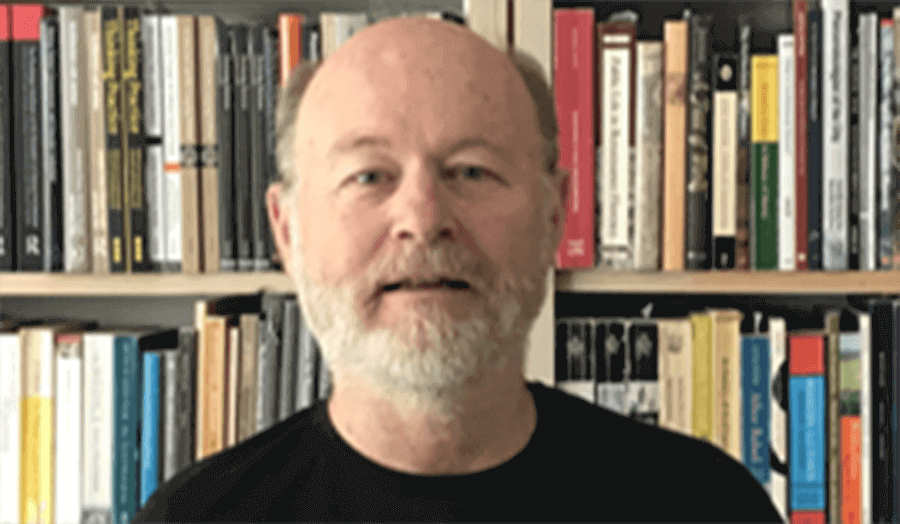 Nicholas Temple
Professor Nicholas Temple MA (Cantab) DipArch(Dist) PhD RIBA FRSA FRHistS FHEA.
Nicholas Temple is an Australian academic, a qualified architect, Senior Professor of Architectural History at our School of Art, Architecture and Design and Director of the Centre for Urban and Built Ecologies (CUBE). He was previously Professor of Architecture and Director of the Centre for Urban Design, Architecture and Sustainability (CUDAS) at the University of Huddersfield. A graduate of Cambridge University (Magdalene College), he previously served as head of the School of Architecture at the University of Lincoln and was an assistant professor of architecture at the University of Pennsylvania where he taught on the PhD programme.
Professor Temple was a Rome Scholar in Architecture at the British School at Rome, a Paul Mellon Rome Fellow, Bogliasco Architecture Fellow and has collaborated on research projects on the history and theory of architecture and urbanism in Europe and China. His most recent research is a British Academy funded project with Professor Cecilia Panti on Lorenzo Ghiberti's 3rd Commentary. He was shortlisted for the International CICA Bruno Zevi Book Award in 2014 for his book Renovatio Urbis: Architecture, Urbanism and Ceremony in the Rome of Julius II (Routledge, 2011), and was nominated for the Alice Davis Hitchcock Medallion 2020 (Architecture and the Language Debate: Artistic and Linguistic Exchanges in Early Modern Italy, Routledge, 2020) and the Colvin Prize 2020 (The Routledge Handbook on the Reception of Classical Architecture, edited by Nicholas Temple, Andrzej Piotrowski and Juan Manuel Heredia, Routledge 2019).
As chief editor of the Routledge Research in Architectural History series and co-editor of the Journal of Architecture, Professor Temple has been an invited and keynote speaker at conferences, symposia and public lectures in Europe, China, Australia, Russia and the USA.
As Director of the Centre for Urban and Built Ecologies (CUBE), Professor Temple's research interests span the history and theory of architecture and the city, mainly in Europe and China, with specific focus on relationships between culture, architecture, ritual and topography.
Through a broadly hermeneutical and phenomenological approach to history and the contemporary world, Temple's research strives to understand the role that architecture plays in defining our sense of order and place. He has published extensively on aspects of Renaissance and Early Modern Italy (Rome and Florence), Italian Fascism, Medieval architecture and iconography, the space of justice, Renaissance Humanism, theories of perspective, architectural drawing and globalisation.
A key concern in all his research is communicating similarities and differences between architectural traditions of the past and contemporary perspectives. More recently, Temple has focused on the vexed question of the meaning of nature as both a historic and contemporary issue, specifically in the context of the new climate 'regime'.
Professor Temple supervises PhD students, teaches on the undergraduate dissertation programme and has taught history, theory and design at undergraduate and postgraduate levels.
Authored Books
Nicholas Temple, 'Architecture and the Language Debate: Artistic and Linguistic Exchanges in Early Modern Italy', Routledge Research in Architectural History Series (Routledge, 2020)

Nicholas Temple, 'renovatio urbis: Architecture, Urbanism and Ceremony in the Rome of Julius II', Classical Tradition in Architecture Series, edited by Caroline van Eck (Routledge, 2011). Shortlisted for the CICA Bruno Zevi Book Award

Nicholas Temple, 'Disclosing Horizons: Architecture, Perspective and Redemptive Space' (Routledge, 2007)
Edited Books
'Routledge Handbook of the Reception of Classical Architecture', Routledge Handbook Series, edited by Nicholas Temple, Andrzej Piotrowski & Juan Heredia (Routledge, 2019)

'Bishop Robert Grosseteste and Lincoln Cathedral: Tracing Relationships between Medieval Concepts of Order and Built Form', edited by Nicholas Temple, John Hendrix & Christian Frost (Ashgate Press, 2014)

'The Architecture of Justice: Judicial Meanings in the Public Realm', edited by Nicholas Temple, Renee Tobe & Jonathan Simon (Ashgate Press, 2013)

'The Humanities in Architecture: A Contemporary and Historical Perspective', edited by Nicholas Temple, Soumyen Bandyapodhyay, Renee Tobe & Jane Lomholt (Routledge, 2010)

'Thinking Practice: Reflections on Architectural Research and Building Work', edited by Nicholas Temple & Soumyen Bandyopadhyay (Black Dog Publishers, 2007)
Book Chapters
(Forthcoming), Nicholas Temple, 'Lorenzo Ghiberti and Contested Views of Perspectiva in Renaissance Concepts of Space', in Arabic and Latin Science of Vision, and Renaissance Florence, edited by Cecilia Panti and Paravicini Bagliani (Florence: Micrologus, 2021)

(Forthcoming), Nicholas Temple, 'Remembering and Forgetting in Consumerism', in #TransActing: A Market of Values edited by Verina Gfader et al (Bristol: Intellect, 2020)

Nicholas Temple, 'Festa della Chinea: Tradition and the 'Exotic' in Roman Festival Design', in Architecture, Festival and the City, edited by Jemma Browne, Christian Frost and Raymond Lucas, Routledge, Critiques: Critical Studies in Architectural Humanities series (Routledge, 2019), pp.49-62

Yun Gao & Nicholas Temple, 'The Value and Meaning of Temporality and its Relationship to Identity in Kunming City, China', in Ancient and Modern Practices of

Citizenship in Asia and the West: Care of the Self, edited by Gregory Bracken (Amsterdam University Press, 2018), pp.193-218

Nicholas Temple, 'Envisioning Geometries: Architecture in the Grip of Perspective', in Visioning Technologies:The Architectures of Sight, edited by Graham Cairns (Routledge, 2016), pp.21-35

Nicholas Temple, 'Architecture as the Receptacle of Mitsein', in Intersections of Ethos and Space, edited by Nikolaos-Ion Terzoglou, Kyriaki Tsoukala & Charikleia Pantelidou (Routledge, 2015), pp.138-49

Nicholas Temple, 'Unfinished Architecture: Urban Continuity in the Age of the Complete', in Material Imagination: Reveries on Architecture and Matter, edited by Matthew Mindrup (Ashgate Press, 2015), pp.238-52

Nicholas Temple, 'Light and Procession: Bishop Grosseteste and the Ceremony of the Visitation,' in Nicholas Temple, John Hendrix & Christian Frost (eds.), Bishop Robert Grosseteste and Lincoln Cathedral: Tracing Relationships Between Medieval Concepts of Order and Built Form, Architecture (Ashgate Press, 2014), pp.29-55

Nicholas Temple, 'Plotting the Centre: Recto/Verso in Bramante's Drawing for the New St Peter's Basilica', in Recto-Verso: The Two Faces of the Sketchbook, edited by Nader El-Bizri, Douglas Gittens & Angela Bartram (Ashgate Press, 2014), pp.65-82

Nicholas Temple, 'Rites of Intent: The Participatory Dimension of the City', in Cityscapes: The Urban Experience, edited by Helen Toth and Katrina Gulliver (Ashgate Press, 2014), pp.155-78

Nicholas Temple, 'Changing Identities in the Oecumene: Geography and Architecture in the Greco-Roman World', in The Territories of Identity: Architecture in the Age of Emerging Globalisation, edited by Soumyen Bandyopadhyay & Guillermo Garma Montiel (Routledge, 2013), pp.3-18

Nicholas Temple, 'The Watchman in the Vineyard: Historical Traces of Judicial and Punitive Practices in Lincoln', in Architecture of Justice: Judicial Meanings in the

Public Realm, edited by Nicholas Temple, Renee Tobe & Jonathan Simon (Ashgate Press, 2013), pp.51-67

Nicholas Temple, Prologue: 'Cultivating Architecture', in The Cultural Role of Architecture, edited by Jane Lomholt, John Hendrix & Paul Emmons (Routledge, 2012), pp. xix-xxviii

Nicholas Temple, 'Gesture and Perspective in Raphael's School of Athens', in Renaissance Theories of Vision, edited by Charles Carmen and John Hendrix (Ashgate Publishers, 2010), pp.135-48

Nicholas Temple & Manwinder Lall, 'The Restorative Task of Architecture', in Thinking Practice: Reflections on Architectural Research and Building Work, edited by Nicholas Temple & Soumyen Bandyopadhyay (Black Dog Press, 2007), pp.94-109

Nicholas Temple, 'Julius II as Second Caesar', in Julius Caesar in Western Culture, edited by Maria Wyke, (Blackwell Publishers, 2006), pp.110-27

Nicholas Temple, 'Giants and Columns', in Primitive: Original Matters in Architecture, edited by Jo Odgers, Flora Samuel, Adam Sharr (Routledge, 2006), pp.139-49
Journal Articles
Nicholas Temple, 'Treading Water on (Un)Common Ground: Revisiting Mitsein', Journal of Civic Architecture, JoAC, Issue 3 (2019), pp.23-3

Yun Gao, Nicholas Temple and Yue Li, 'The Commercial Street as "Frozen" Festival: A Study in Chinese Mercantile Traditions', Architecture and Culture, Issue 3 (2018), pp. 411-21

Anom Rajendra & Nicholas Temple, 'Religious Ceremonies in Balinese Society: A Case Study of a Cremation Ritual in Tabanan', International Journal of Indonesian Studies, Volume 1, Issue 3 (2016), pp.5-22

Nicholas Temple, 'The Enigma of Pyramids: Measuring Redemption in Renaissance Rome', Chora 5: Intervals in the Philosophy of Architecture (2006), edited by Alberto Pérez-Gómez & Stephen Parcell, pp.309-38

Nicholas Temple, 'Baptism and Sacrifice: Cosmogony as Private Ontology', Architectural Research Quarterly, arq, Vol.8 (2004), pp.47-60

Nicholas Temple, 'Robert Grosseteste and the Architecture of Light', Architectural Theory Review, Vol.9. No.1 (2004), pp.1-18

Nicholas Temple, 'Conversion and Political Expedience: Imperial Themes in the Early Christian Baptistery', Annales del Instituto de Investigaciones Esteticas, No.80 (2002), pp.5-45

Nicholas Temple, 'Heritage and Forgery: Annio da Viterbo and the Quest for the Authentic', Public Archaeology, Vol.II, 3 (2002), pp.151-62

Nicholas Temple, 'From Marketplace to Non-Place: Questions of Cultural Atrophy', Urban Design Studies, Vol.7 (2001)

Nicholas Temple, 'History as Malady and Ontological Paradigm', Journal of Architecture, Vol.4, Spring (1999), pp.21-30

Nicholas Temple, 'The Hypnerotomachia Poliphili as a Possible Model for Topographical Interpretations of Rome in the Early 16th Century', Word and Image, Vol.14, 1/2, Jan-June (1998), pp.145-55

Nicholas Temple, 'Fashion, Fetish and the Historical Dimension', 1st edition of Stoa, EAAE Research Journal (1996). Awarded 2nd prize in '1995 European Writings in Architectural Education. pp.40-53
British Academy Sino-British Grant Award (£9,580): 'The Temporality of Building: Chinese Perspectives on Architecture and Heritage'. Yun Gao (PI), Nicholas Temple (CI), 2017
British Academy/Leverhulme Small Grant Award (£10K): Lorenzo Ghiberti's Commentarii III: Translation and Commentary. Nicholas Temple (PI) & Professor Cecilia Panti (CI), 2016.
Bogliasco Architecture Fellowship (Fall, 2018), Bogliasco Foundation New York, 'Architecture and the Language Debate: Artistic and Linguistic Exchanges in Early Modern Italy'
Paul Mellon Rome Fellowship 2012 (Yale Centre for British Art), 'Sir William Chambers' Grand Tour: Reconciling Orientalism and Classicism'
Paul Mellon Education Grant 2012 (£5K) - to fund international symposium At Lincoln Cathedral: 'Architecture and Cosmology: Bishop Robert Grosseteste and Lincoln Cathedral'
Shortlisted by the International Committee of Architecture Critics (CICA) for the Bruno Zevi Book Award 2014 – renovatio urbis: Architecture, Urbanism and Ceremony in the Rome of Julius II (Routledge, 2011
National Endowment for the Humanities funded Summer Institute in Rome (July-August 2015), invited collaborator 'Cicero and English Travellers amidst the Monuments of Rome', Director Dr Ronald Weber (University of Texas at El Paso) & Co-Director Dr Jessica Sheetz-Nguyen (University of Central Oklahoma)
RIBA Research Trust Award 2004 (£5K) - to fund research for book, 'Disclosing Horizons: Architecture, Perspective and Redemptive Space'
Stroud Bursary 2003 (Society of Architectural Historians of Great Britain): to fund costs of copyright of images for book 'Disclosing Horizons'
2nd Prize European Association of Architectural Educators (EAAE/AEEA) Competition on Writings in Architectural Education 1995 (Weimer, Germany), 'Architectural Education: Fashion, Fetish and the Historical Dimension'. 11. Rome Scholarship in Architecture 1986-88 (British School at Rome), 'The Symbolism of Baptism in Early Christian Architecture'
Selection
Chief Editor, Routledge Research in Architectural History Series (from 2016)
Co-Editor, Journal of Architecture (from January 2018)
Editorial Panel, International Journal of Applied Arts Studies (2016-2019)
Editorial Panel, Journal of Architecture and Urbanism (2014-2019)
UK Editor, Interstices: Journal of Architecture and Related Arts (2008 - 2014)
Member of the Bogliasco Foundation Fellowship Advisory Committee, NY (from 2019)
Member of the AHRC Peer Review College (from 2017) 8. Member of the Architectural Humanities Research Association Steering Group (from 2017)
Fellow of the Royal Historical Society (from 2016)
Fellow of the Higher Education Academy (from 2018)
Fellow of the Royal Society of Arts (from 2013) 11. Consultancy: New recording/sculpture studios, 17th century Convent, Tuscany. Sponsored by Universal Music (2019)
Selection
Keynote Speaker, International Symposium: Settled Topographies: From Gibraltar to the Ganges. Hosted by the Architectural and Cultural Heritage of India, Arabia and the Maghreb Research Centre, University of Liverpool, & Aga Khan Documentation Center, MIT. 'Migratio/Peregrinatio: Traversing the Mare Nostrum and the Levant'. University of Liverpool (July 2016)
Keynote/plenary speaker, International Conference: 'As Profundezas da Cidade/The Depths of the City', Gulbenkian Foundation, Lisbon (March 2020)
Keynote/plenary speaker, International Symposium: 'The Legacy of Fundamental Structures in Plato's Timaeus', Durham University Centre for Ancient & Medieval Philosophy (March 2018)
Shortlisted by the International Committee of Architecture Critics (CICA) for the Bruno Zevi Book Award 2014
Invited Speaker (with Yun Gao), 'Chinese and European Perspectives on Architecture and Heritage', Art History and Visual Culture Research Seminars, Exeter University (Nov. 2018)
Invited Speaker (with Yun Gao), 'Chinese and European Perspectives on Architecture and Heritage', Peter Blundell-Jones Memorial Lecture Series, Sheffield University (Feb. 2019)
Invited Speaker (with Yun Gao), 'Chinese and European Perspectives on Architecture and Heritage', University of Liverpool (March, 2019)
Invited Speaker, School of Architecture and Urban Planning, Beijing Jiaotong University China, 'The Reception of China in Baroque Europe: Language, Architecture and Landscape' (Nov. 2017)
Invited Speaker: 'Sustainable Heritage: Reflecting on the Past to Anticipate the Future?' Symposium and Opening of Exhibition 'Managing Heritage: Designing a Sustainable Future', Bonington Gallery, Nottingham Trent University, funded by the Sultanate of Oman (July, 2013)