Professor Ken White is a Professor of Molecular Biosciences for the School of Human Sciences.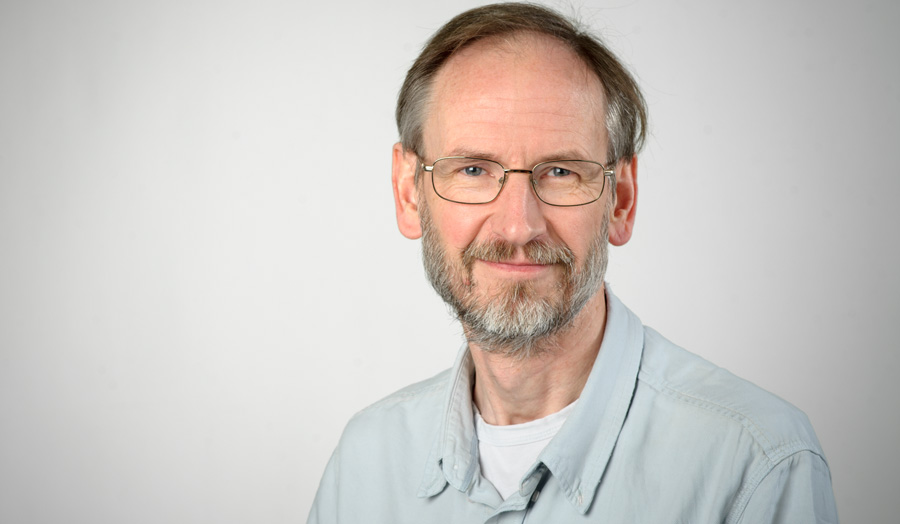 Dr Kenneth White
Biography
Kenneth White is a Professor of Molecular Biosciences and holds a DPhil Dip and BA.
Subject specialism
Molecular biology
Bioinformatics
Genomics
Professional activity
Member of the Biochemical Society
Teaching and research interests
Research interests
the role of ferroxidases in systemic iron homeostasis
anti-diabetic properties of fenugreek
electrospinning nanofibre biomaterials
Kenneth is also a member of the Molecular Systems for Health Research Group at London Met, a multi-disciplinary research group with expertise in chemistry, phytochemistry, pharmacology, molecular biology and genetics, focussed on strategic areas of analytical, diagnostic and therapeutic applications in biomedical science.
Publications
Haeri M R, Rahbani M, Ardekani M R S and White K N "The Effect of Fenugreek 4-Hydroxyisoleucine on Liver Function Biomarkers and Glucose in Diabetic and Fructose-fed Rats" Phytother. Res. 23, 61 – 64, 2009. (IF 1.746)
Yu D-G, Shen X-X, Branford-White C, White K, Zhu L-M and Bligh S W A "Oral fast-dissolving drug delivery membranes prepared from electrospun polyvinylpyrrolidone ultrafine fibers" Nanotechnology 20, 055104, 2009. (IF 3.317)
Xu Y, Zhang Z, Su S, White K N, Bligh S W A, Branford-White C J and Wang Z-T "Treatment with Qing'E, a Kidney-Invigorating Chinese Herbal Formula, Antagonizes the Estrogen Decline in Ovariectomized Mice" Revujenation Res. 13, 479 - 488, 2010. (IF 4.138)
Yu D-G, Gao L-D, Lu W-Y, Branford-White C, White K, and Zhu L-M "Multicomponent amorphous nanofibers electrospun from hot aqueous solutions of a poorly soluble drug" Pharm. Res. 27, 2466 - 2477, 2010. (IF 3.933)
Yu D-G, Branford-White C, Chatteron N P, White K, Zhu L M, Shen X X, Nie W "Electrospinning of Concentrated Polymer Solutions" Macromolecules 43, 10743 – 10746, 2010. (IF 4.539)
Yu D-G, Zhu L-M, Bligh S W A., Branford-White C, and White K N "Coaxial electrospinning with organic solvent for controlling the size of self-assembled nano-particles" Chem. Commun. 47, 1216 – 1218, 2011. (IF 5.504)
Haeri M R, Izadoost M, Ardekani M R S and White K "Improved Isolation of 4-Hydroxyisoleucine from Trigonella foenum graecum seeds". Chem. Nat. Compounds 47, 157-158, 2011. (IF 0.572)
Shen X-X, Yu D-G, Zhu L M, Branford-White C, White K, Chatteron N P, "Electrospun diclofenac sodium loaded Eudragit L 100-55 nanofibers for colon-targeted drug delivery" Int. J. Pharmaceut. 408, 200-207, 2011. (IF 2.962)
Yang Y-C, Crowder J,Wardle N J, Yang L, White K N, Wang Z-T, Bligh S W A "1H-NMR study of monocrotaline and its metabolites in human blood" Food Chem. Toxicol. 49, 2793-2799, 2011. (IF 2.602)
Yu D-G, Branford-White C, Williams GR, Bligh SWA, White K, Zhu L-M, Chatteron NP "Self-assembled liposomes from amphiphilic electrospun nanofibers" Soft Matter 7, 8239-8247, 2011. (IF 4.46)
Yu D-G, White K, Yang J-H, Wang X, Qian W, Li Y. "PVP nanofibers prepared using co-axial electrospinning with salt solution as sheath fluid" Materials Letters 67, 78-80, 2012. (IF 2.117)
Yu D-G, Branford-White C, Bligh SWA, White K, Chatterton NP, Zhu LM (2011) Improving Polymer Nanofiber Quality Using a Modified Co-axial Electrospinning Process. Macromol. Rapid Commun. 32, 744-750, 2011. (IF 4.365)
White KN, Conesa C, Sánchez L,Amini M, Farnaud S, Lorvoralak C, Evans RW. "The transfer of iron between ceruloplasmin and transferrins". Biochimica et Biophysica Acta 1820, 411-416, 2012. (IF 4.663)
Haeri MR, Khalatbari Limaki H, Branford White CJ, White KN "Non-insulin dependent anti-diabetic activity of (2S, 3R, 4S) 4-hydroxyisoleucine of fenugreek(Trigonella foenum graecum)in streptozotocin-induced type I diabetic rats" Phytomedicine 19, 571-574, 2012. (IF 2.662)
Pan X, Hartley JM, Hartley JA, White KN, Wang Z, Bligh SWA. "Evodiamine, a dual catalytic inhibitor of type I and II topoisomerases, exhibits enhanced inhibition against camptothecin resistant cells." Phytomedicine 19, 618-624, 2012. (IF 2.662)
Kazemain H, White K, Palmer-Brown D, Yusuf SA. "Applications of Evolutionary SVM to Prediction of Membrane Alpha-Helices" Expert Systems With Applications 40, 3412-3420, 2013. (IF 2.203)
Yan J, White K, Yu D-G, Zhao X-Y. "Sustained-release multiple-component cellulose acetate nanofibers fabricated using a modified coaxial electrospinning process" J Material Sci 49, 538-547 2014. (IF 2.163)
Kazemian H, Yusuf SA, White K "Signal peptide discrimination and cleavage site identification using SVM and NN" Computers in Biology and Medicine 45, 98-110, 2014. (IF 1.162).
Yu D-G, White K, Chatterton N, Li Y, Lia L, Wang X. "Structural lipid nanoparticles self-assembled from electrospun core-shell polymeric nanocomposites". RSC Advances, 5, 9462-9466, 2015. (IF 3.708)
Chen G, Xu Y, Yu D-G, Zhang D, Chatterton N, White K "Structure-tunable Janus Fibers Fabricated Using Spinnerets with Varying Port Angles" Chem Comm 51, 4623-4626, 2015. (IF 6.718)
Contact Dr White