Professor Elizabeth Opara
Professor Opara joined London Met as Head of the School of Human Sciences on 1 October 2020.
She is committed to enhancing the student experience and working with her staff to identify opportunities for staff development and progression.
She has mentored both staff and students and has contributed to scholarly work on the experience of black female academics working in the UK.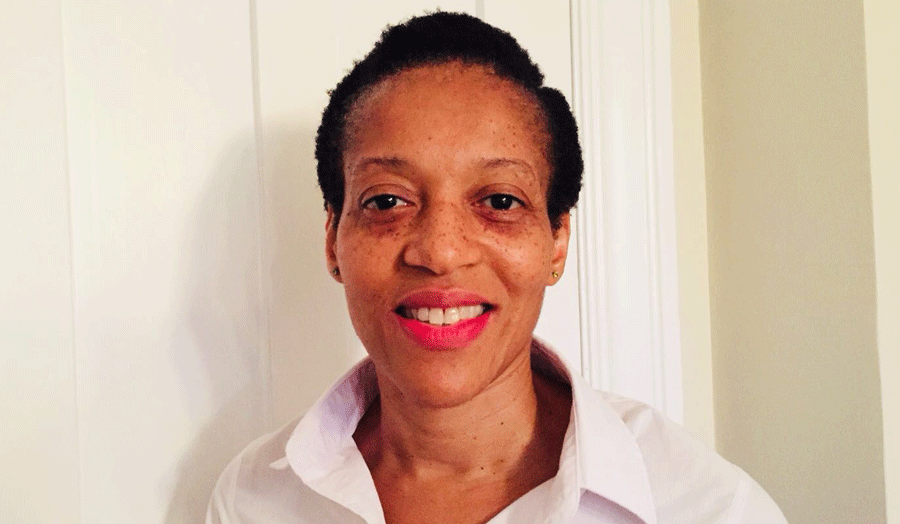 Professor Elizabeth Opara
Elizabeth has a Medical Biochemistry BSc (Hons) degree from Royal Holloway College (University of London) and a Biochemistry (with a focus on nutritional biochemistry) DPhil degree from Oxford University.
Prior to joining London Metropolitan Univeristy, Elizabeth was Head of Applied and Human Sciences at Kingston University. During her time at Kingston, she led her team to achieve excellent outcomes including delivering strong results in the National Student Survey (NSS), narrowing the degree-awarding gaps and strengthening the links and engagement with employers which contributed to improvements in student employability, student progression and the student experience overall.
The primary focus of Elizabeth's research is the bioactive properties of plant-derived foods, particular culinary herbs and spices, medicinal plants.
Publications (peer reviewed articles) (since 2011)
Moses K. Langat, Ncoza C. Dlova, Lauren E. Mulcahy-Ryan, Sianne L. Schwikkard, Elizabeth I. Opara, Neil R. Crouch, Jacob D. Hiles, Dulcie A. Mulholland (2021) The effect of isolates from Cassipourea flanaganii (Schinz) alston, a plant used as a skin lightning agent, on melanin production and tyrosinase inhibition. Journal of Ethnopharmacology, 264: 113272. Available online
Dieudonné M. Takou, Alain F. Kamdem Waffo, Moses K. Langat, Jean D. Wansi, Lauren E. Mulcahy-Ryan, Sianne L. Schwikkard, Elizabeth I. Opara, Eduard Mas-Claret and Dulcie A. Mulholland (2019) Non Toxic Melanin Production Inhibitors from the West African Cassipourea congoensis. Planta Medica International Open, 6(02), e50-e56. ISSN (online) 2199-157X. Available online
Moir, Hannah J., Kemp, Rachael, Folkerts, Dirk, Spendiff, Owen, Pavlidis, Cristina and Opara, Elizabeth (2019) Genes and elite marathon running performance: a systematic review. Journal of Sports Science & Medicine, 18: 559-568. Available online
Opara, Elizabeth I. (2019) Culinary herbs and spices: what can human studies tell us about their role in the prevention of chronic non-communicable diseases? (Peer reviewed invited Perspective) Journal of the Science of Food and Agriculture 99(10): 4511-4517.
Jaksevicius, Andrius, Carew, Mark, Mistry, Calli, Modjtahedi, Helmout and Opara, Elizabeth I (2017) Culinary herbs and spices: an investigation of their effect on the growth of, and COX-2 expression in, HCA-7 colorectal cancer cells. Nutrients, 9(10), ISSN (online) 2072-6643. Available online
Sianne Schwikkard, Alaa Alqahtani, Walter Knirsch, Wolfgang Wetschnig, Andrius Jaksevicius, Elizabeth I. Opara, Moses K. Langat, and Dulcie A. Mulholland (2017) Phytochemical Investigations of Three Rhodocodon (Hyacinthaceae sensu APG II). Species Journal of Natural Products 80(1): 30-37.
Opara, Elizabeth I. and Chohan, Magali (2014) Culinary herbs and spices: their bioactive properties, the contribution of polyphenols and the challenges in deducing their true health benefits. International Journal of Molecular Sciences, 15(10), pp. 19183-19202. ISSN (print) 1422-0067. Available online
Chohan, Magali, Naughton, Declan P. and Opara, Elizabeth I. (2014) Determination of superoxide dismutase mimetic activity in common culinary herbs. SpringerPlus, 3(578), ISSN (print) 2193-1801 Available online
Baker, I., Chohan, M. and Opara E.I. (2013) Impact of cooking and digestion, in vitro, on the antioxidant capacity and anti-inflammatory activity of cinnamon, clove and nutmeg. Plant Foods for Human Nutrition 68: 364-369 Available online
Chohan, M, Naughton, D.P, Jones, L and Opara, E.I. (2012) An investigation of the relationship between the anti-inflammatory activity, polyphenolic content and antioxidant activities of cooked and in vitro digested culinary herbs. Oxidative Medicine and Cellular Longevity 2012, 627843. Available online
Books and book chapters (since 2011)
Opara, E. I., Chohan, M. Culinary Herbs and Spices: a Global Guide. Royal Society of Chemistry. Available online
43. Opara, E. Addressing barriers to STEM for young Black women through mentoring. In Transforming the Ivory Tower: Models for gender equality and social justice. Ed Deborah Gabriel (2020) pp 35-48. UCL IOE Press.
44. Opara, E. The Transformation of my Science Identity. In Inside the Ivory Tower: Narratives of Women of Colour Surviving and Thriving in British Academia. Eds Deborah Gabriel & Shirley A. Tate. (2017) pp 124-135. UCL IOE Press.
Professor Elizabeth Opara
Head of the School of Human Sciences
Email Elizabeth