Young entrepreneurs tackle London Met's Big Idea bootcamp challenge
Hundreds of young entrepreneurs took part in London Met's Big Idea bootcamp day ahead of the grand finale on Thursday 7 May.
Date: 21 March 2019
Hundreds of teenagers from across London gathered at NatWest's headquarters in Bishopsgate to take part in London Metropolitan University's Big Idea Challenge bootcamp day on Thursday 7 March.
The Big Idea Challenge, which is run by London Met's business incubator Accelerator, is a business competition which aims to spark an entrepreneurial interest in budding young business people.
With teams from schools across from London, the competition is one of the University's biggest annual events.
Innovating to support dementia care
The Windsor Boy's School is one of the schools taking part this year. The team has entered their idea of 'Smart Mirror,' a mirror which is programmed to help people with dementia remember to take their medication at the correct times.
Jamie Cissell, a student from The Windsor Boy's School, said: "Our idea came from the fact that my dad runs a care agency and has clients with dementia. I've seen first-hand the situations he deals with and thought about how we can take this further.
"Our smart mirror product aims to help people with dementia remember their day-to-day activities, as a mirror is the first and last thing you look at each day.
"London Metropolitan University's Big Idea Challenge has been really fun, and our mentor has been really helpful. We've been encouraged to think more and put our idea into real life."
Schools from 13 boroughs across London are taking part in the competition this year.
Each of the teams will now work with London Met's Widening Participation team to strengthen and develop their idea and work on pitching skills. The pitches will be filmed later in March and formally submitted for judging. The winner will be announced at an awards ceremony held at the Royal Institution on 2 May. The winners will receive access to Accelerator and the services they offer which include building a website for the business, financial support, and marketing and PR experts.
Nick Howe, Big Idea Challenge judge and NatWest Regional Enterprise Manager, said: "I was very impressed by the great ideas presented today. NatWest invests a huge amount of resources in the start-up industry because we recognise the benefits not only to the business community, but also to wider society through the creation of jobs, economic growth, and teaching young people the skills they need to thrive.
"The hard work and creativity displayed by all the young entrepreneurs involved in the challenge has been very inspiring to witness and gives me the utmost confidence that the future of London business is in safe hands."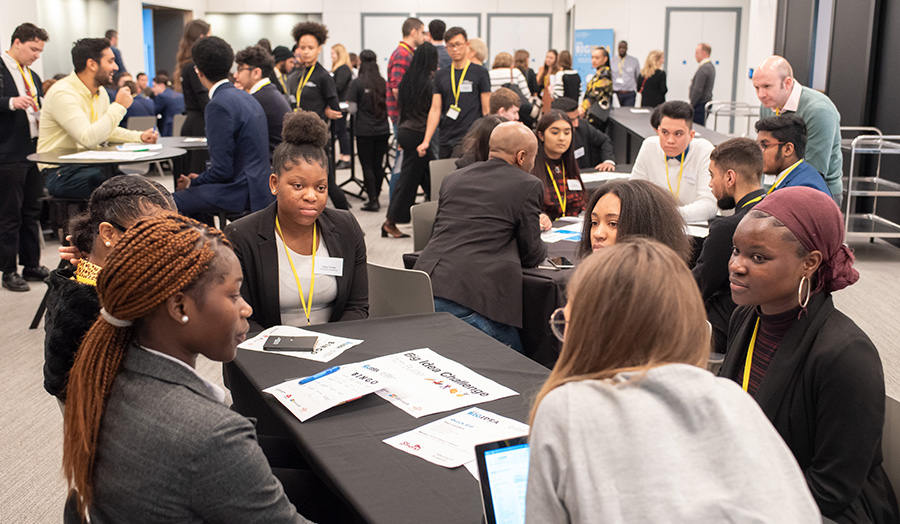 The Big Idea Challenge for Schools and Colleges is a business competition run by Accelerator, London Met's business incubator, and the University's Widening Participation team. The competition runs parallel to the University's competition which is open for students, staff and alumni.
A full list of schools which took part in the Bootcamp day are:
Brooklands College
Christ the King Academy
City of Westminster College
INTO London World Education Centre
Isleworth and Syon School
Leyton Sixth Form
New City College (Hackney campus)
New City College (Redbridge campus)
Newham Sixth Form
Norlington School for Boys
St Mark's Academy
Waltham Forest College
The Windsor Boys' School
Harris Academy Battersea
Ealing Hammersmith and West London
The winner and runner up will be announced at the Royal Institution on Thursday 2 May.