Free set design workshop at the Geffrye Museum
Free set design workshop at the Geffrye Museum of the Home for year 12/13 students.
Have you ever noticed how the spaces we live in both reflect and shape our identities, as well as tell a story about our lives? Animators and filmmakers go to great lengths to research and design sets that not only create an atmosphere but also tell stories about different kinds of people, places and periods in history.
Architects also pay great attention to how spaces can be used to tell a story, from grand imperial buildings covered in mythological sculptures and frescos to more modern structures that are designed to encourage the way we interact with the spaces and one another in new ways.
In this one-day workshop, you'll have the opportunity to view a range of work by animators, filmmakers and architects that will inspire you with a range of methods to recreate one of the rooms in the Geffrye Museum of the Home. Working with bricolage techniques (found objects and packaging), participants will build set designs quickly, focusing on the qualities of the materials. These will then be lit, filmed, edited and screened the same day.
All participants will be invited to a public exhibition of their work alongside the work of BA and MA animators at the Cass Summer Show at London Metropolitan University in Aldgate East (running daily Monday to Friday from 9 to 18 June, 10am to 5pm).
For further information please contact Kelly Robinson at the Geffrye Museum on KRobinson@geffrye-museum.org.uk.
Image: Animation set design
Recreated from the 1935 living room at the Geffrye Museum of the Home by John Taber, BA (Hons) Animation, The Cass School of Art, London Metropolitan University (2015)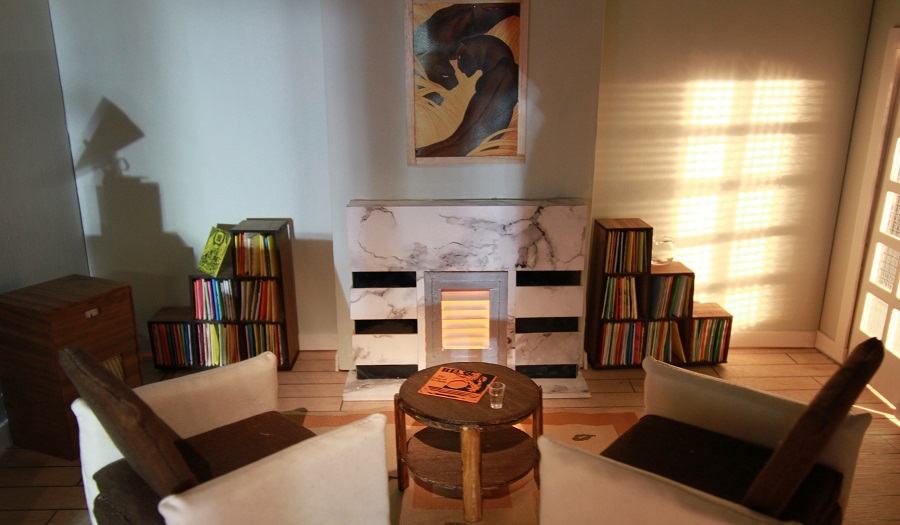 Event details
| | |
| --- | --- |
| Venue | Geffrye Museum of the Home |
| Date | 8 June |
| Time | 10am to 4pm |
| Cost | Free |