The Cass 'Best in Show' showcased at the London Design Festival
Sixteen recent graduates from The Cass are taking their final projects to TENT London, part of the internationally renowned London Design Festival.
Date: 23 September 2015
Sixteen graduates from the Sir John Cass Faculty of Art, Architecture and Design are presenting their work at TENT London showing highly acclaimed furniture, jewellery, metal work, textiles, graphics and interiors works.
The designers work was deemed 'Best in Show' at The Cass's 2015 Summer Show and has been selected to represent the faculty at the international design festival, providing a springboard for the young designers.
TENT is the flagship show at London Design Festival, with a reputation for presenting world-leading international design together with the freshest new and up and coming talent.
The emerging designers presented at TENT launch their careers to the public, alongside established brands, cutting-edge creative enterprises and innovators.
Three furniture makers from The Cass present their work. Tim Summers was awarded the Derek Austin second prize win from The Worshipful Company of Upholders 2015 for his 'Flip Desk + 'Loop' Lamp'. Matteo Pacella presents his 'Fulvio Chair', winner of KPMG Corporate Social Responsibility Department Award and Ray Gonzalez Brown shows 'under the floorboards' his collection of tables with hidden compartments, made from old floorboards which won the KPMG Corporate Social Responsibility Department Award.
Textile designer Majeda Clarke, National Finalist in the Bemz for IKEA Design Award and selected by Heals for a Textiles Collaboration presents her printed fabrics and graphic designer Luke Fairhead, Shortlisted by RSA Student Design Awards 2015 presents his illustration work.
Jewellers Kiki Tang, winner of the British Jewellers' Association Award, Third Place 2015 exhibits her delicate nature inspired collection. Roxanne Reynolds who received a 'Highly Commended' mention for her body of work by the British Jewellers Association, 2015 shows her Egyptian inspired pieces. Frances Gould, winner of "@Work Gallery Award" and a receiver of the Certificate of Merit from the British Jewellers' Association presents her series of jewellery inspired by transport, made out of rubber.
To see this and work from other Cass graduates visit TENT London at the Old Truman Brewery from 24-29 Septemer.
To find out more about studying at The Cass click here.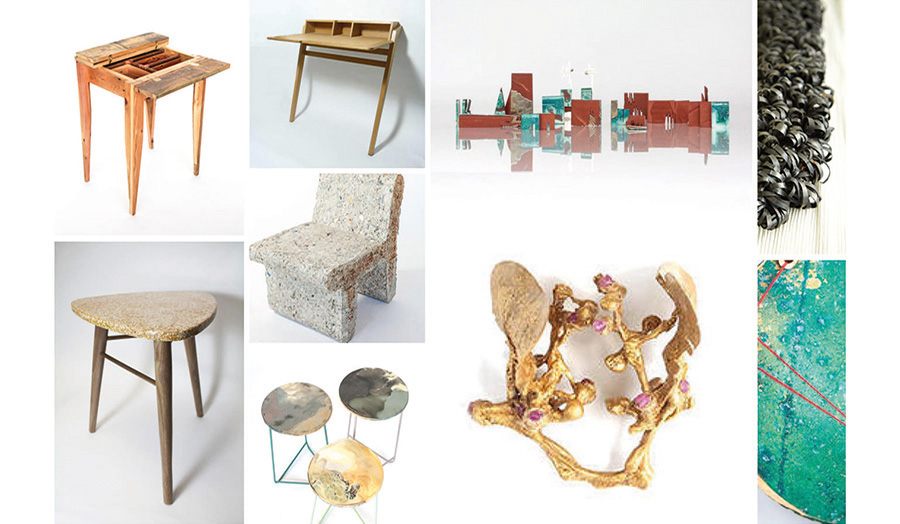 TENT London, 24 – 27 September 2015
Old Truman Brewery
Hall T1 / Stand E14
Hanbury Street
London, E1 6QR