Cass BA (Hons) Fine Art Student Adam Wallace has been selected for inclusion in this year's Bloomberg New Contemporaries Exhibition
Date: 7 May 2014
Cass BA (Hons) Fine Art Student Adam Wallace has been selected for inclusion in this year's Bloomberg New Contemporaries Exhibition
New Contemporaries is the leading UK organisation supporting emergent art practice from British Art Schools. Since 1949 New Contemporaries has consistently provided a critical platform for new and recent fine art graduates primarily by means of an annual, nationally touring exhibition. Independent of place and democratic to the core, New Contemporaries is open to all.
One of only two open exhibitions in the UK, participants are selected by a panel comprising influential art figures including curators, writers, and artists often who have themselves previously been a part of the New Contemporaries, and a rigorous process that considers the work within a broad cultural context. This year's selection panel are Marvin Gaye Chetwynd, Enrico David, and Goshka Macuga.
The public of Whitechapel will be familiar with Adam's sometimes grotesque work as it was presented last year on huge vinyls outside The Cass' Central House while building work was underway.
Talking about his success, Adam said, "I'm extremely excited at being selected for the New Contemporaries and I hope that it will be the break I need to kickstart a successful career as a practising artist.
I'd also like to pay compliments all of the fine art tutors at the Cass, without whom I would never have achieved this. In particular I would like to express my deep gratitude to Andrew Hewish, whose encouragement and attention whilst I was participating in his Contemporary Line and Multivalent Practice studio allowed me to discover the possibilities of my figurative practice, and produce five out of the six pieces selected by the New Contemporaries' judges.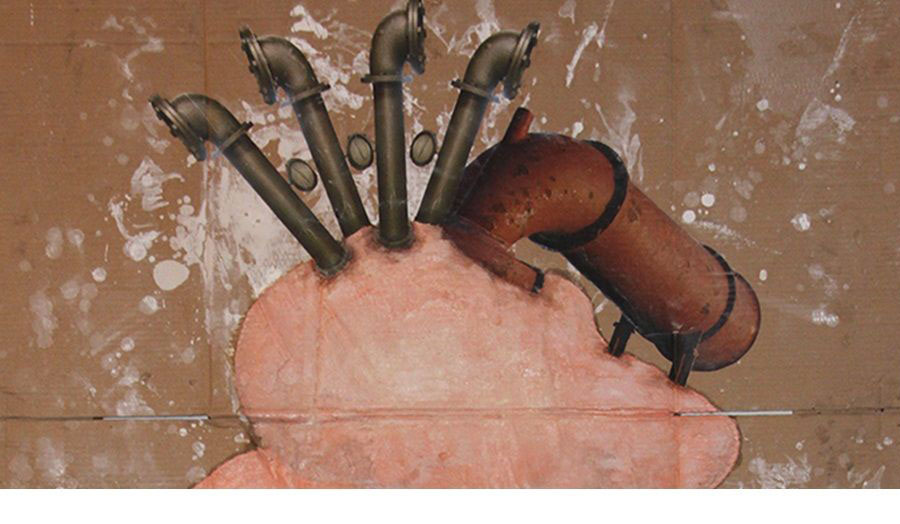 News details
Exhibition: World Museum Liverpool, ICA, London
Date: 20 September - 26 October 2014, 26 November 2014 - 25 January 2015
Website: newcontemporaries.org
Images