Solo exhibition by Cass Fine Art alumna on memory, nostalgia, myth and narrative.
Strange Lands at 5th Base gallery is a solo exhibiton by Dolores De Sade, an alumna of BA Fine Art (Printmaking) at The Cass.
Following 18 months of residencies in Japan, Thailand and USA, Dolores de Sade is returning to London with this solo exhibition. Drawings and ikebana created on these travels will be presented for the first time in the UK.
Primarily focused on landscape, de Sade's work is concerned with memory, nostalgia, myth and narrative. Travelling through vastly different terrains, both physically and culturally, this exhibition will explore the human connection to landscape, and the views and objects that are held as examples of such. Romantic landscapes are deconstructed by the artist as authoritative models of beauty and sublimity. Yet, these are uncanny visions of low life elevated as high art. De Sade's beautiful, Arcadian views are not set in the classical past; they represent prosaic modern subjects: motorway and A-road verges, concrete edifices and steel totems.
In the context of modern industrialisation, the artist questions what landscape means to us today and how it is distilled through popular media and cultural artifacts.
Dolores de Sade studied Fine Art and Printmaking at the Sir John Cass School of Art and the Royal College of Art and holds a PhD in History from the University of York. She has exhibited widely in the UK and internationally. In 2011 she was the recipient of the Birgit Skiöld Memorial Trust Award and the Royal Academy's British Institution Award. She was Chair of East London Printmakers and is an active member of the Royal Society of Painter-Printmakers. Her work is held in the Victoria and Albert Museum, the Royal College of Art, Ashmoleum Museum, British Museum and the Government Art Collection, as well as public and private collections in China, Japan, USA and Thailand.
Her work also features the group exhibitions Off the Wall at Bankside Gallery London August 11th-September 10th 2017 and in IX International Engraving Exhibition, Santa Maria Della Pietá, Cremona, Italy, September 24 - October 29, 2017.
Image: Chang Klan Road (Detail)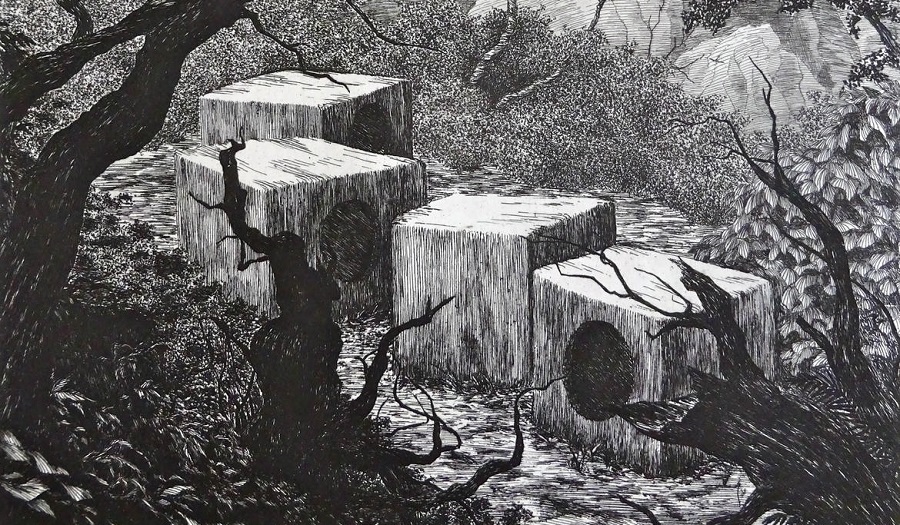 Event details
Date

August 24th-27th, 2017
Private View Event 24th from 6pm

Location
Strange Lands,
5th Base Gallery
23 Heneage Street
London E1 5LJ