Solo exhibition by Cass Furniture alumnus Ray Brown commissioned by Disegno
Date: 04 February
Leading design journal Disegno has commissioned Cass Furniture and Product Design alumnus Ray G. Brown to create Spiritus Mundi: an immersive installation for fabric brand Rubelli that taps into the often ritualistic nature of textiles and clothing.
From the 8 - 24 February, Ray will transform east London's Oneroom gallery into Spiritus Mundi, a dreamlike environment using a range of fabrics by Venetian textiles company Rubelli. Visitors will move through the four-storey venue encountering a series of mysterious, anthropomorphic figures. Some of the figures are lined up together and draped in shimmering lengths of fabric to create a quasi-architectural element that divides up the space; others are placed individually, as hooded figures poised to perform a ceremony.
The installation's name, "Spiritus Mundi" is drawn from the work of poet William Butler Yeats, who used the term to describe society's collective unconscious - the mysterious, transcendental source from which all images and symbols are derived.
"I was immediately captivated by the lustrous quality of the Rubelli fabrics," says Brown. "They seem special, out of the ordinary - as if they are intended for some special ceremonial function. I did some research into ritualistic costumes from various cultures across the world, and became interested in the transformative power of these costumes and their ability to access levels of experience not ordinarily available to the conscious mind."
For Rubelli, the collaboration presented an opportunity to place its collection in the hands of a designer practising outside of textiles, who could provide a new interpretation of its work. Brown visited the brand's showroom to get a sense of the company, and was impressed by its long history and record of prestigious collaborations, as well as the opulence of its products.
Read more about Spirtus Mundi on the Disegno website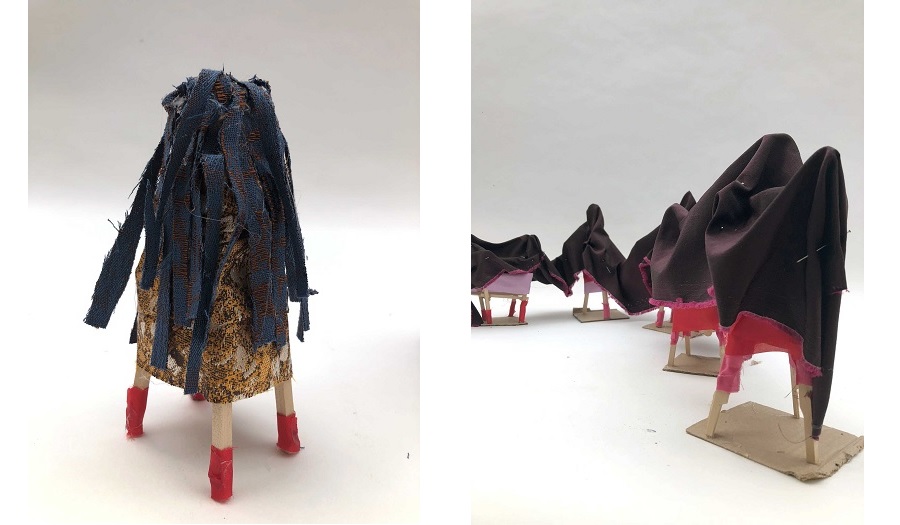 Event Details
Spiritus Mundi
Ray G Brown
8-24 February 2019
Oneroom
9 French Place,
London E1 6JB