Project led by London Met alumna wins RIBA Stirling Award
Annalie Riches, who studied on the RIBA Part 2 and Part 3 at The Cass, and practice partner David Mikhail claim RIBA's building of the year award for the Goldsmith Street project.
Date: 09 October 2019
A project led by two practitioners with close links to The Cass has been awarded the Royal Institute of British Architects' (RIBA) Stirling Award 2019, widely regarded as Britain's most prestigious architectural award.
Annalie Riches, who studied on the RIBA Part 2 and Part 3 courses at The Cass, overcame a competitive field to claim this year's Stirling Prize with her practice partner David Mikhail and former Cass tutor and current external examiner Cathy Hawley for their ultra-low energy affordable home the Goldsmith Street project.
Located near the city centre, the housing development comprises 105 terraced dwellings designed to be an affordable high-density alternative to apartment blocks. Each home faces south to maximise solar gain and is designed by Mikhail Riches with practical detailing that ensures that it is low energy.
The scheme comprises seven terraced blocks arranged in four lines, containing a total of 45 houses and 60 flats, within an area of less than one hectare.
Mikhail Richies described the benefits their approach of the project's website: "This is a Low Carbon scheme, where all houses and flats face South and are on target to achieve full 'Passivhaus' Certification. We understand this would be the largest social housing scheme in the UK to achieve Passivhaus. The design seeks to provide sunny, light filled homes with very low fuel bills of approximately £150 per year. In the main these properties will be socially rented."
Shortlist success
Projects involving a number of other practitioners with links to The Cass also made the shortlist for Stirling Award 2019 were also named on the shortlist.
Architectural practice Feilden Fowles, formed by Fergus Feilden and Edmund Fowles former Studio 11 leads at The Cass, for their work on The Weston, the new visitor centre at the Yorkshire Sculpture Park.
Matthew Barnett-Howland, a former tutor at The Cass, was nominated for his innovative work on the Cork House project.
The RIBA Stirling Award is given annually to the building judged to have made the greatest contribution to British architecture. The shortlist is drawn from the 54 winners of the RIBA National Awards 2019, which celebrates Britain's best new buildings.
"The RIBA Stirling Prize shortlist epitomises the enviable global reputation of UK architecture," said RIBA president Ben Derbyshire.
"These six buildings could hardly be more diverse in typology and scale – from a rustic stable block-turned- theatre to a vast national railway station," he continued.
"But what they have in common – ground-breaking innovation, extraordinary creativity and the highest quality materials and detailing – sets them apart, rightfully earning them a chance to win the highest accolade in architecture."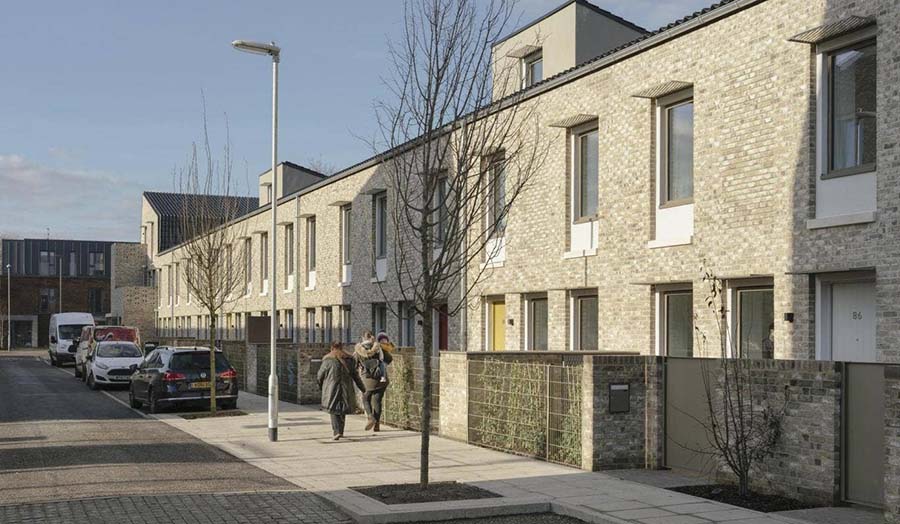 Picture: Goldsmith Street eco homes in Norwich - winner of the Stirling Award 2019