Cass alumni Dr. Bo Tang and Odel Jeffries were invited to take part in the 4th International Design Week IDW – EMU.
Date: 30 June 2014
Cass alumni Dr. Bo Tang and Odel Jeffries were invited to take part in the 4thInternational Design Week IDW – EMU, jointly organised by the Faculty of Architecture and the Design Club of Eastern Mediterranean University (EMU) in Northern Cyprus. The event took place from 20th-23rd May 2014.
The series of events aimed to bring together selected key professionals, artists and academics to work in the realm of architecture and design, using the powerful voice of design to raise awareness of the global community about its central role in "life". The event as a whole aimed at fostering an interdisciplinary exchange of ideas, experiences, and production within an international platform. This yearly celebration formed three days of seminars and a number of interdisciplinary workshops and presentations for students of art, design and architecture, together with the attention of the general public realm. Based in the Faculty of Architecture's campus of Eastern Mediterranean University.
The 'Palletecture' workshop led by Bo and Odel was based on a long-standing Appropriate Building Methods course developed and run at the Centre for Alternative Technology (CAT) in Wales by Professor Maurice Mitchell. The workshop aimed to provide participants with the opportunity to design and make buildings with local resources, through hands-on making and working on site, focusing on ideas of crafting together and learning through doing. Using 70 reclaimed timber pallets and basic hand tools, students worked diligently in small groups for 3 days to create individual building elements such as a 2.5m high frame structure, patterned wall panels, freestanding furniture and a lamella (hyperbolic paraboloid) roof. Learning from cyclical process experimentation, of resistance and accommodation, participants learnt about the process by which technology and human agency are transformed into a culture of making. Building on the overall theme of 'Collaborative Creativity', individual efforts carried out collectively resulted in the final product: a large scale 1:1 building model providing a place to gather, meet and celebrate, and embodying the notion that "the whole is greater than the sum of its parts".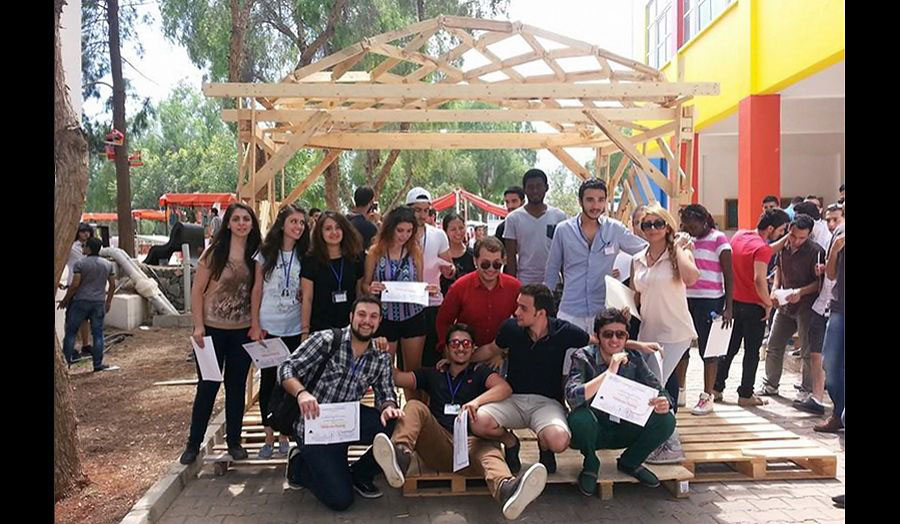 Images