Musarc, the choir based around a Cass research project are to perform at Extra City in Antwerp.
Date: 3 October
Musarc, an architectural choir (and Cass research project) will perform and record with Melanie Pappenheim at
Extra City
Kunsthal, Antwerp.
Musarc will record four of Neil Luck's works written for the choir between 2010 and 2015 with avant-garde music label Entr'acte. The recording takes place in the exhibition spaces of the gallery in the form of a half-day-long performance open to the public.
The choir is one of London's most progressive amateur groups. It is at the heart of a research project at The Cass, London Metropolitan University, that explores performance and composition in relation to the creative process and investigates listening in the context of society, architecture and the city. The ensemble regularly collaborates with composers to develop work that challenges traditional ways of making music, and brings together art, performance and education.
Neil Luck is a composer and performer and director based in London. He has written for a range of soloists and ensembles in the UK and abroad and presented work at music venues, festivals and galleries internationally including the ICA, Kings Place, Whitechapel Gallery, Tate Britain, Tate Modern, LSO St. Lukes, BBC Cut & Splice festival, in Vilnius as part of the 2009 Capital of Culture celebrations, the Tokyo Experimental Festival, and on BBC Radio 3.
Read more about the event
here
Image: Musarc rehearsing at the Round Chapel, London, June 2015 © Yiannis Katsaris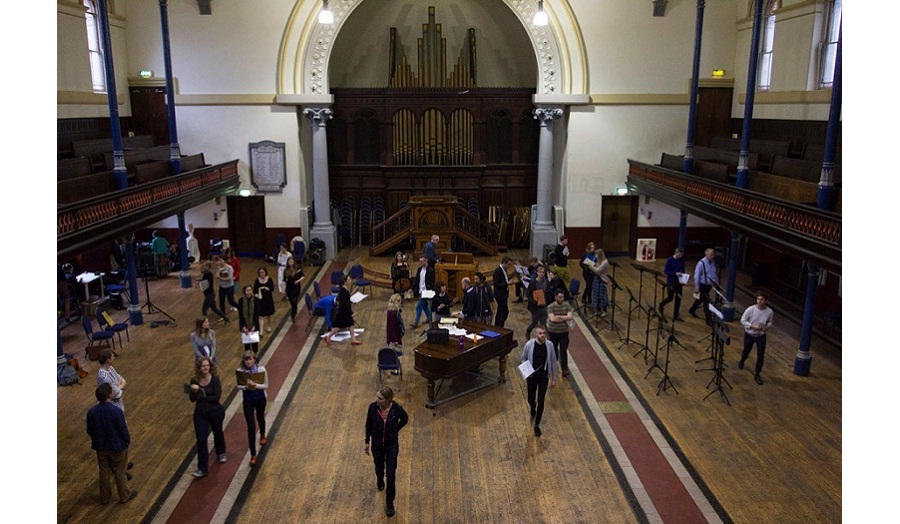 Entr'acte : Bloody Sirens
Saturday 3 October 2015, 2–6pm
Extra City Kunsthal, Antwerp