London Met supports development of new anti-Apartheid artworks
Professor Wessie Ling will work with the Liliesleaf Trust UK to commission six new artworks which explore the contemporary resonance of the heritage of the struggle against apartheid.
Date: 21 January 2022
London Met's Professor Wessie Ling is set to work with the Liliesleaf Trust UK to commission new art work by Black, Global Majority and intersectional artists and communities to explore and respond to lived experience of race-based injustice, and imagine new futures.
This is part of the Liliesleaf Trust UK-led project, Anti-Apartheid, Now, which draws on the legacy of the UK's movement against apartheid (MAA). Over the course of 2022, the project will see six new artworks from artists working across England, who identify as from the Global Majority, to produce six new artworks, to be hosted online and to explore the contemporary resonance of the heritage of the struggle against apartheid.
Professor Ling will be part of the judging panel to determine which artworks will be commissioned. The first commission brief, which has just been released, invites artists to respond to the attack by the apartheid regime on 28 Penton Street in 1982. This site, the former London headquarters of the African National Congress in exile, is being redeveloped as the Anti-Apartheid Legacy: Centre of Memory and Learning. The first commissioned artist(s) will work with a group of young people from London Metropolitan's Upward Bound programme in co-creation of their piece.
The organisers explained, "We don't expect the artist to be an expert in the heritage of the struggle against apartheid. What is most important is producing a thematic and creative response to the brief which connects with contemporary societal experiences and importantly to lived experience.
"The project will launch The Liliesleaf Trust's new online platform that will hold space for learning, reflection, memory, and creative expression and which connects past to present to support activism and allyship towards ongoing struggles for racial justice.
"Anti-Apartheid, Now explores how MAA learning can empower communities to lead positive change. The project channels the legacy of the most powerful social justice movement of the C20th to inform how we look at pressing contemporary issues of inequality, injustice, and structural racism today.
"Our creative advisory panel will select six artists for new micro-commissions that encompass diverse interpretations on themes from MAA history for contemporary audiences. Commissions are open to artists working across England and will integrate a range of cultural mediums including, but not limited to, visual art (including mixed media work, photography, and film), performance, short-form literature and spoken word. Artists across all career stages may be supported and there are a range of differently-scaled commissioning opportunities to suit a breadth of approaches.
"Artists can propose entirely new work, or apply to extend or develop existing work. Each commission should take account of COVID-19 safety in its development, including any restrictions in place at the time of creation and presentation of the work."
The project is supported using public funding by the National Lottery through Arts Council England.
For further details including how to apply, please see the Anti-Apartheid, Now commissioning information .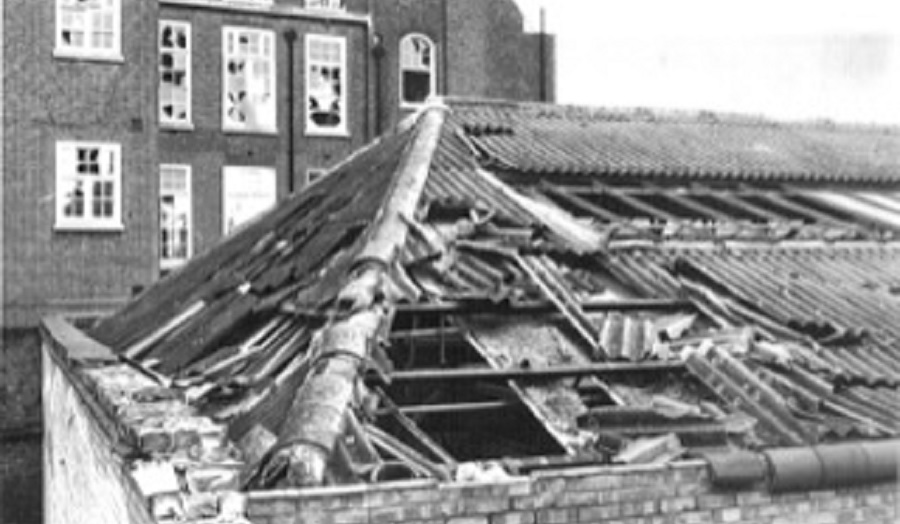 Pictured: damage caused by the blast at 28 Penton Street in 1982 in an attack on the site by the apartheid regime.
Provided by the Liliesleaf Trust UK, courtesy of Anti-Apartheid Movement Archives.