London Met's queer safe space opens its doors
Third-year BA Photojournalism student Bianca Jashnani reports from the opening of London Met's Rainbow Room.
Date: 27 February 2023
The colours of the rainbow flag show the diversity of the LGBTQIA+ community and the broad, beautiful spectrum of gender and human sexuality. So it was no surprise that London Met's first queer safe space, which opened to huge fanfare last week, has been dubbed The Rainbow Room.
Officially opening its doors for the first time on 23 February, the Rainbow Room is the brainchild of Donna Jones, Head of Social work, who came up with the idea three years ago as 'a safe and inclusive space where LGBTQIA+ students can be'.
It's "really important that we are visible, that students feel that we are visible and that the university supports that visibility", said Donna, who worked tirelessly to see her idea come to fruition. She was prompted by the fact that there has been "a lot of discussion around how we didn't hear the LGBTQIA+ students" at the University.
At the grand opening more than 50 supporters packed into the room, just off the Junction café in T-101 on the Holloway Campus, which has been newly decorated with lavender couches, colourful beanbags and wall decorations where staff have written about which LGBTQIA+ authors have inspired them most. Students and staff donated LGBTQIA+ themed books as part of a "Bookshelf Social" and discussed their experiences and memorable moments to celebrate LGBTQIA+ History Month.
The Rainbow Room "demonstrates our commitment to equality within the LGBTQIA community", said Vice-Chancellor Professor Lynn Dobbs, who gave a short talk to commemorate the occasion. Under her leadership, London Met has climbed 289 places in the Stonewall Workplace Equality Index, reaching 162 this year, and has been awarded a bronze award for its work to create a more inclusive workplace.
Lynn added that London Met is 'pioneering' in its approach to building a community. "It makes me proud that we have produced a culture that allows people to celebrate. The fact that the University set the ground roots and then it [the Rainbow Room] was organised by individuals is fabulous," she said.
"I have two sons who are both gay. I am immensely proud of them and feel passionate about the agenda."
Brian Tutt, Head of Student Experience and Academic Outcomes, School of Social Sciences and Professions and co-head of the LGBTQIA+ Staff Network, said having a physical place to meet will help give the queer community a specific focus within the university. "It is going to be a great resource and we want everyone to use it," he said.
"For the first time, we've got a dedicated space where students and staff members of the LGBT community, and also colleagues and partners outside in the community, can gather together informally and socially in a safe space."
As the university is embedded within the local community, Donna added that she wants the local community to also be able to access the Rainbow Room's resources, support, and space.
"It shows that London Met really cares about queer folks and it is just not a matter of putting it in websites and forgetting about it," said Avi Ben-Zeev, Senior Lecturer in Psychology, who is trans and recently moved to London Met from San Francisco State University.
"Everything here about EDI (Equality, Diversity and Inclusion) could sound like a slogan, but actually, having the resources having the community is heart-warming. It is a beautiful community place."
Students were on board as well, listening to staff explain which books they chose for the bring and borrow bookshelf, and eating a selection of treats provided by the university, including smoked salmon, sticky chicken skewers, and vegetarian spring rolls.
Ana Brito, a student activist assistant at the Students' Union, running for VP of Equity and Welfare at LMU, said the initiative is "fantastic" and finds it incredible to have a safe space for marginalised groups after three years of setting the groundwork.
Gaia Cardone, 21, a Criminology student running for VP activities, said, "I feel it is a great space; I think people will be comfortable here. Having something so inclusive is amazing, and we can do events such as art and craft, talks, and workshops to get more people involved.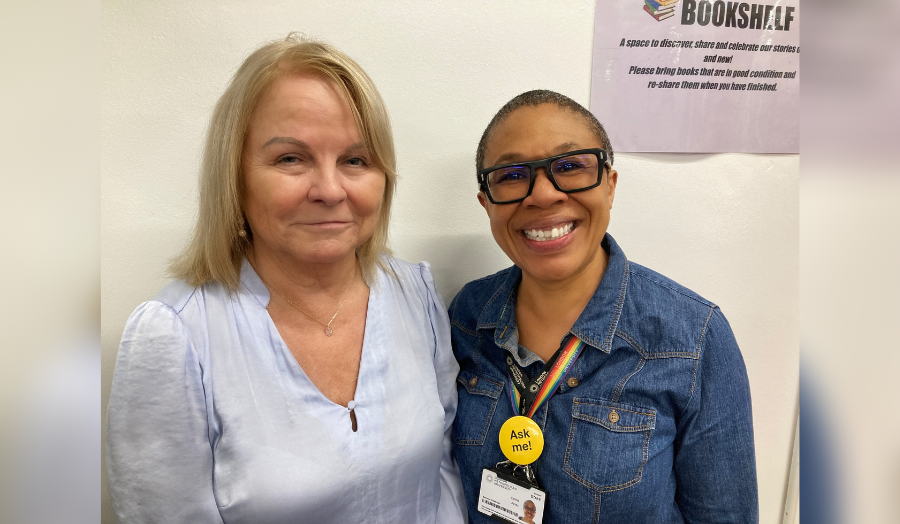 Picture (L to R) Professor Lynn Dobbs and Donna Jones