London Met Journalism Diversity Network: learning on the job
Students Raisy Aquino, Carolina Piras and Paloma Mairone share their experiences of work placements in newsrooms and magazines, organised through the University's Diversity Network.
Date: 14 April 2021
Nothing teaches you more about your future profession than on-the-job training. That's what second-year Journalism student Raisy Aquino discovered when she recently did an April work placement at Black Beauty & Hair magazine as part of the London Met Journalism Diversity Network.
"These past two weeks have been an incredible experience where I have been able to learn from a great journalist, full of knowledge and ready to give advice when needed," said Aquino, referring to the magazine's editor, Irene Shelley.
"The greatest part of it was the diversity of things I was able to do, from writing articles, researching and studying companies owned by Black women, editing and uploading stuff at the magazine's website and preparing Q&As, to selecting the right pictures for different articles (that sounds simple but believe me, it's hard work).
"Every day was a new adventure. The greatest lesson I took was the importance of multi-tasking. It's not only about good writing skills; you need to be creative and be able to do a bit of everything in the journalistic world."
Despite Covid, the London Met Journalism Diversity Network kicked off the season with ten remote media work placements, helping second-year students put their journalistic skills to the test and better prepare them for the real world.
This year, the scheme secured placements at Black Beauty & Hair magazine, Camden New Journal, Whytt magazine, Marie Claire mag and Gal-Dem, opening the door to the highly competitive – and not very diverse – world of journalism. The BBC, which has been part of the Network since its inception, will resume offering in-person placements when it is safe to do so, as will Sky News and Sky Sport, organisers there said.
"My work placement at Marie Claire was such a great experience. I got to meet some great women - beauty and fashion journalists - who gave me two weeks of unforgettable advice and taught me how to improve my writing and researching techniques," says Journalism student Paloma Mairone.
"I also got to include question ideas for an interview they did with Maya Jama."
The Network was set up by Journalism Associate Professor Wendy Sloane in 2018 to provide our diverse students with a foot in the door. Now in its fourth year, it provides diverse guest speakers along with placements, as well as site visits and training. This year, Gal-Dem Editor-in-Chief Charlie Brinkhurst-Cuff spoke to students, along with BBC journalist and photographer Eddie Botsio, Black music writer Lloyd Bradley and others.
Many newsrooms in the UK are predominantly white, with only 12 percent of reporters from a Black or BAME background, according to campaigning group Women in Journalism in 2020. The Sutton Trust estimates that it costs students £1,019 to complete a month of unpaid work, making placements out of the reach of many budding young journalists.
"The Network provides some incredible learning opportunities, and has led to freelance work as well as full-time jobs," said Sloane.
"It's one thing to work on stories during a newsday, and it's another to be writing for deadline for a real news organisation. I am hopeful that next year we will be able to resume our placements in person, and expand the Network even further."
Students agree. "Camden New Journal has been my biggest discovery in learning how to become a great reporter," said Journalism student Carolina Piras, who spent two weeks with the independent north London newspaper.
"This experience not only tested and challenged me in every single aspect every day, but it taught me how to become closer to the world."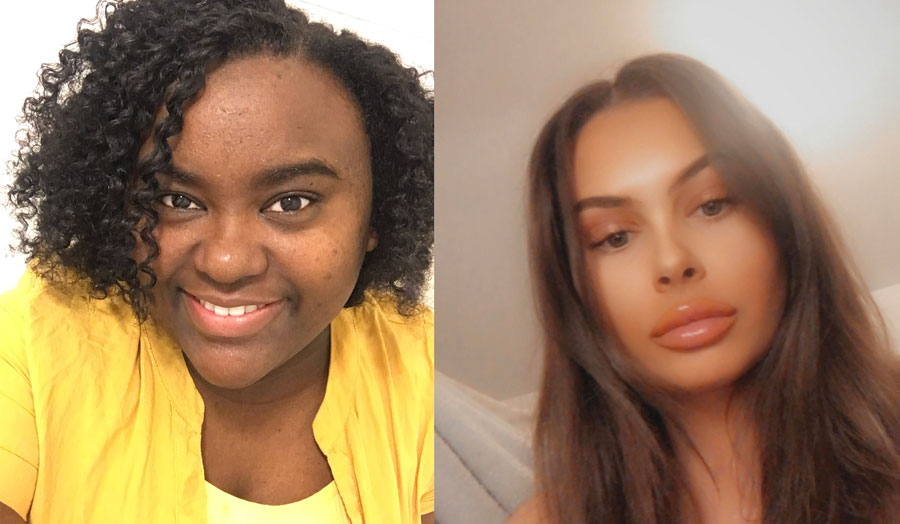 Pictured (L-R): Raisy Aquino and Paloma Mairone