London Met joins Tower Hamlets' Cultural Consortium
London Met is one member of the new initiative, which will transform the public spaces of Tower Hamlets through community-led initiatives.
Date: 25 May 2021
London Met's School of Art, Architecture and Design is a member of a new Cultural Consortium which aims to transform the public spaces of Tower Hamlets through community-led initiatives.
The area around Petticoat Lane in Aldgate will see the development of bi-monthly public events, which will be decided on by the area's local residents through a process of public consultation and discussion.
This comes as part of a grant of £90,000 from Historic England to create and deliver community-led cultural activities on the high street over the next three years.
As part of this programme, a community decision-making group made up of local stallholders, businesses, creatives – including London Met students – and residents will collectively design, curate and deliver a vibrant cultural programme of art experiences, activities and an annual Festival of Petticoat Lane.
The programme will seek to celebrate the area's uniquely layered and blended cultural heritage, shaped by many different communities over the decades. Creatives will be commissioned to produce specific landmark experiences on the high street that are locally relevant, include local people in design and construction, and raise the profile of the area to a broader audience.
Alongside this, new investment in the neighbourhood comes from Tower Hamlets Council's High Streets and Town Centres team who are delivering shop front improvement and refurbishment and conversion of the public toilets, also supported by grant funding from the High Streets Heritage Action Zone Scheme.
Anne Markey, Interim Head of Art, Architecture and Design at London Met said: "We are delighted by the support from Tower Hamlets and Historic England to celebrate the rich past and present cultures of our historic local High Street, Petticoat Lane. As a member of the Cultural Consortium, we can't wait to further engage with our neighbours and to showcase the fantastically diverse body of work from our students.
"Our students and staff at the School of Art, Architecture and Design look forward to both hosting and supporting the programme alongside local partners over the next three years."
Emily Gee, Regional Director, Historic England in London and the South East, said: "The High Streets Cultural Programme is such an important – and exciting – way of bringing people back to their cherished high streets in need of love. We are working together to regenerate historic high streets through conservation and building work, and this community-led cultural activity programme will draw people back to enliven and shape these special places for the future."
The Cultural Programme aims to make Tower Hamlets' streets more attractive, engaging and vibrant places for people to live, work and spend time.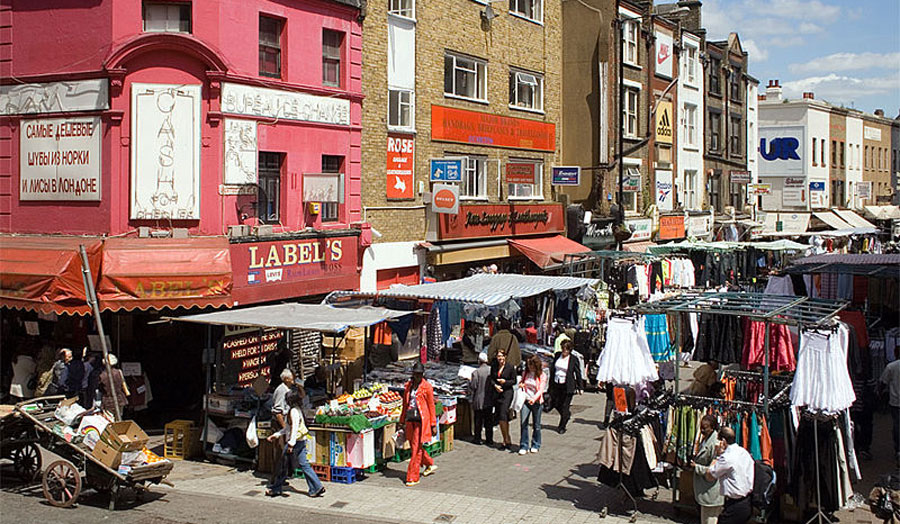 Pictured: Petticoat Lane Market