Darta Shokrzadeh's sculpture in Peckham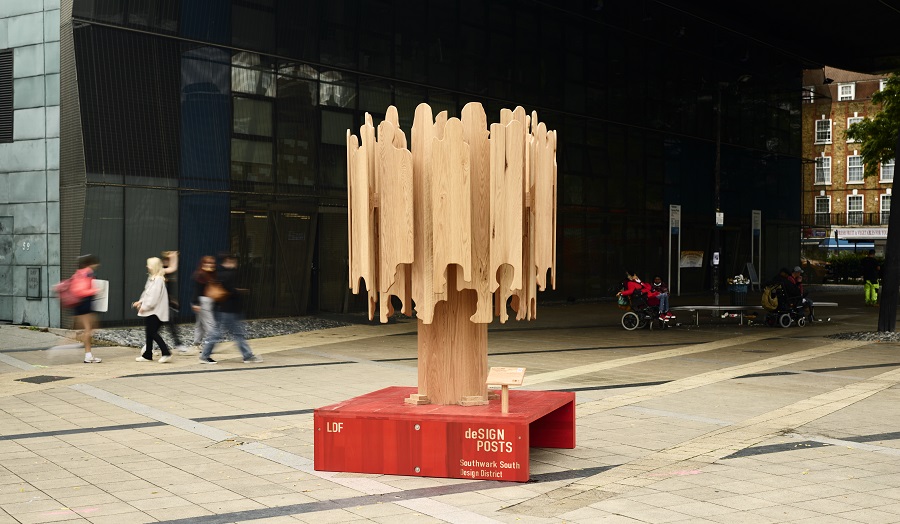 Alba Elezi's sculpture in King's Cross District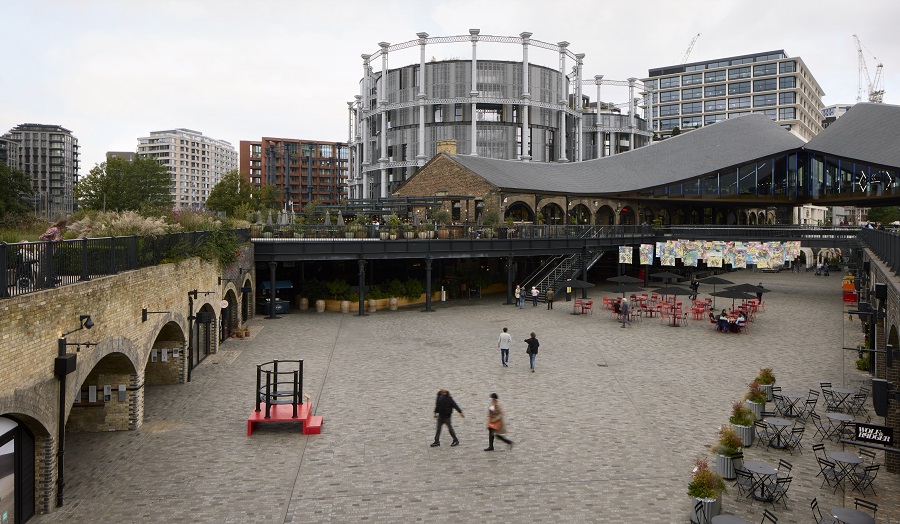 Aude Saint Joanis's sculpture in Park Royal Design District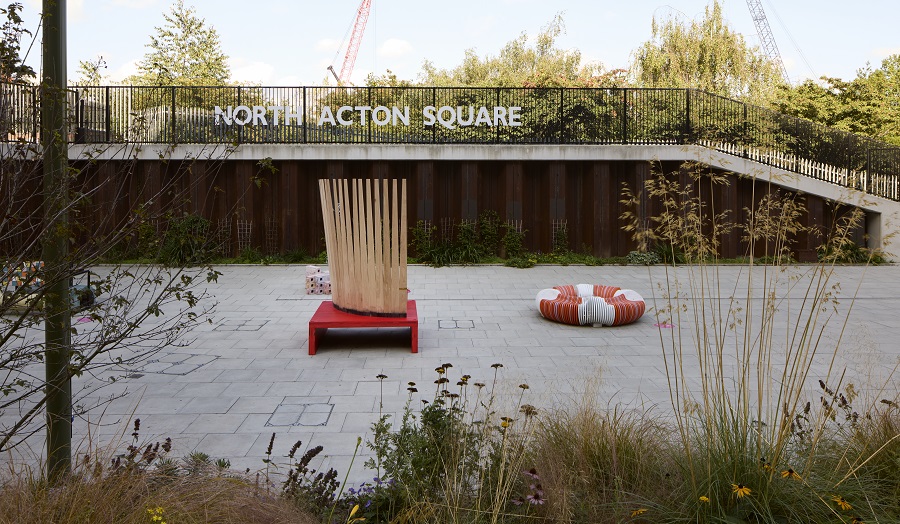 London Design Festival: London Met students and alumni contribute new street sculptures
The 'designpost' sculptures aim to capture the spirit of one of the festival's dedicated design districts.
Date: 21 September 2021
London Met students and recent graduates will make an important contribution to this year's London Design Festival by taking ownership of the design of a series of wooden sculptures which will feature on the streets of the capital.
Each 'designpost' aims to capture the spirit of one of the festival's 10 dedicated design districts, with each conceptualised and created by a student or alum from London Met or the Bartlett School of Architecture at UCL.
Each designer was assigned an individual LDF Design District and invited to personally respond in the form of a large-scale sculptural structure. With guidance from AHEC and the expert furniture makers, they have spent the last few months finessing their designs, which launched on 18 September.
From London Met, the designers taking part were:
Alba Elezi, a London based furniture and product designer. She graduated from the BA Design Studio Practice course at The London Metropolitan University in 2020, where she mostly focussed on furniture and product design, employing a range of materials to realise her ideas. While working part-time at Studio Wilson-Copp, she continues to work independently to develop ideas for her own practice; multi-functional objects designed with the user in mind. She was awarded The Worshipful Company of Upholders - Derek Austin Award 2018/2019 and the 2020 Habitat Inclusivity Competition for a cabinet which will soon be available to buy from Habitat.
Daegyu Kim, a Korean designer, located in London. He studied product and furniture design working with a wide range of contemporary and traditional materials and graduated with a B.A. (Hons) from London Metropolitan University in 2021. He is interested in all areas of design, especially practical and sustainable products and furniture using all materials, from wood to ceramic. As a recent graduate, he looks forwards to the many possibilities of where his life as a designer will lead.
Aude Saint Joanis, a recent graduate of the Design Studio Practice BA at London Metropolitan University. During the course, she worked with various materials including wood, metal and resins, and developed a particular interest in ceramics and casting processes. Upon graduation she intends to develop her professional studio and continue working with challenging materials and processes. In 2019 Aude (and her team) were awarded the commission to design and create a modular bar system for the London Met as part of London Design Festival 2020.
Darta Shokrzadeh, a designer from Tehran, Iran. He has always been passionate about design and his desire to work in this field. Following his experience with computer animation, programming and gaming, he arrived in the UK as a refugee, and joined the London Metropolitan University product and furniture design course where he explored a very wide range of materials and making processes, often with a keen eye for employing mechanisms to achieve unique designs.
In addition, London Met's Professor of Design and Entrepreneurialism, Peter Marigold, has acted as a project mentor alongside Izaskun Chinchilla, Professor of Architectural Practice at the Bartlett School of Architecture.
They selected the students and graduates, assigned them each an LDF district, and asked them to research and develop a concept that would capture its unique identity and idiosyncrasies.
Image: Daegyu Kim working on his sculpture