Life of a freelancer: blogging, sex workers and celebs
Simon Cadman, Senior Lecturer in Journalism, reports on a guest lecture from freelancer Emma Garland, which was held as part of London Met's Engagement Week.
Date: 2 November 2022
From watching Robbie Williams play golf for two-and-a-half hours to winning the trust of sex workers, freelance feature writer Emma Garland had a trove of journo tales and top tips for first-year Journalism BA students.
Our Engagement Week guest speaker was able to share her experience about how to bring writing to life through attention to detail, plus advice on getting the best out of interviewees through natural conversation rather than a list of questions.
Emma knows what she's talking about, working for a long list of top publications, including VICE, Rolling Stone, The New Statesman and The Sunday Times.
Blogging and creating an online profile is the key to launching your career as a freelance feature writer, Emma told the group.
"I was pretty heavily into blogging during my BA and I started reviewing gigs and albums. It was all unpaid, but I built up a small profile through doing that. And it's actually through the blogging that I ended up at Vice."
Employers want to see that you are an active writer, explained Emma, and showcasing your articles has never been easier.
"You've got any kind of platform you want to choose from, whether it's Substack, TinyLetter, Twitter, TikTok, Instagram, whatever your poison is.
"This kind of self-publishing enables you to discover your voice in your own way."
Emma warned students that pay can be lower as a freelancer, and it's stressful not being on a payroll. But there are benefits.
"Freelancing allows you more time to focus on what you want to do. And you don't have to attend loads of meetings."
One of the challenges for journalism students when they are learning their craft is what to write about. Emma's advice was simple.
"Whatever it is that gets you excited and gets you thinking and gets you wanting to pursue.
"Just follow that instinct. Because the more excited you are about something, the more that's going to come through in the writing, and the more it's going to be engaging for the reader. That's like a very contagious thing."
Delphine Queen, a first-year Journalism Film and Television Studies student said, "Emma gave us a lot of advice on how to get started in feature writing, which I was I surprised to hear starts from honing in on your interests and finding your own niche.
"I appreciated that she gave us the do's and don't's of feature writing and went into detail with each point, especially about not punching down. I think it's a very important point to remember that when you are writing about someone, celebrity or not, you need to remember they are human.
"After our questions were answered by Emma, and we heard about her highlight of interviewing Robbie Williams and watching him play golf, I definitely felt more confident in knowing where to start in feature writing and the importance of not waiting until after university.
"When the question was asked to the class after Emma's talk: "Who here wants to be a feature writer?" A lot of hands were raised, which I think was largely due to us all having more understanding of feature writing from Emma.
"I will definitely be starting to write and self-publish on a blog to practice and have a body of work to show, and I don't think I'll be the only one after that talk."
Emma's talk was just one event that students in the various Journalism courses enjoyed during Engagement Week. They also had the chance to visit the editorial offices of the Guardian and listen to talks by young journalists, go on a guided fashion tour at the Victoria and Albert Museum, participate in a spooky SCDM party (Horror in Tech; Tech in Horror) while enjoying free pizza, film a horror movie and listen to inspirational former students at an SCDM Engagement Week Festival.
Check out Emma's latest article for Refinery29: Let's Face It, Being Horny Is Fundamentally Embarrassing.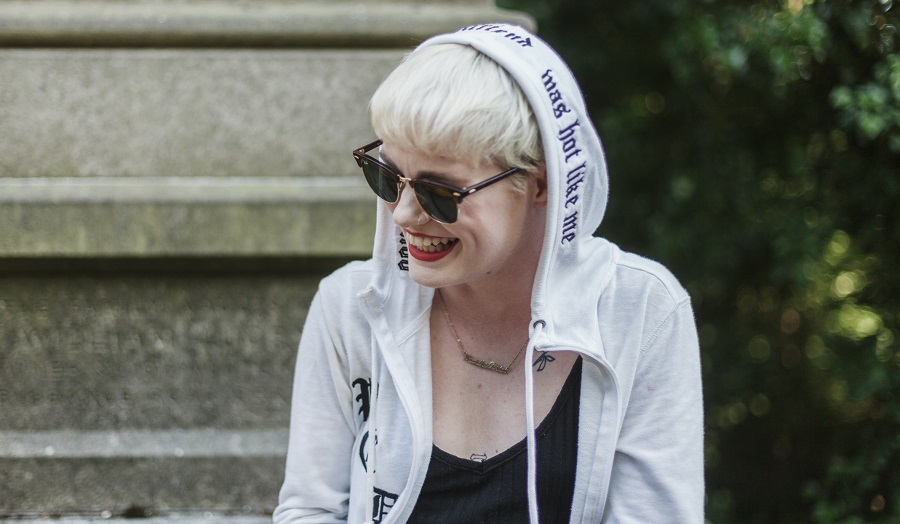 Photo of Emma Garland by Christoper Bethell