Journalism student wins national award
Carolina Piras took home the prize for the Human Rights Coverage category at the Student Publication Association awards.
Date: 25 April 2022
Third-year Journalism student Carolina Piras has been recognised at the Student Publication Association's (SPA) National Awards, winning in the Human Rights Coverage category.
The prestigious ceremony, held at Sheffield Students' Union on Saturday 9 April, saw trophies handed out to the best student publications and journalists for innovative and impactful work produced over the past 12 months.
There were nearly 1,000 entries to the Awards - but just 24 winners picked.
From hard-hitting investigations to insightful interviews, and punchy comment pieces to stunning print design, the quality of work produced during an incredibly difficult period showcased the finest talent on campuses across the country.

Carolina was awarded for her article about sex workers and the pandemic. She said, "My lecturer deserves a great thank you despite always mentioning that 'it was all me'. It's true, it was all me indeed, but I submitted 10 minutes before the final deadline only because she pushed me so much and made me believe that when you are chasing your passion, every chance is worth taking. So I did it, I took this chance but I was already at peace with myself that nothing would happen.

"When I got shortlisted, I was in shock, so you can imagine what it was like to find out about my win.
"This course gave me everything I needed to challenge myself and most of all, find myself. I might not have fully found the inner journalist that is in me, but for three years this course gave me the resources and tools to navigate every sort of journalism and find my own voice.
"Now I can say I found it, and that's why a jury saw something in my story. They saw the passion, but mostly the need to give voice to the voiceless, as I always say. They saw a genuine intention of getting closer to the world."
The awards were judged by a diverse range of top editors on publications including the Yorkshire Post, Metro, openDemocracy, The Bureau of Investigative Journalism, The Guardian, Substack, the New Statesman and Grazia.
Judges paid tribute to the high standards of work submitted, saying many pieces would fit perfectly into national publications.
SPA Chair Ruby Punt said: "It was incredible to see everyone come together after three long years of online events. The Awards ceremony highlighted our members' continued hard work and demonstrated their resilience in the face of significant challenges.
"Watching this group of students come together was really inspiring, I couldn't help but think ahead to where these people will be in a few years', or months', time.
"Previous SPA National Award winners have gone on to secure fantastic jobs in the industry and continue producing excellent journalism - so I am excited to see what this year's winners achieve as their careers develop."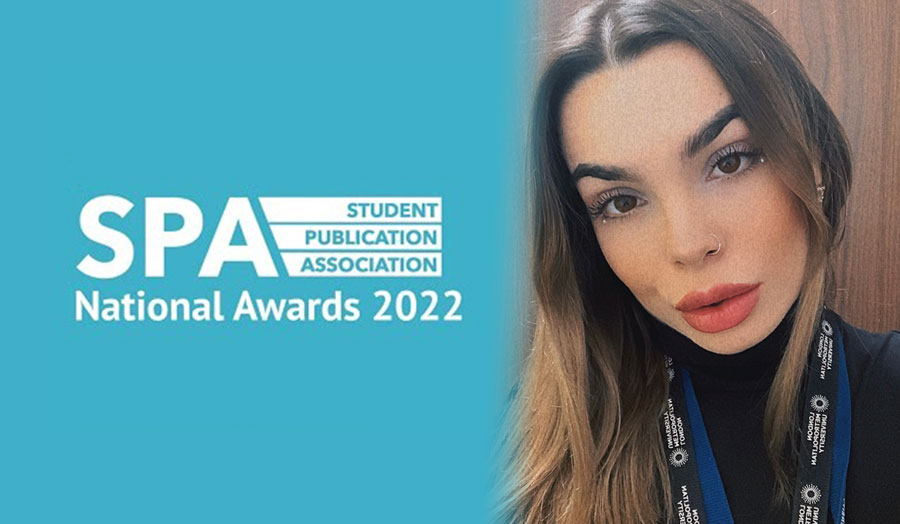 More information on: