Born in Hull, in the North of England, London based graphic artist JAKe is a prolific illustrator who has worked for clients worldwide.
Date: 22 November 2014
Having first come to prominence in UK publications like NME, Esquire and Time Out. It was his iconic work for the Prodigy on the 'Fat of The Land' Lp that first brought him to the attention of an international audience. A long and varied career has seen him design toys and direct animation in addition to working with Lucasfilm (Star Wars and Indiana Jones), The Times, The Guardian, The Observer, the BBC, Channel 4, Sci Fi Channel, Disney, XL Recordings, Fatboy Slim, Ugly Duckling, Prince Fatty, Sugarhill Records, and Carhartt.
He has drawn and written comics for The Mighty Boosh, The Prodigy, Sony Playstation, The Observer, Foyles Bookstore, Motorola/ Hip Hop Immortals and The Official Chart Company. His graphic novel with Robert Sellers, 'Hellraisers' (SelfMadeHero) was critically acclaimed, and his other books include 'How To Speak Wookiee', 'How To Speak Droid with R2-D2', (Chronicle Books) and 'The Mammoth Book Of Street Art'. (Constable and Robinson). He is not as fluent in Wookiee as you would maybe think, but can do a passable jedi mindtrick after a pint or two.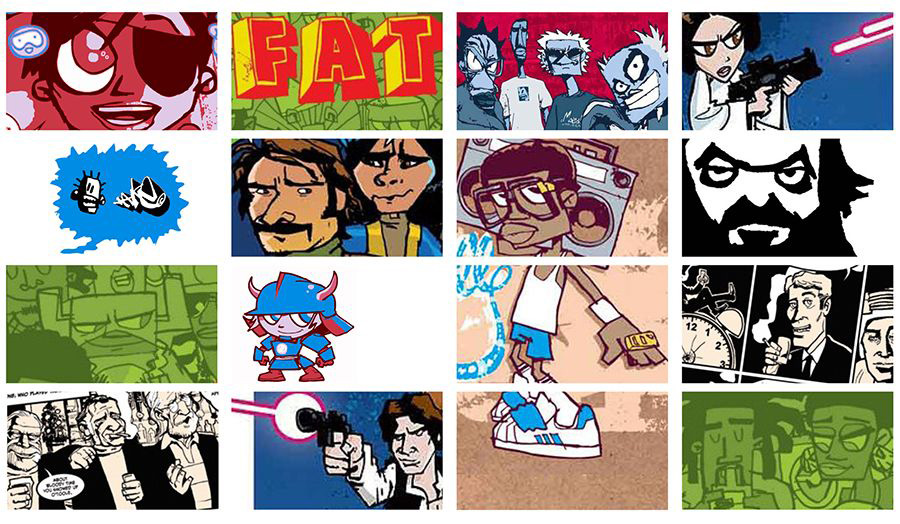 News details
Date: 31st October 2014

Time: 1-2pm

Website: jake-art.com