Irish Nurses in the NHS: New photographic exhibition unveiled at London Irish Centre
The new installation documents Irish nurses who worked in the National Health Service, especially through the 1950s and 1960s.
Date: 16 March 2023
Senior Sociology Professor Louise Ryan and Grainne McPolin, an independent documentary maker, have launched a photographic exhibition of Irish nurses. The exhibit is based on their collaborative, three-year oral history project with Irish nurses who were recruited to train and work in the NHS from the 1950s and 1960s.
The photography will be on show throughout the month of March, coinciding with St Patrick's Day, and Festival at the London Irish Centre in Camden, who have joined the research project as partners, and is free to attend.
The oral history project began in 2022 and so far 40 nurses have taken part. Most are aged in the 70s and 80s having left Ireland as teenagers to train as nurses in British hospitals. Irish-born nurses made up one of the largest migrant groups working in the NHS, especially during the 1950s-70s.
The photographic project is made possible due to a grant from the Burdett Trust for Nursing. The photographer Fiona Freund took the photos of 21 nurses based in the London area. Old black and white images of the women in their nurses uniforms are shown alongside current photos.
The oldest nurse included in the exhibition is 93 year old Nora, who left Cork in 1948, and was among the first cohort recruited to the newly established NHS. Nora's granddaughter Ciara is a student at London Met.
Louise said: 'I am absolutely delighted with how the photos look. It is wonderful to see these old images of the women in their youth proudly wearing their nurse uniforms, which look so different from uniforms today. This exhibition stands as a powerful testament to the important contribution made by Irish women, to the NHS, over many decades'.
Professor Louise Ryan, Dr Julie-Ann MacLaren, Head of Nursing at London Met and Professor Liz Opara, Head of School of Human Sciences, attended the opening night of the exhibition. Louise, Julie and Liz are planning a new collaboration around the wider contribution of migrant nurses from different countries to the NHS.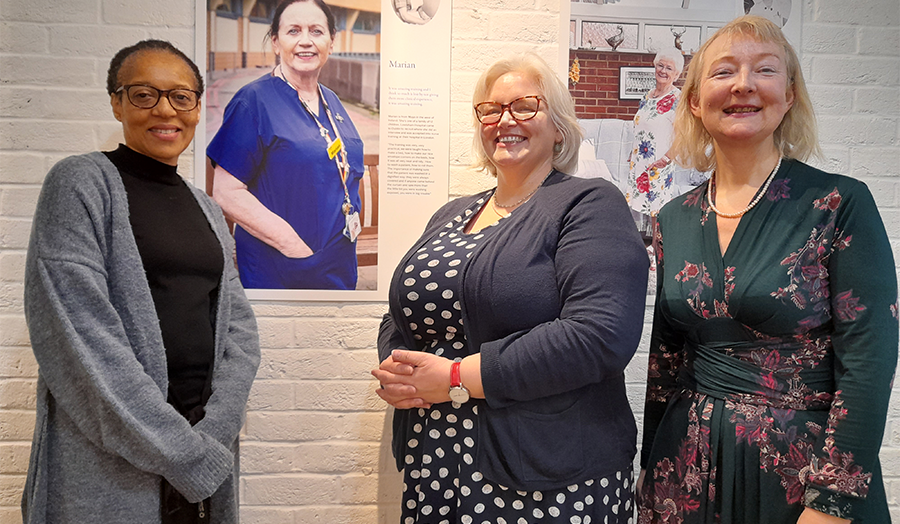 1 March to 31 March
FREE
50-52 Camden Square
London, NW1 9XB
T +44 (0)207 916 2222