His Royal Highness The Duke of York visits London Met
His Royal Highness The Duke of Yorks visited The Cass School of Art, Architecture and Design
Date: 13/03/2015
London Met has a long history of Royal Patronage and in 2013 welcomed The Duke of York as successor to The Duke of Edinburgh who had been Patron since 1954.
The Duke was greeted by Professor John Raftery, the University's Vice Chancellor, and Professor Robert Mull, Dean of the School.
The tour began in the Jewellery and Silversmithing department where HRH was shown the workshop. He met with students hammering in silver, working in enamel and producing work in the alchemy who described their group working techniques. "It seems to really keep a sense of community," The Duke commented, "It's really fantastic work."
HRH was also treated to a masterclass in annealing from MA Research student Juliette Bigley. Juliette, who was recently named one of the Design Council's 'Ones to Watch', showed The Duke how to contort and shape copper by heating the metal up.
The Cass is well-known internationally for its unique range of courses, state-of-the-art facilities and its high quality teaching. It was recently named among the best design schools in Europe by the influential Domus magazine.
Part of The Duke's personal mission is to support education and skills organisations like London Met as he believes it is important for young people to be offered a wide range of educational pathways which will help them to develop relevant skills and experiences, transferrable into the working world.
The Cass's course leaders from Jewellery and Silversmithing, Fashion, Design, Architecture, Furniture and Musical Instruments individually described the importance of emphasising professional practice in their courses. The Cass's studio structure is crucial to this, allowing for cross discipline collaboration, which provides essential training for group work and inter-arts understanding necessary for industry.
The Cass is unique in offering this teaching structure which blends teaching and learning with industry partnerships and real life commercial contracts.
The tour continued as HRH was led to the fourth floor of Central House where he met staff and students from the Architecture department, leading to debates on the origins of architecture, discussions about the need to understand cultural differences in building and architectural needs when working abroad and an agreement about the shortfalls in urban planning when building on floodplain areas.
Lunch was served by Accelerator supported business Melting Pot Ldn who spoke about their experience in The Hatchery, from pitching their business idea to serving lunch to The Duke of York today.
HRH was joined for lunch by the Vice Chancellor Professor John Raftery, Professor Robert Mull, Executive Officer Jonathan Woodhead, course leaders from The Cass, and the Students Union President Obie Opara and Cass Hub SU representative Amanda Marillier.
The tour concluded with a visit to the Cass Bank Gallery where MA Curation students were at work installing their upcoming exhibition, PROTECHT, with Academic Leader Michael Upton and Curator Daniel Herrmann from The Whitechapel Gallery.
Just before leaving The Duke signed the University guestbook, saying: "Thank you very much for all your hard work.
"It was a pleasure to be shown around The Cass."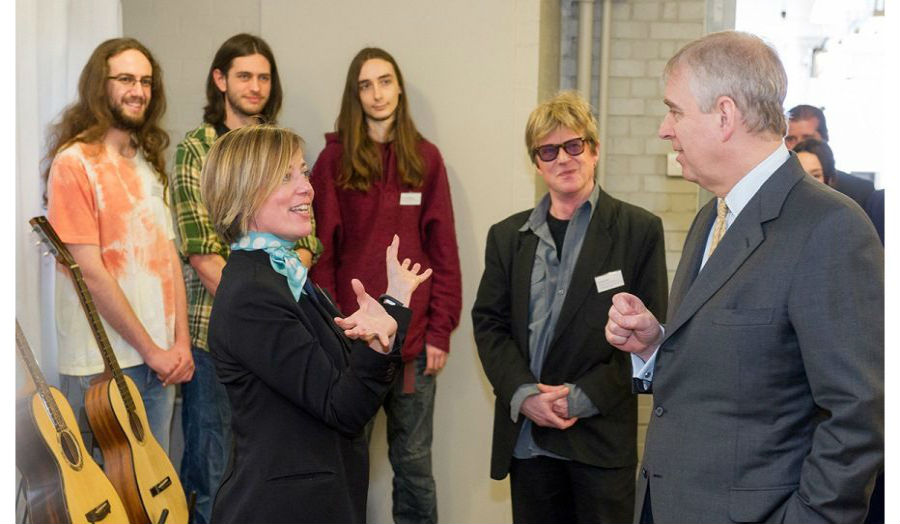 News details
| | |
| --- | --- |
| Date | Friday, 13 March 2015 |
| Location | The Cass |