Cass architecture student works on unique construction project in Ghana
Louis Mayes, a student on BA (Hons) Architecture at The Cass has taken part in a project in Ghana to build a house combining traditional earth construction techniques and modern design
Handmade House Ghana was a ten week student run summer workshop, its objective to build a house using traditional earth construction techniques combined with modern design. The brief was for a $6,000 (US) house for 5-7 people using earth as the main building material, designed to appeal to the local people who would be living in and around the buildings. This is the Ghanaian based charity the NKA Foundation's response to the boom in the use of cement in Ghana, a country where the use of earth in construction is stigmatised as a "poor man's building material".
The project had four primary aims:
To create a house that was affordable enough to be reproduced elsewhere in the country.
To test different construction methods so as to reduce the amount of cement used in the build- therefore lowering the cost as well as the environmental impact.
To provide and an opportunity to practice and make literate all involved in the techniques used in the house- whether local worker or student volunteer. This allows for the findings of the project to be passed on after the build had finished.
From the volunteers point of view this was also a chance to inject a highly practical aspect into the increasingly theoretically based architectural education of today.
The house used a lesser known and perhaps more experimental technique - poured earth. This technique was chosen because it can be mixed and poured quickly to give monolithic walls, its compressive strength can be near that of concrete, and the height/width ratio is smaller than that of rammed earth walls. Much of the build was spent experimenting with new mixes such as termite mound, ash and cassava starch.
The house itself contains three bedrooms, a large communal area with a double height space above it and a bathroom, as well as several outdoor spaces defined by the roof of the building which can be appropriated as extra covered cooking or social areas when temperature permits.
Ten volunteers from countries ranging from Korea to the US to Ghana joined us to help finish the build, and you can see the results and a time-lapse of the build here.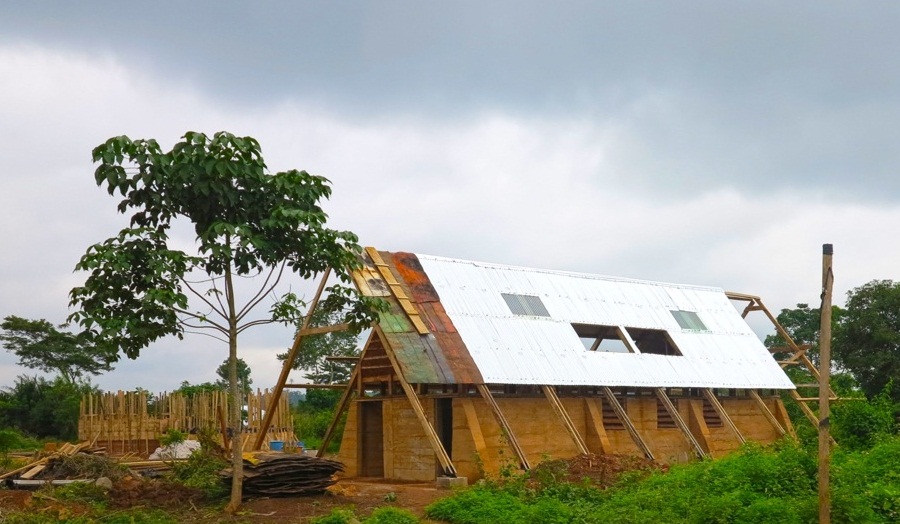 Handmade House Project