Furniture and Product Design students collaborate with Brompton for London Design Festival
The students created innovative and truly unique pieces, ranging from whimsical games to household items, made of old Brompton parts.
Date: 20 September 2022
London Met has partnered with the iconic bike manufacturer Brompton to find a second life for out-of-service components from Brompton's London factory and growing cycle-hire network.

Product and Furniture Design BA students from London Met were challenged to work with wit, insight, and economy to explore designs that delight and surprise, whilst also making effective use of their chosen bike component.

The resulting pieces demonstrate true ingenuity, whilst engaging meaningfully with the need for circular thinking in design and manufacturing systems.

The project will be exhibited during the 2022 London Design Festival at Brompton's flagship Covent Garden store from 17 - 25 September, One winner will receive their own Brompton bike, while runners-up will have six months of access to the Brompton Bike Hire scheme.
The collaboration has produced some stunning, innovative and truly unique pieces, ranging from whimsical games to household items. Every piece has been carefully considered, with the chosen component key to the design and functioning of the piece.

Simon Hasan, Course Leader, BA Product and Furniture Design, London Metropolitan University, said, "As the designers of tomorrow, our students embraced the opportunity to consider these components as both ready-made objects and raw materials for newly imagined items.

Looking for hidden properties within the chosen piece, the group sought to understand how these might be used elegantly and intelligently in a new context."

Phill Elston, Operations Director at Brompton said, "Brompton are very proud to partner with London Metropolitan University and the future generation of designers to give Brompton bike components a second life. The work celebrates the exceptional robustness and inherent utility of our bike by finding novel ways of repurposing parts that eventually wear through usage. We believe it is not good enough just to make a product that enables others to be environmentally conscientious, we must always challenge ourselves to improve and be respectful of our planet."
In another LDF event, students and recent graduates will show work as part of the 2022 Shoreditch Design Triangle from 20 - 25 September, showcasing graduate projects, in addition to work for Brompton and Italian lighting brand, Lodes. This will be the place to discover young talent, intelligent concepts and interesting new products for the design world.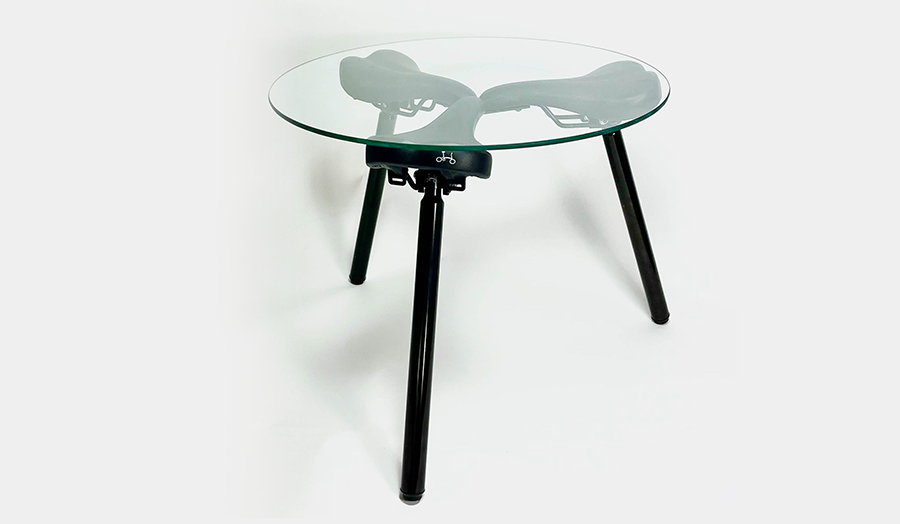 More information on:
Image: Seat Post Table, designed by Emilia Radek