Extended degree students create powerful TV show on climate change
'Climate Change: Time to Change' focuses on what the University and the creative industries can do to fight climate change.
Date: 29 April 2020
Art and Design Extended Degree students at London Met have produced a brand new TV show as part of their degree, entitled Climate Change: Time to Change. Through interviews with students and staff at London Met, the show delves into how the University and the creative industries can help the environment.
Iva Lazarova, one of the students who worked on the show, said: "The production of the show was something new and very interesting for us. It gave us the chance to look at the huge, global problem of climate change in depth, showing how many different aspects of our daily life can affect the environment. For example, the clothes we wear every day and where we buy them from can be just as important as the recycling of them. We showed how art organisations like FermynWoods raise awareness of environmental issues through contemporary arts."
Within the show, the students had to interview staff and fellow students, which can be a daunting prospect - but this was not the case for Iva. She said: "I loved it! As it was my first time, I was very excited. I particularly enjoyed doing the vox pops, where people were caught unprepared – you can see how honest they were in what they were saying and how open they were to help.
"We hope that the show will at least make people think more about climate change and their actions. By looking at simple ways to help, like up-cycling, sustainable fashion and even pieces of art, we hope to have expressed that everyone can do their part without disrupting their daily lives."
James Steventon, an artist and activist who also teaches on the Art and Design Extended Degree, was one of the people interviewed for the show. James is Director of Fermynwoods Contemporary Art, an arts organisation and educational charity which commissions artists to engage with audiences, in public spaces ranging from forests to the edge of the earth's atmosphere, across Northamptonshire and online.
James said: "Climate change is hard to observe as it happens over a longer duration than noticeable changes to the weather, so sometimes you need something like an art project to represent the scientific data, making it digestible and understandable.
I think more people, especially young people, are becoming interested in climate change, perhaps because they are frightened. Some people perhaps don't know all the important information out there on the subject. It can take a piece of art to raise awareness and present the information in such a way that is understandable, or even to just make us feel a bit better in the face of some bleak issues."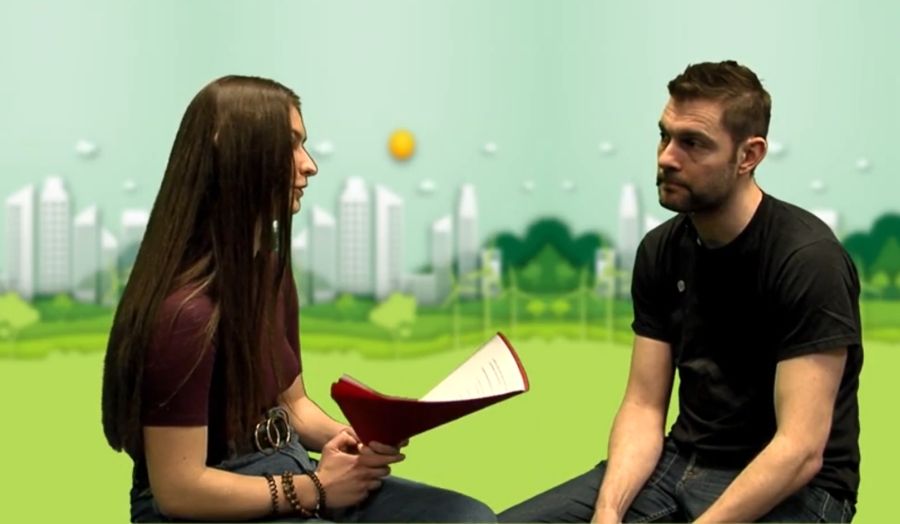 Climate Change, Time to Change