25 Princelet Street. Section of compiled student Survey Drawings.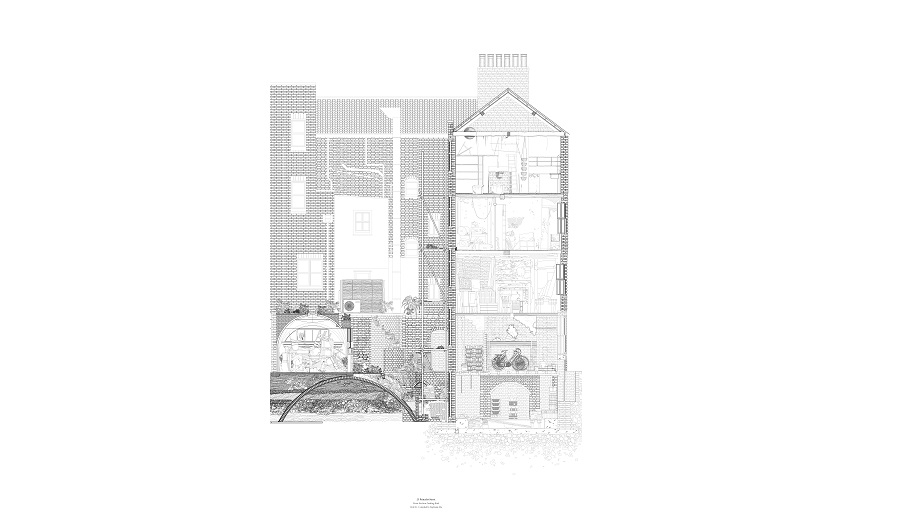 Discussion between students, Assemble, and the public. Photograph by Andrea Fais.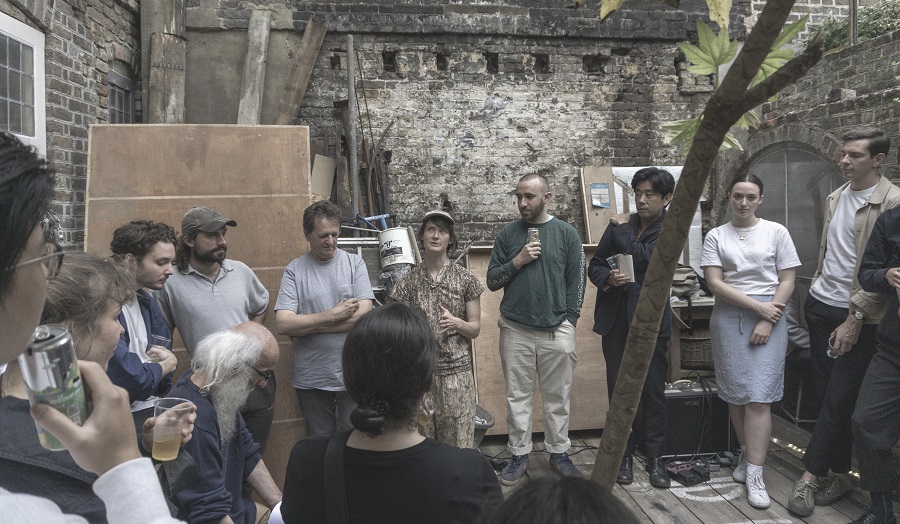 Left: Members of the public engage with the work; Right: Student models and drawings on display. Both photographs by Andrea Fais.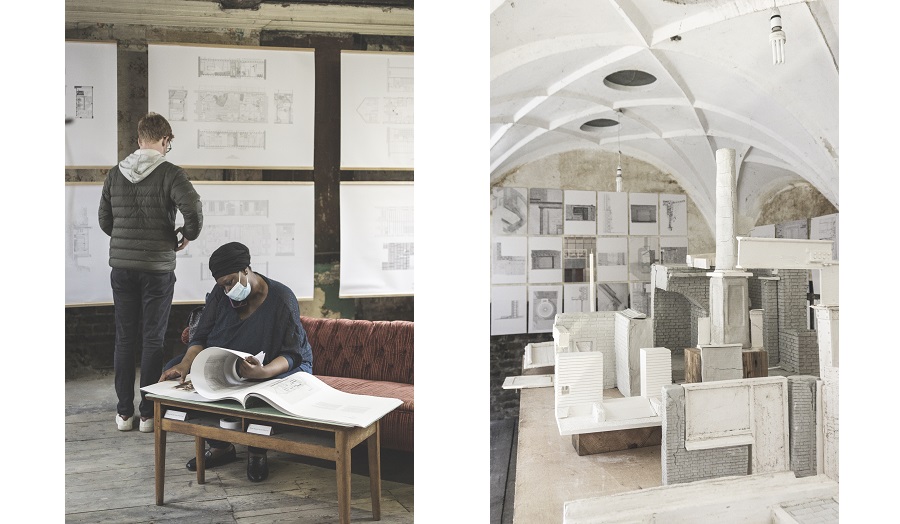 'Enough Already' - Unit 08 Masters of Architecture students exhibit research on the nature of reuse
Christopher Smith, recent MArch graduate and Unit 08 alumnus, explores the recent exhibition and the process of building it.
Christopher's design thesis, entitled "A Square and a Theatre for Brick Lane - Architecture of 'Modernism,' Rus in Urbe, and Spolia in the Post-Covid Era", was nominated for the Presidents Silver Medal. Previously he studied architecture in Switzerland and Canada.
______________________________________________________
Architecture students from London Met's postgraduate Unit 08 argue for better reuse and repurposing of what we have, through their design research projects which were exhibited in July this year. 'We have enough already,' they say - 'enough buildings, enough resources, and enough space' - and they've had enough of architecture that is inefficient or wasteful.
Concerns about resource-allocation and reuse are increasingly prevalent in architectural discourse and practice, especially now, as the pattern of how we use spaces in the city is changing. Our homes have become offices, cinemas, gyms, restaurants, and more. Unit 08's research explored how architects might create public luxury out of very little and how much agency can architects have in creating this new, resource conscious landscape.
Fifth year student Oliver Brenner said, "Increasingly, architects are being encouraged to work with what is already there - not only the physical built fabric, but also the stories, history and memories of our city. Our interrogations have been carried out with the intention of extracting meaning and continuity. Re-use must not be seen as perfunctory or tokenistic, but as an opportunity to critically evaluate what we have already in order to make meaningful interventions."
Determined to mount a physical show to connect the work of the design unit with the broader public, students took their research to develop an end-of-year exhibition, held at 25 Princelet Street in Spitalfields where the students had first begun developing their design theses.
Also known as the House of Annetta, the site is currently a live project of Assemble, a multi-disciplinary design collective based in London, and Unit Tutors in the MArch (RIBA 2) Architecture course at London Met. They were appointed by the Edith Maryon Foundation to help transform the house into a new social centre to support those working for land reform and housing justice.
The late owner Annetta Pedretti, a designer, campaigner, artist, and cyberneticist, was a lifelong active participant in the local community, campaigning against gentrification and for a multitude of social and feminist issues. The house she left behind was very much a work in progress, full of her interventions and ideas, offering students a complex and sensitive backdrop to address issues of authorship in architecture, land ownership, and gentrification.
Fourth year student Andrea Fais explained the significance of the site. "Over time people have moved to and from this house, changing its programme and the function of spaces. Sometimes it was a warehouse, workshop, sometimes a studio… the material and the history of the building merge. I found understanding how these elements were linked interesting, and focused on the sensations made by simple, minimal and essential elements."
Professor Christian Frost, Head of Architecture at London Met ,visited the exhibition. He said, "It was great that we were able to gather to see the work of Unit 08 presented as a whole in Assemble's Princelet Street project after a year in which many staff and students felt very isolated. The fact that the work in the show represented an ambition to give presence to the local community while valuing and adapting the existing building fabric is significant for us all. The projects offer real hope that architecture can play a significant role in lessening our impact - socially and environmentally - on a weary planet."
The opening event on 24 July featured discussion between students and members of Assemble, on topics ranging from gentrification and community building to the evolving nature of architectural education.
Work by Unit 8 will also be exhibited at the School of Art, Architecture and Design postgraduate exhibition from 13-18 September 2021.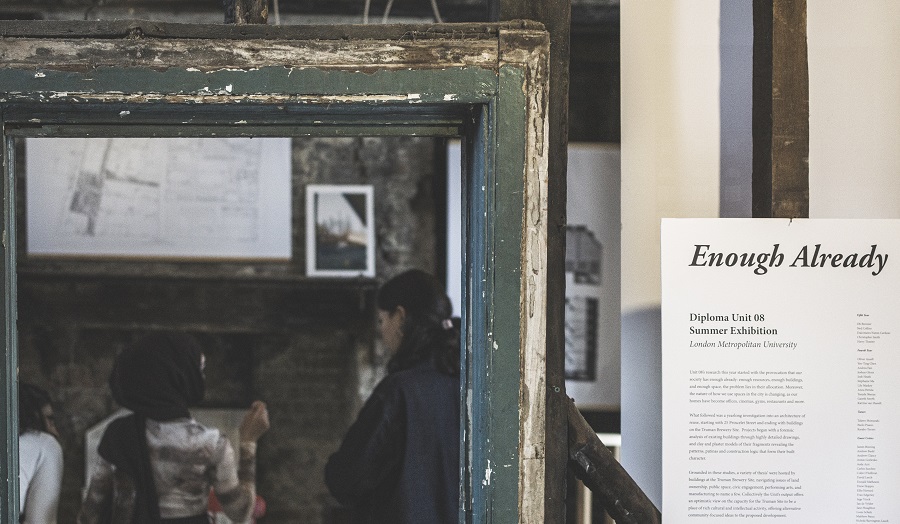 Image: Exhibition entry. Photograph by Andrea Fais.
Unit 08 is led by members of Takero Shimazaki Architects (Takero Shimazaki, Paolo Pisano, and Karabo Turner).
Follow progress and events at the House of Annetta on their website. With thanks to Assemble (Fran Edgerley, James Binning, Louis Schulz, Seyi Adelekun), and the many other collaborators this year.
The students exhibiting this year were:
Oli Brenner
Ned Collins
Dalcimaira Nunes Cardoso
Christopher Smith
Harry Thaxter
Oliver Ansell
Yen-Ting Chen
Andrea Fais
Joshua Glynn
Josh Heath
Stephanie Ma
Lily Markey
Anna Petrela
Yanjela Sherpa
Gareth Smyth
Katrina van Hasselt