The unique experiences of international students at London Met were highlighted in a recent webinar.
Date: 29 January 2021
International students from London Met, along with members of the University's staff, took part in a webinar in partnership with Diversity Abroad – the leading membership organisation that inspires and supports educators, policymakers, industry professionals and other stakeholders in leveraging global educational programs to support the academic success, interpersonal development and career readiness of students from diverse and underrepresented backgrounds. The webinar focused on the theme of Inclusive London, aiming to elevate the voices of students with diverse identities as they share about their time spent in London.
The three students taking part were Digital Forensics undergraduate Miguel Angel from Los Angeles, California; Anthea Ojadi from Corpus Christi, Texas, who is studying on the MSc Public Health programme; and Daniela Kroning, who grew up in various US states and recently graduated from the BA Interior Architecture and Design programme. The webinar was facilitated by Jadon Joyner, London Met's International Officer for North America. Helen Long'a Tongu, London Met alumni and International Officer for India and Africa, also participated as a panelist.
Jadon opened the event by noting the diverse body of students at London Met, with over 145 nationalities represented by students, faculty and staff; and spoke about the wide range of opportunities for African-American and other US students from underrepresented backgrounds in US study abroad. "At London Met, we're in love with everything Diversity Abroad stands for," he said, beginning a discussion about why the students chose to pursue a global experience, remarking that London has been ranked the #1 city in the world for international students.
Miguel explained his motivations for studying at London Met, saying, "Going to university means expanding your education and knowledge, and doing it abroad gives you so many new cultural experiences. In the military I was able to travel to many different countries which influenced my decision to come to London – I wanted to continue experiencing different cultures."
While Daniela said she was motivated to study in the UK because it's cheaper than the US, and because she prefers the style of UK degrees which are closely focused on one subject. "If you know what degree you want to study, then definitely go to the UK; it's more affordable, it takes less time and you don't have to take general classes as it's very specific to what you want to study.
Asked about her favourite thing about living in the UK's capital, she said, "there are infinite amounts of things to do. It's so easy to travel to the rest of Europe from London. Before the pandemic, I went to Budapest which was really amazing which was probably one of my favourite trips. My course also had trips included in the curriculum, which took me to Athens, Paris and Berlin."
Anthea agreed on the possibility for travel saying she spent almost every weekend of her degree exploring Europe, going to Italy, Spain, France, and her favourite, the island of Malta. "I'd never seen water so blue in my life. Unfortunately, that was when the pandemic started so we almost got stuck there, but I still enjoyed the trip so much."
She also highlighted the diversity of London and its food scene. "I lived in North London where there's a lot of great Middle Eastern food," she said, "then in South London there's a big Nigerian population. I'm Nigerian and I got to explore my own culture in South London more than I would at home."
When the conversation moved to whether she faced any challenges living in London as a Black woman, Anthea said, "I didn't experience the kinds of microaggressions I often find in the States. It helped that the students and faculty on my course were very diverse."
Diversity Abroad's mission is to create equitable access to the benefits of global education by empowering educators, engaging stakeholders, and connecting diverse students to resources and opportunity. They aim to equip the next generation of young people from diverse and underrepresented backgrounds with the skills, knowledge and global acumen to thrive in the 21st century interconnected world and global workforce.
London Met has previously hosted Diversity Abroad's Global Diversity and Inclusion Institute at its Aldgate campus, and Pro-Vice-Chancellor for Outcomes and Inclusion Dr Zainab Khan featured as a panellist for their first virtual conference in August 2020, for a Think Forward Summit session: "A Global View on System Racism (Latin America, Pacifica, Europe)". In addition, Senior International Officer based in the USA, Meghan Godding, sits on their 2020/21 Task Force for Fundamentals of Diversity, Equity and Education in International Education. She also participated in Diversity Abroad's 2020 Community College Global Education Forum.
The webinar offered a unique opportunity to hear directly from a panel of students about how fellow students navigated the global experience process, from searching for a program, to spending a term in the UK. It also offered a variety of resources available for students interested in pursuing a global experience in London.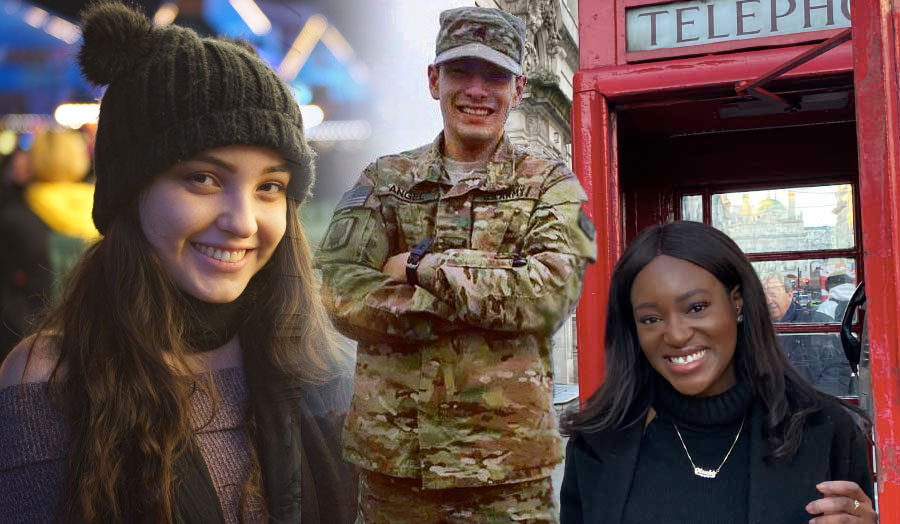 L-R: Daniela, Miguel, Anthea