Different Strokes at The Castle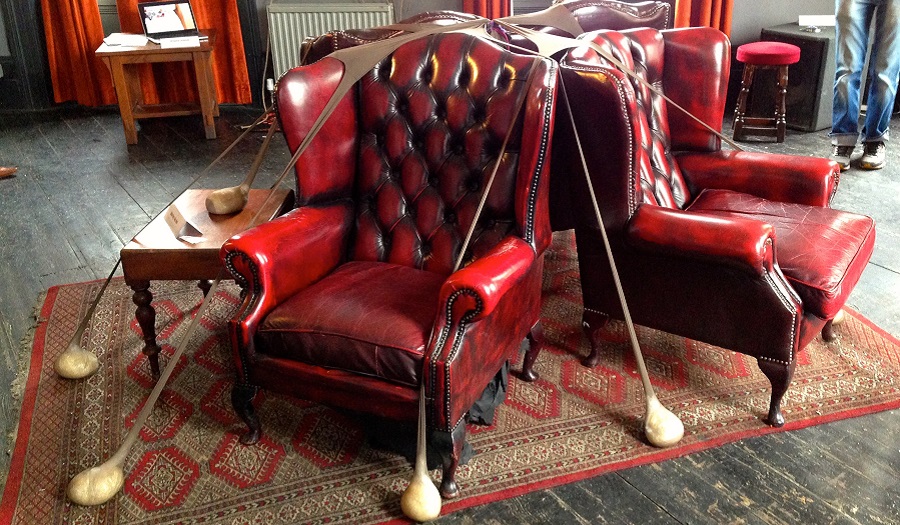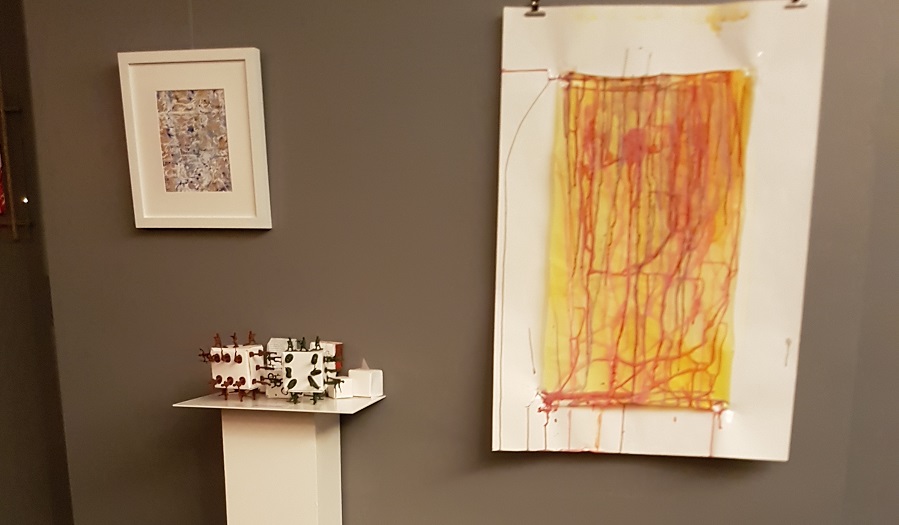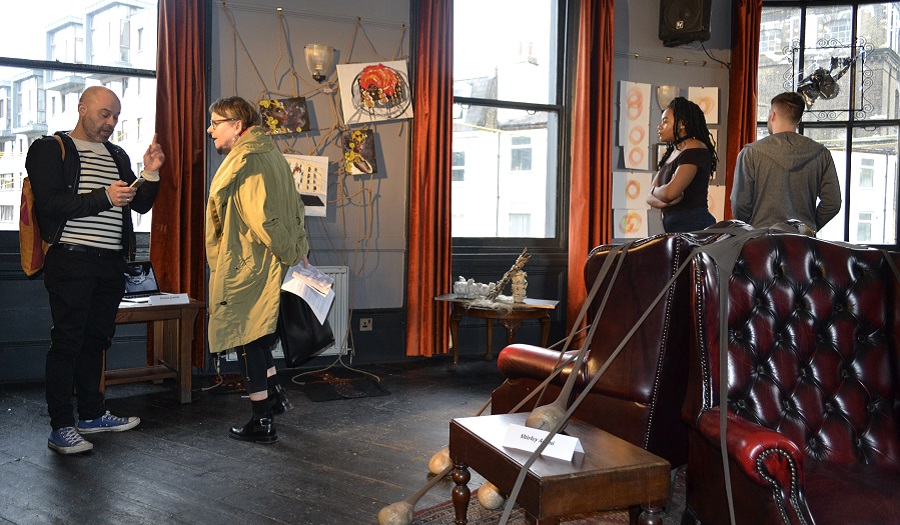 East End pub becomes an art gallery, launching series of pop-up exhibitions by first year Fine Art students
The Different Strokes exhibition at The Castle Pub on 14 March saw a group of Fine Art BA students turn their local East End boozer into an art gallery for a night.
Different Strokes featured the work of six students who are halfway through the first year of their fine art degree at The Cass. Their work ranged from drawing, painting and sculpture to printmaking, film and installation. The exhibition is part of a project on the Fine Art BA degree to give students hands-on experience of what it takes to produce an exhibition in a major city.
The show provided visitors with an insight into the artists' creativity and hard work, as they explored a variety media and processes that mark their initial forays into the contemporary art world.
Exhibitors featured in Different Strokes:
Shirley Accini
Shirley's art practice is influenced by her environment, particularly that of London. In a city where space is at a premium, she seeks out its nooks and crannies, exploring the shapes and forms they create, to then reproduce them in abstract formats and colours. Shirley is also interested in using materials not normally associated with creating artwork, from the flexibility of nylon stockings to the malleability of discarded packaging.
Ronan Cahill
Ronan is a mature student at London Metropolitan University. He is using his first year to experiment in drawing, painting, printmaking, sculpture and video, and is currently interested in exploring expression and abstraction with the potential of different media. Ronan returned to university to follow the passion he had from a young age. Having not practised for many years, he feels excited to be starting from a personal ground zero. Prior to university, Ronan worked mostly in the nonprofit sector, having spent the last 10 years with an educational charity.
Oriana Jemide
Oriana Jemide is a black British artist of Nigerian heritage. As someone who grew up partly in Nigeria and partly in the UK, she aims to bridge the cultural and social gaps between both countries. She is also interested in the empowerment of women, so most of her work presents the ideas of culture, colonialism and social barriers, focusing on women.
Somayyeh Melksari
Somayyeh's practice is influenced by a 10-year career in Iran's fashion industry, where working with different colours and textiles encouraged her to explore other media, and led her to the Fine Art course at London Metropolitan University. Her recent experiences in the beauty industry have further influenced her work. For this exhibition, Sommayeh's work represents her experimentation with colours and leftover nail polish, to create forms and figures through movements of paint on canvas and paper without the use of a brush.
Ryan Rasco
Ryan's paintings are inspired by romanticism and their return to nature, and he is particularly influenced by the works of JMW Turner. He also looks at utopian and dystopian ideas, examining their interrelationships, similarities and psychological effects. Ryan borrows ideas from romantic and expressionist paintings, using key concepts of each movement, and constructs imagined landscapes that invite the viewer to reconstruct notions of utopian and dystopian ideas.
Joanne White
This year, Joanne has been investigating the themes of personal space and disability, carrying on from her work last year, which focused on personal loss and memory. She also enjoys experimenting with colour. Art for Joanne is personal and emotional, even more so when it involves world events, such as President Trump's aggression against immigrants and the loss of disability assistance in the UK, which has resulted in pain and death.
Other pop-up exhibitions in the series will include 7500KG, a mobile gallery in a van, and exhibitions appearing at a variety of locations around the University campus.