Screening of documentary exploring social cleansing in council housing, accompanied by Q and A with director Nikita Woolfe.
Date: 5 April 2018
Cass Cities and MA Architecture and Urbanism present a film screening of Concrete Soldiers UK, followed by a Q&A with the director and narrator Nikita Woolfe The Wash Houses at The Cass School of Art, Architecture and Design London E1 7TP.
'Concrete Soldiers UK' is a new documentary film by Nikita Woolfe, looking at an under-reported scandal in London and across the country — the social cleansing of council estates. Starved of funds by central government, councils and housing associations are entering into deals with private developers in which, instead of renovating estates, they are being demolished and rebuilt. The developers make huge profits, but existing tenants and leaseholders are squeezed out, socially cleansed from their homes, and often from the boroughs in which they have lived for years, for decades, or for their whole lives.
Focusing in particular on the experiences of those living on the Aylesbury Estate in Southwark, and Central Hill and Cressingham Gardens in Lambeth, the film exposes how councils bully residents into making decisions about their homes without proper consultation and also uncovers how developers have found loopholes to avoid building affordable housing.
It also looks at the Grenfell Tower fire. Politicians and journalists claim that tower blocks built in the 1960s and 70s should be demolished are 'criminally unsafe', unfit for purpose as housing, and that their maintenance swallows up public funds. But they are wrong.
The greed has become palpable, and it sometimes seems that people can only stand by and watch this destruction take place, but there is resistance, from people fighting for our future social housing. Working tirelessly, these people are fighting the system because they believe that by sheer persistence they can make a difference. The film encourages viewers to have hope, to fight and to have a belief that a fairer future is out there.
Talking about the screening, MA Architecture and Urbanism course leader Dr. Jane Clossick said, "These issues are the very issues that MA Architecture and Urbanism students deal with in their activist projects, we hope you can come and join us for this great film offering a taster of some of the often unseen problems London faces."
Tickets which are £4.00 can be booked via the Eventbrite link on this
event page
Image: Still from Concrete Soldiers by Nikita Woolfe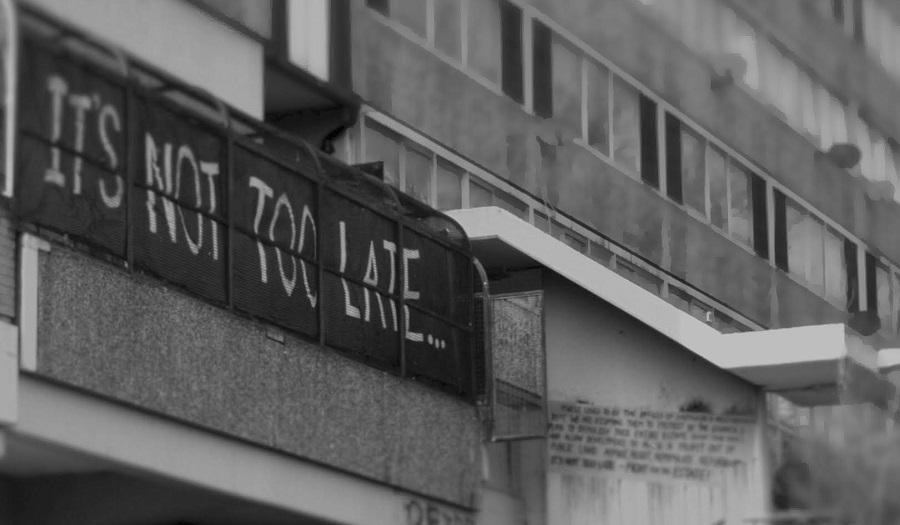 Event details
Tuesday 24 April
6:30pm