Cass Summer Shows 2017 - dates announced
Students from London Met's Sir John Cass School of Art, Architecture and Design showcase their talent with a season of summer events.
Dates have been announced for this year's Cass Summer Show season, a series of events highlighting the work by hundreds of graduating students taking place over May, June and July.
Set to be the most ambitious and extensive yet, with this year being the first time graduating students from all disciplines will display their work together in a celebrative extravaganza, the programme of events reflects the breadth and diversity of The Cass's creative output.
The season kick-started on 4 May with DEN at Shoreditch Town Hall, a festival of site-specific performances and installations on the themes of secrecy and disguise by Theatre and Performance students. The festival's sold out performances were attended by industry contacts, as well as the general public, sharing great responses to the work. As a result, one of the pieces, Ghostbusters Apocalypse, was recently announced for a commission by InTRANSIT Festival 2017 in a special programme called Escape Artists, which will also feature the Royal College of Music and Central St Martin's.
From 11 to 26 May students from Curating the Contemporary MA, which is run in collaboration between The Cass and the Whitechapel Gallery, launch their inaugural exhibition at the Cass Bank Gallery. 'There will be nothing left to suck', curated by DOW Collective, will see both national and international artists question the plausibility of a future where development has superseded itself and production has ceased.
On the 20 June, there will be a catwalk show hosted in the Wash Houses, Old Castle Street, showcasing work by graduating students from The Cass's Fashion courses. Tickets can be reserved via Eventbrite.
Students from all Cass disciplines will exhibit their work at the main Cass Summer Show from 23 June to 8 July, with a private view on 22 June from 3.00pm to 9.30pm. The extended private view day will include a series of prize giving ceremonies for Art, Architecture and Design students beginning at 3.30pm leading up to a launch party in the evening.
Running simultaneously to the Summer Show, 22 June to 8 July, students from Textile Design BA, Furniture and Product Design BA, Furniture FdA, Fashion BA and Silversmithing and Jewellery BA will be exhibiting in the Bank Gallery with Lines of Thought, an exhibition celebrating the work which takes place before final designs are realised.
Students from Film and Animation courses will screen their work at Final Cuts 2017, held at the British Film Institute (BFI) Southbank on 27 June from 2pm. Tickets are free but must be reserved through Eventbrite.
This will be followed by an awards ceremony for Upholstery & Furniture students on 28 June at 6.00pm, an Open Day for applicants on 1 July and an Employers and Alumni networking evening on 4 July.
During the summer season The Cass will also be taking part in Art Night 2017, an all-night art festival on Saturday 1 July. Visitors to the Cass Bank Gallery will have the chance to see a window display by Turkish artist Güneş Terkol, created in collaboration with residents from the Middlesex Street Estate, and an exhibition showcasing work from 3D, interiors and visual communications students from The Cass.
Find out more about studying in The Cass.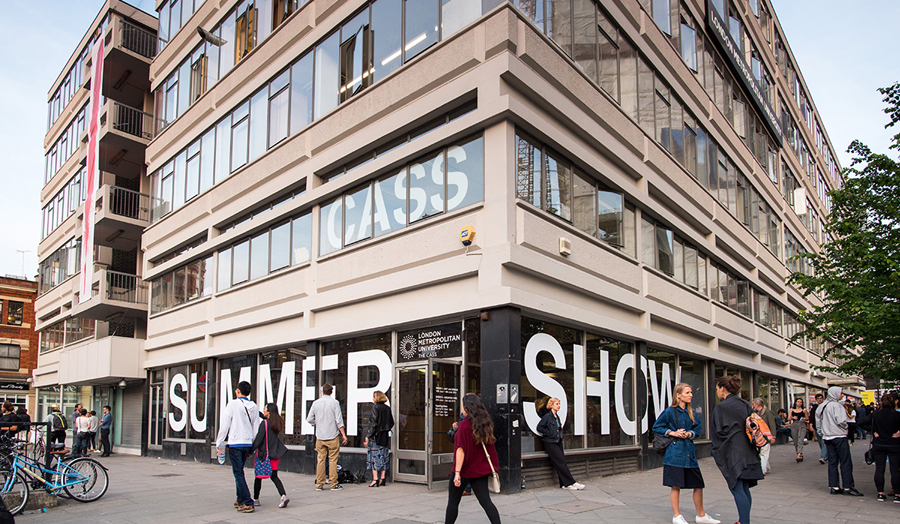 The Cass Summer Show 2019