Associate Lecturer nominated for British Photography Award
Sara Hannant, Associate Lecturer in Photojournalism at London Met, has been shortlisted for the 2019 British Photography Award.
Date: 13 November 2018
Associate Lecturer Sara Hannant has been shortlisted for the 2019 British Photography Award for her work, The Druid Order (pictured).
The British Photography Awards are one of the most prestigious photography awards in the UK. With a rich heritage spanning back 180 years, the awards are known for boosting the best British photographers' work into the spotlight. Applications are accepted from all around the world, as long as the photographer is British.
"I am delighted to be shortlisted for the Documentary category of The British Photography Award," Sara commented.
Sara's photo shows modern druids processing on Primrose Hill with the London skyline behind them. Each September, The Druid Order hold a ritual to mark the Autumn Equinox, the time when day and night are of equal duration before increasing darkness. In Druidry, attention and connection to the changing seasons is expressed through eight annual ceremonies carried out during equinoxes, solstices and 'cross quarters', forging links with nature, earth and sun. The Druid Order of London were founded in 1245 and the Autumn Equinox ceremony has been conducted on Primrose Hill since 1717.
"I am fascinated by British traditions which celebrate the changing seasons," Sara continued.
"I photograph events as they unfold and aim to show ancient traditions in a modern context."
Sara's work has been shortlisted in the Documentary category of the British Photography Award which is open for public vote until Thursday 15 November. The winner of each category will be announced on Monday 28 January 2019 at London's Savoy Hotel in its inaugural awards ceremony.
You can vote for Sara's work for free on the British Photography Awards website.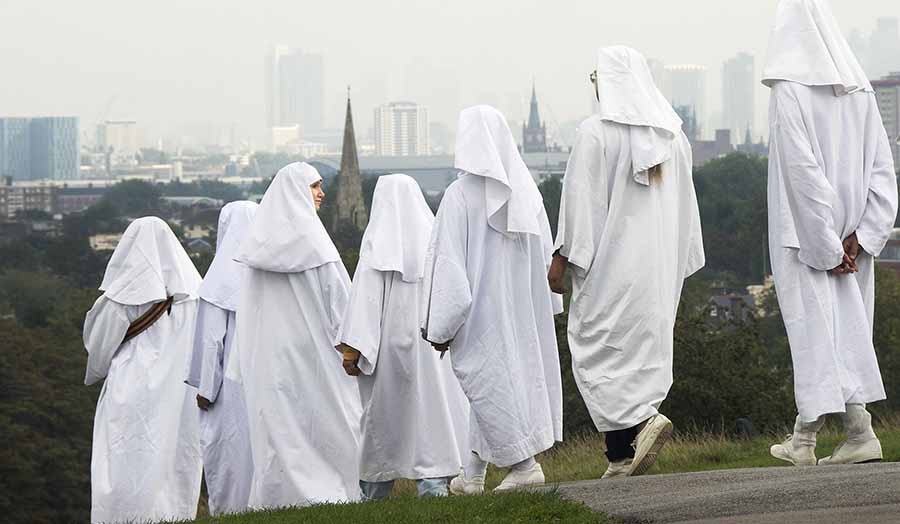 Who are The Druid Order?
The Druid Order are a modern spiritual or religious movement group who were founded in 1909. Druidism generally promotes harmony, connection and reverence for the natural world.
Druidic discussions typically cover personal experience as well as philosophical, biological, mythological, political, poetic, astrological, religious, and similar subjects. Direct experience is more important than learning acquired through books.