A change maker with a social conscience
London Met's Head of Communications Ben Sawtell caught up with Professor Nona McDuff OBE, recently appointed Pro Vice-Chancellor for Student Experience at the University.
Date: 16 May 2023
'Pioneering', 'disruptor', and 'inspiring', are just a few of the words that have been used to describe London Met's new Pro Vice-Chancellor for Student Experience. In a career spanning more than 30 years, Professor Nona McDuff has forged a reputation for transforming outcomes for Black, Asian and minoritised students, and has never been afraid of challenging the status quo.
Since receiving an OBE for her services to education in 2017, Nona has continued to innovate and transform the experience of students across the sector. At an institutional level, she has left a powerful legacy at both Solent and Kingston universities, having transformed many aspects of the student experience leading to greatly improved continuation and completion rates and improved outcomes for students.
Nationally, Nona has been a prominent figure in the fight to drive reform. She is a Principal Fellow of the Higher Education Academy, a member of the Advance HE Peer-Review Quality Committee and of Universities UK's Racial Harassment Advisory Group.
Nona arrived at London Met in April and has already started to build her vision for the year ahead.
How have your first few weeks at London Met been?
What a great start it has been for me. I was really fortunate to join London Met during the easter period so I was able to spend time getting to know the structures and the spaces and of course some of my colleagues. I have been welcomed by everyone and it is clear that they all are delighted to be part of the London Met family and on this fabulous journey that the Vice-Chancellor is expertly leading. I am excited to be part of this remarkable institution and work with our academics, professional services, and students to co-create and deliver the student success strategy.
London Met's Centre for Equity and Inclusion has been established for nearly three years now. How important was the University's commitment to this agenda when you were considering joining us?
It was of paramount importance to me. It is a relief to join a university that has a genuine commitment to equity and social justice and has actually invested a notable proportion of its budget to delivering the ambitions on equity that it has set out so clearly. All too often, university leaders speak of equity and diversity but they do not actually drive change in the way that the Vice-Chancellor and her senior leadership team at London Met are doing. I am delighted to play my part in delivering a high quality and inclusive university and its fabulous that I am building on a strong foundation rather than starting from a low base.
You're a regular contributor to sector-wide forums investigating different aspects of inclusive learning and teaching, student attainment, and equality and diversity. Do you think University leaders, and politicians, truly comprehend the extent of the challenges we still face?
Whilst there has been a lot of effort and energy by different groups and organisations, the data suggests that there needs to be a whole sector approach to understand the challenges and to with pace address the under-representation and differentials we are seeing still.
Institutions are more aware of issues relating to equality and diversity now, such as the degree awarding gap, but what was it like when you first started your work in this area?
Simply put I was selling a product very few people wanted or knew that they wanted!
I think it is fair to say that at that time organisations did not routinely analyse the student journey by demographics so there was no knowledge of the differentials nor awareness. When the Public Sector Equality Duty, Office for Fair Access and HEFCE (as they were known then) forced people to start to respond to questions about differentials and draw up plans and publish data did I and colleagues begin to see things change.
Even then it took pressure from the EDI community to force action through. This business is for the those who are tenacious, brave and absolutely committed to transforming the lives of the broad range of students who enter higher education with dreams and ambitions to improve their life chances. There are many of these fantastic people who have used data, told stories, presented images to show that without equity we cannot have a higher education system we are proud of.
In your previous roles you've transformed the experience for all students. How important is it to involve students as part of your work?
Thank you and I have only been able to as you say transform the experience of students by bringing together students, academics and professional services staff to identify the issues and problem solve together. Because the environment and student's needs and expectations are evolving, partnership working must be an ongoing process.
It must give you a great deal of satisfaction to see the influence your work has had at universities across the country – what do you think are the key barriers to change that still exist?
Change is never created by one person – it takes a village. I am fortunate to have collaborated with talented people to create impactful change. I am also honoured that my colleagues in the sector have drawn upon my work to create an inclusive curriculum, student services and environment. Great progress has been made and we need to ensure we keep the momentum up. A student is impacted by the culture of their institution, the sector, the employer and the Government. Until there is recognition that universities which are serving students from disadvantaged or under-represented background require greater resources than those institutions with students from privileged backgrounds the biggest barriers will be policy, competing priorities and investment.
What can London Met students expect over the next year?
Over the next year, I will be working with colleagues to enhance student administration and services so students are better satisfied with their experience at London Met. I will be also ensure that we have an institutional plan to increase the numbers of graduates who gain highly skilled employment whether that be in organisations or their own start-up businesses.
While your role mainly concerns student's experience, how would you like to impact staff members?
I would like to ensure that staff feel they are part of a journey of improvement and where their perspectives are valued and help shape the future of student services and administration at London Met. I will also be working with the Deputy Vice-Chancellor to ensure that staff who are engaged in student improvement activities and can demonstrate positive impact are recognised through our promotion processes or applications for awards.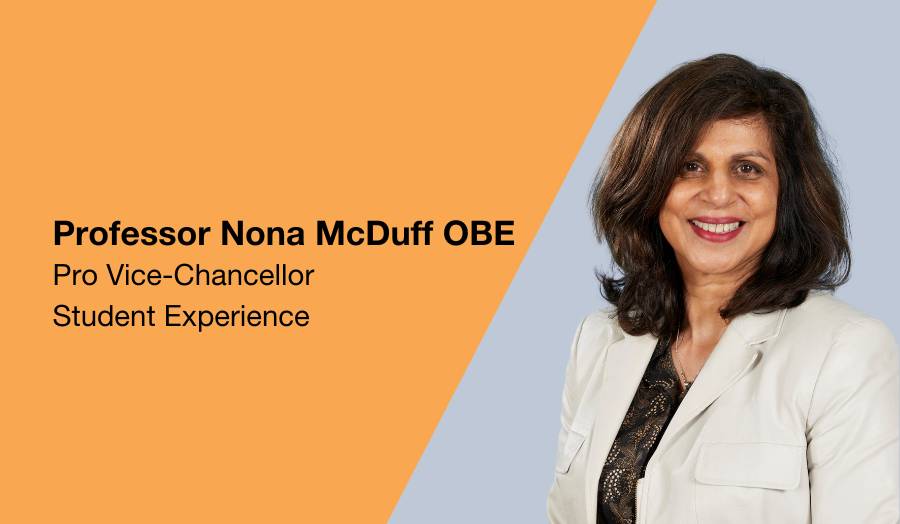 "I am excited to be part of this remarkable institution and work with our academics, professional services, and students to co-create and deliver the student success strategy."
Professor Nona McDuff OBE
Pro Vice-Chancellor (Student Experience)