2019 Big Idea Challenge winners announced
The winners of London Metropolitan University's Big Idea Challenge 2019 were announced in a prestigious ceremony held at the Royal Institution on Thursday 2 May.
Date: 3 May 2019
London Metropolitan University hosted its annual Big Idea Challenge awards night on Thursday 2 May 2019 at the Royal Institution, announcing The Write Path, an ambitious scheme that provides a creative outlet for troubled teenagers, as its Grand Champion.
Entrepreneur Levi Roots, known for his Reggae Reggae sauce, wowed the crowd with his infamous song as shown on Dragon's Den. Levi Roots was the keynote speaker and gave an inspirational insight into his journey.
Lord Bilimoria was also in attendance. An alumnus of the University, Lord Bilimoria has embarked on a unique journey and launched Cobra Beer when he realised he couldn't find the taste of India in the UK.
Run by Accelerator, London Met's specialist business incubator, the competition brings together students and staff, as well as schools and colleges from across London, to find the best business ideas and brightest young entrepreneurs and support them to achieve their ambitions.
The 2019 winning ideas are:
Category
Winner

Grand Champion

Social Impact

George Kelly

Commercial

Mary Kardakova

Creative

Rachel Godin and Elise Harrison

Innovation

Amir Gholami-Nick

Staff

Dr Ken White and PhD student Simina Cotosneanu

People's Choice

Femi Akinrinade

Grand Champion

Schools and Colleges

Newham Sixth Form College

Runner Up

Schools and Colleges

New City College Redbridge

Runner Up

School and Colleges

Christ the King St Mary's

People's Choice

Schools and Colleges

Newham Sixth Form
With more than 200 entries and a prize pool of over £30,000, as well as specialist tailored mentoring and support, the competition is one of the capital's largest entrepreneurial competition for young people.
"This year's Big Idea Challenge was bigger and better than ever before," commented Toby Kress, Head of Accelerator.
"I was seriously impressed with the ideas entered this year. At London Met, we have such a diverse community and the array of ideas produced really showed me that our students and staff really can make a difference.
"At Accelerator, we put our all into everything we do and supporting the winning ideas is high on our priority list and I am excited to see how these ideas develop next."
The winning idea, The Write Path, is a 12-week intensive course which helps troubled teenagers channel their creativity into a piece of fiction which is ultimately published in an anthology. The idea is owned by student George Kelly who said: "I am really overwhelmed to have won the Big Idea Challenge and I wasn't expecting it. I didn't know there was a possibility I was going to win.
"Winning the Big Idea Challenge has given my idea some credibility and it's finally on the Write Path."
The Write Path won the Grand Champion award and the Social Impact categories.
The winner of the Commercial category has been announced as Mary's Recipes, an app which brings time efficient and healthy meal recipes to your smartphone. The idea has been developed by Mary Kardakova who said: "Now I really need to push the idea forward. I believe in my idea, and now I know all these incredible, smart people who've achieved so much, believe in it too". There's no way back now!"
Haus Of, aims to offer furniture and pottery workshops to homeless people in order to help alleviate the mental health problems this can cause. Developed by students Rachel Godin and Elise Harrison, the idea won the Creative category. They said: "Our idea is all about helping others and I am excited to see that happen.
"We need to share the love in this world and that is what Haus Of is about."
New to 2019, the Innovation category was won by Smart Box, an idea developed by student Amir Gholami-Nick which aims to use technology to make boxing training more engaging and effective. Amir said: "Smart Box is the future of cardio training, and professional boxing training.
"The next step is putting everything into practice. I've been speaking with electrical engineers and manufacturers, who will be able to bring my product to the next level. I believe that I need to cooperate with the right people, and this is the right time to search for them.

"Because of the Big Idea Challenge, I have grown in self-confidence. My belief in my product has grown so much in the last few years. Because of everything I've learn during the Big Idea Challenge, I really think I can take my idea to the next level."
Dr Ken White, along with PhD student Simina Cotosneanu, won the staff category with his idea of Soft Iron, a new type of iron deficiency treatment which has been developed by a team of researchers across two universities. Simina Cotosneanu said: "The idea came about after a fire alarm went off and Dr White and I were standing in the cold for ages. We had been working on it for some time and realised we could make it better.
"Dr White told me about the BIC and I realised there was something here."
Ken White: "Simina is one of my students and she was prepared to help me with this idea and help make it commercial.
"I am so lucky to have worked with her and look forward to seeing where our idea goes now."
The winner of the People's Choice Award was Drink-U-Bator, a three month programme to support and mentor drinks industries. Femi Akinrinade said: "I feel so surprised and elated that we are the people's choice. If the world has chosen it, the people believe in it, which is the greatest validation. We're raising a glass to success!"
Entrepreneurial skills
The Big Idea Challenge is just one of the ways in which London Metropolitan University supports its students and staff to develop their entrepreneurial ambitions. Accelerator, which is based in Hoxton, offers a wide range of programmes to help budding entrepreneurs develop their ideas.
London Met is committed to teaching and training its students to produce business ideas which enhance and enrich the community and give real valuable skills back.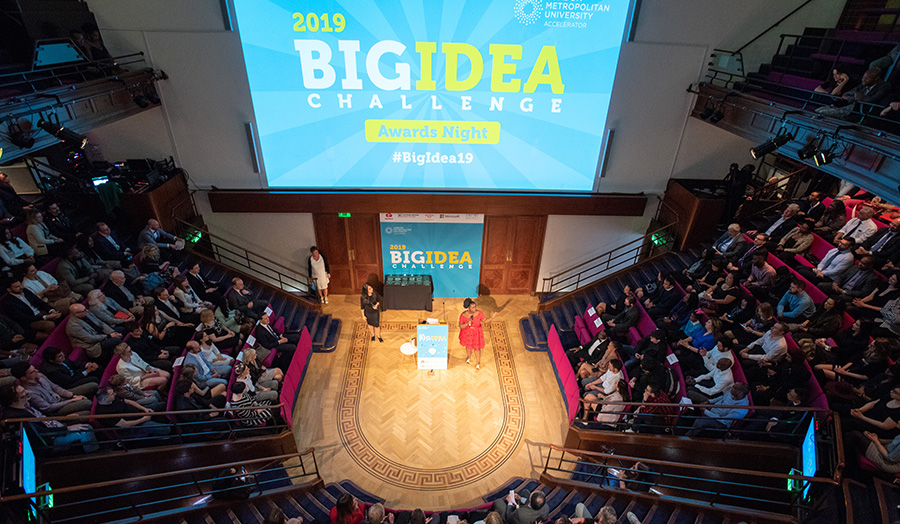 The Big Idea Challenge for University staff and students is run in parallel with a competition of the same name which supports schools and colleges across London. London Met's widening participation team, headed by Liz Routhorn, oversee the sister competition.
The team reach out to partner schools and colleges and work directly with teenagers to guide and support their ideas. The young budding entrepreneurs are mentored by professional partners from sponsors such as Microsoft, NatWest and The Prince's Trust.
The winning team, Bracelet Alert, is a stylish bracelet with removable strips that can be used to test for date-rape drugs in your drink. It gives accurate results, helping to empower women to take control of their own safety.
The winning team receive specialist business, marketing and PR support and a professional website design to help them turn their idea into a reality.