Providing our students with the best possible experience is our highest priority. We use the money we receive from tuition fees to help provide all of our students with high-quality teaching, excellent facilities and a wide range of student support services.
How the University spends its tuition fee income
Here you'll find a short summary of how we spend each student's tuition fee:
| | | |
| --- | --- | --- |
| Key | Costs | Percentage |
| | Academic departments | 32% |
| | Administration and central services | 29% |
| | Academic services | 19% |
| | Premises | 18% |
| | Research and other spend | 2% |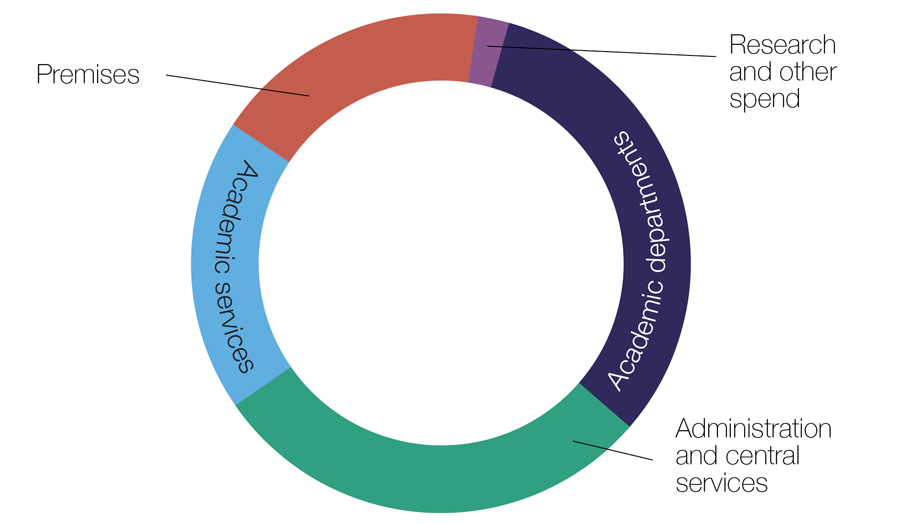 Haven't costs gone down during remote delivery?
Your tuition fees are spent on your education. Even when access to our buildings is limited, the University has the same costs as when our campuses are fully open, plus additional costs associated with remote delivery such as investment in our IT infrastructure and costs associated with the creation of new learning materials and moving all of our support services online.
Do you have the right to a tuition fee refund if your course is delivered online?
We recognise that this year has been disruptive, and that when you applied for your course you did so with the expectation of having the majority of your teaching in-person on our campuses. The difficult and unprecedented circumstances of the pandemic meant this wasn't possible while also keeping our communities safe. As soon as we switched to remote delivery we introduced a high-quality blended approach to learning and moved all of your student support services online. The Department for Education has made it clear that students should only expect refunds if their university has failed to "deliver courses which are fit for purpose and which help students to progress their qualifications." The hard work of our staff to ensure the quality of teaching and learning has remained high throughout this period means we are confident that we have been able to deliver this.
Supporting you to succeed
We know that Covid-19 isn't something that just affects your studies, it affects your home lives too. Be assured that we have tailored our support to take this into account. In partnership with our Students' Union, we have implemented new policies and regulations to ensure that you are not disadvantaged in any way as a result of the current situation.
Your school office is here to provide you with the support and advice you need to succeed – get in touch with them first for help with any challenges you're facing. Your student money and accommodation team can help you with advice on fees and personal finance. The University's Hardship Support Fund provides financial support to help you to access and remain in higher education, and can help alleviate unexpected financial hardship.