Final Cuts Festival 2021 programme
Our online festival of outstanding student work, 22 - 24 June 2021
You're cordially invited to Final Cuts, the School of Computing and Digital Media's online festival of outstanding documentaries, short films and animations by students at London Metropolitan University.
The three screening events will include thought-provoking Q&As with the filmmakers, plus guests! You'll also be able to get involved via live chat. Check out the full programme below.
Get your tickets!
The Festival will take place 100% online this year. Book your tickets.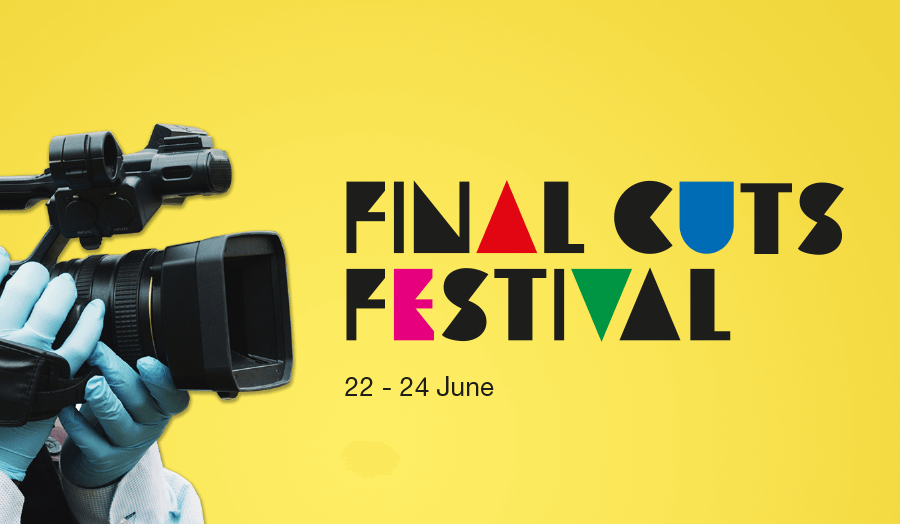 Full festival programme
We're kicking off with a selection of the very best films from a range of media courses, followed by Q&As and special guests.
Birch
Director: Tony Fifield
Actors: Matthew Moore, Becky Chan-Lok
Synopsis: Will spends one last day with his friend before moving away
Time: Two minutes
Run For Your Life
Director: Mihaela Zubcu
Actors: Alexandru Ojog
Synopsis: A documentary about a female runner's lockdown experience.
Time: Five minutes
Structures
Director: Jacob Bone
Actors: Jacob Bone
Synopsis: Music video
Time: Three minutes
A Greater Fire
Director: Miguel Bensadón Oliart
Actors: Félix Arias, Paty Magee Seseña
Synopsis: A documentary film about the xenophobic riots in Madrid triggered by a fire in a Chinese shop.
Time: Eleven minutes
The Pill
Director: Angelica Artusi
Actors: Angelica Artusi, Ilaria Iannarilli, Luna Perri
Synopsis: An animated documentary about the experience of using female birth control.
Time: Seven minutes
Chickens, Romans, Countrymen!
Director: Matt Prestage
Actors: Matt Prestage
Synopsis: A historical documentary parody setting out to prove the existence of the very first Roman branch of Nando's in London
Time: Fifteen minutes
COVID 999
Director: Isaac Buyondo
Featuring: Isaac Buyondo, Chelsea Quansah
Synopsis: A documentary about NHS workers during the pandemic
Time: Nine minutes
Join us for films and Q&As from final year students of our dynamic, production-focused Film and Broadcast Production BA (Hons) course.
The Process
Director: Angus Findlay
Actors: Angus Findlay, Thomas Mathewman
Synopsis: A boy left in bereavement at his grandad's passing is suddenly uplifted when he finds a message left by his grandad.
Time: 12 minutes
You Belong to Me
Director: Angelica Jacobs-Grant
Actors: Nena Roberston, Parvinder Shergill, Ermar Alexander
Synopsis: Peggy is a simple lady. If you're a male, she will kill you. If you're a female, she'll keep you.
Time: 11 minutes
My Path
Director: Sylvester Huczko
Actors: Andrzej Waiss
Synopsis: There are no boundaries for Adrian. The biggest downfall in the mind of a lost man looking to reverse his break up.
Time: 14 minutes
Dance of Life (Il Balo de la Vita)
Director: Ekaterina Kozlova
Actors: George Bloomfield, Christian Collado
Synopsis: A series of snappy animations which look at topics such as morality, sex, study, inwardness, work, plague, love, family and death
Time: 12 minutes
Bubbles
Director: Natasha Drakakis
Actors: Zack, Mina, Kale, Kanar, Sofia, Anna, Nishad
Synopsis: A documentary about a school's bubbles and their impact on the children.
Time: Nine minutes
Inertia
Director: Jordan Duff, Samuel Harrop
Actors: Elliot Todd, Lewis Harkin, Sam Harrop
Synopsis: Tucci begins his day like normal. However, when his menacing friends show up with a proposition that he is forced to accept, things flip on their heads.
Time: 11 minutes
Ephemeral
Director: Juliet Igbokwe
Synopsis: A highly personal documentary film which explores the loss of a loved one to a rare condition called PSP (Progressive Supranuclear Disorder).
Time: Ten minutes
Can I Have a Threesome?
Director: Elliot Banks, Ananya Gupta
Actors: Cat Cherry, Jamal Anansi
Synopsis: On the night of their anniversary a man asks his girlfriend if they could have a threesome. But the girlfriend is enraged by who he wants it with.
Time: Nine minutes
Invisible Mind
Director: Kyri Xeno
Featuring: Karen, Tom, Jessica, Al, Michelle, Sam, Caroline
Synopsis: Feeling stressed and anxious at work can be daunting and is an issue that needs to be taken seriously by the employers.
Time: 11 minutes
Right of Passage
Director: Julia Jarzyna
Actors: Antonios Vitalis
Synopsis: The curator of the Blue Whale Challenge finds himself in a time loop.
Time: 17 minutes
"London Metropolitan University is proud to welcome you once again to the Final Cuts Festival, where we showcase films from across our courses in the School of Computing and Digital Media, including the graduation films of students of our Film and Broadcast Production BA (Hons). This year students have worked under the continuing additional pressures brought about by COVID-19 and recurrent lockdowns, and this means that once again we could not exhibit these films in their natural home – the cinema.
However, these restrictions have led to a flourishing of creativity, and this online festival means we can also include films from students in their first and second years of study, as well as the final student film projects of our graduating students. Films this year present indecent proposals, uncanny animations, drug-fuelled journeys, ditzy detectives, kidnappings, and messages to (and from) those we have lost.
These young filmmakers are rightly proud of their work, produced across a range of genres and in the midst of huge uncertainty and change. Congratulations to them all."
Jeremy Collins, BA (Hons) PhD.
Course leader, Film and Broadcast Production BA (Hons)
Meet the team
Festival coordinators:
Suzanne Cohen, Lecturer in Digital Filmmaking
Louis Heaton, Lecturer in Digital Filmmaking


Publicity team:
Angelica Jacobs-Grant, Film and Broadcast Production BA (Hons) student
Elliot Banks, Film and Broadcast Production BA (Hons) student
Ekaterina Kozlova, Film and Broadcast Production BA (Hons) student
Festival team:
Natasha Drakakis, Journalism, Film and Television Studies BA (Hons) student
Aston Brain, Film and Television Production BA (Hons) student
Jacob bone, Film and Television Production BA (Hons) student
Oleksiy Andronyak, Film and Television Production BA (Hons) student
Rhanie Al-Alas, Journalism, Film and Television Studies BA (Hons) student
Ananya Gupta, Film and Broadcast Production BA (Hons) student
Zac Cleverly, Film and Television Production (including foundation year) BA (Hons) student
Production:
Spencer Samuel, Technical Director