Textiles BA and Fashion BA students celebrate the exhibition changeover at the new Whitechapel art space.
Textile Design BA and Fashion Design BA students were invited by The Loom Art Space to deliver a series of evolving exhibitions in this local building's ground floor foyer space. The student work celebrates its textile and manufacturing history, in this building that has recently been refurbished by Duggan Morris Architects.
The work shows textile design and fibre-based artwork, recalling the building's former life as a wool warehouse as well as reimaging its new role in the city. The event at celebrates the end of the first and beginning of the second student shows, with project briefs and curation by James Hunting, Course Leader for Textile Design BA.
The current show is called "Making is a timelessly changing and evolving process". The students and their work involved are:
Denise Lewis, "Space, Shadow, Place"
Rosie Mizon, "Disrupting the Motion"
Yasmin Afif, "Denim 2.0"
Beata Religa, "Wood is my fabric, metal is my thread"
Future themes at the Loom will encompass the range of Cass disciplines, from furniture, film and fine art to precious objects, instrument making and silversmithing.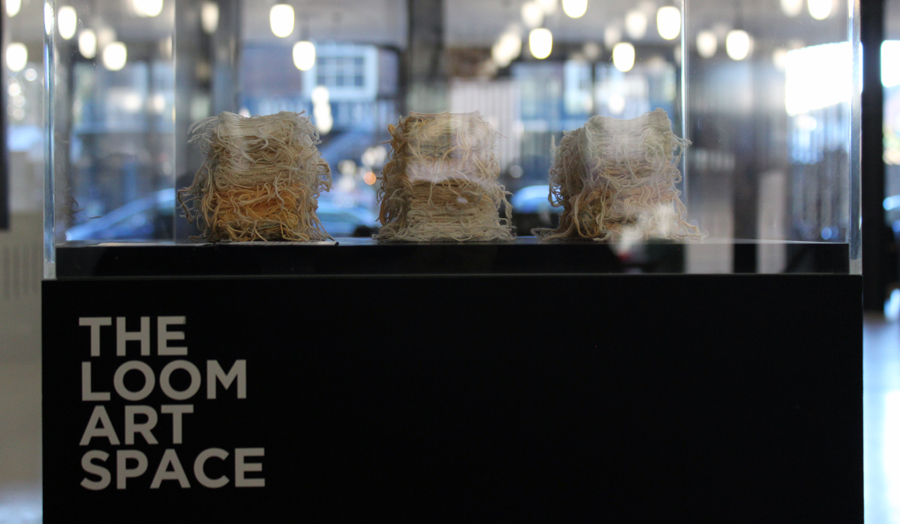 News details
Drinks reception
5.30pm, Tuesday 6 December
Exhibition dates
Until March 2017
Location
The Loom
14 Gower's Walk
E1 8PY