Roding's innovative world-leading classroom technology
By Nicole Mitchell, Project Communications Officer
Date: 16 March 2018
London Met's brand new Roding building is now open at the Holloway campus and there are plenty of exciting new technologies for students and staff to try.
At the heart of the University's Strategic Plan 2015-2020 is improving student outcomes and the creation of world-class teaching environments has been a priority.
Roding is now home to the latest innovative teaching technology, which is designed to inspire flexible learning and collaboration among students and academics.
The building's learning and teaching spaces feature collaboration desks that support interaction between academics and students, allowing them to share content from their personal devices on a number of screens at the same time.
Avocor Touchscreens, designed to work in a live environment, have also been installed in each classroom, with other rooms containing stations for small group collaboration.
But what is said to be the most cutting-edge feature of the new facility is the ideation room located on the top floor. Enabled by Nureva Span classroom technology, students can now collaborate by interacting simultaneously with a large virtual canvas projected to a wall. The software also enables them to continue interacting with the same canvas from any location using a personal device. If you don't have a personal device to hand, London Met's new laptop loan lockers mean you'll never miss out.
The aim is to enable lecturers to teach in innovative ways, supporting the great variety of teaching methods that London Met provides, while enabling students to learn in the ways that best suit them.
Olly Holmes, Interim Director of Information Technology Services, said: "We have lots of learning and teaching technology in the Roding building which will really enhance the experience for staff and students."
"The vision for the technology in Roding was to support the learning and teaching enhancements that we are prioritising at London Met, particularly active learning, where we have seen some real gains in student performance."
"We want to embrace new technologies and move towards ideation* in the spaces."
Teaching in Roding will officially begin in April 2018.
Training sessions are available for staff to familiarise themselves with the state-of-the-art technology that is sure to inspire an unforgettable learning and teaching experience.
Find out more about One Campus, One Community and our latest Holloway campus development projects.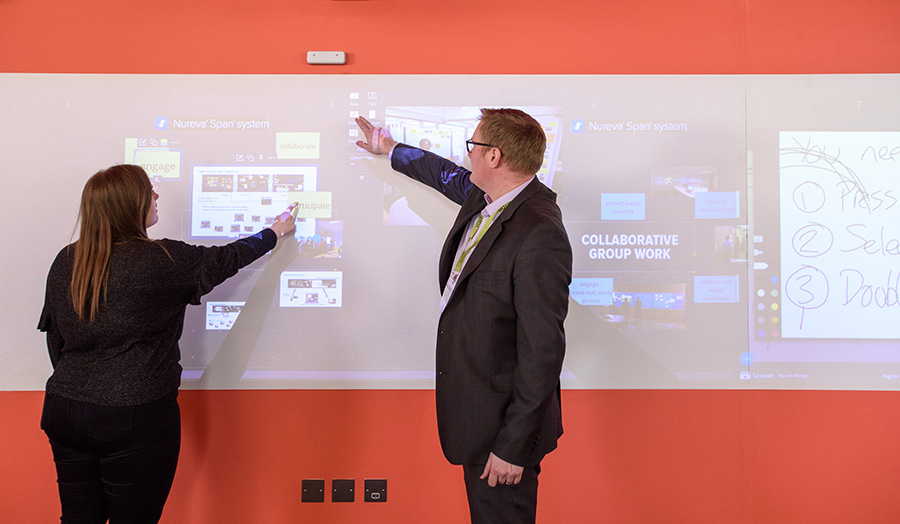 Roding's Nureva Span technology
An interview with Jon Knight about the Nureva Span technology in the Roding building.