A hat trick of recent media stories reveal the impact of graduates of 3D design courses at London Metropolitan University.
Date: 15 December 2020
Three alumni of 3D design courses at the School of Art, Architecture and Design London Metropolitan University Designer have featured prominently in the national or trade media recently. Yinka Ilori, a graduate of BA Furniture and Product Design has attracted attention for his first homeware collection following numerous high profile design, architectural and furniture projects. Emefa Cole who studied Jewellery Design at the school featured in a Financial Times article about the creatives driving diversity in the jewellery industry and designer Dr Mahtab Hanna, also a jewellery graduate, has been interviewed about her approach to Political Jewellery in two industry publications.
London designer Yinka Ilori's first Homeware collection sees him translate the striking bold and colourful approach familiar from his installations, architectural projects and furniture to the domestic scale. The range which includes rugs, cushions, stoneware, tablecloths, trays, tea towels and enamel mugs has appeared in sites and publications including DEZEEN, Living Etc, Wallpaper and Luxury London. In the latter publication,asked about diversity in the design sector Yinka - who is of British-Nigerian heritage - says "London is such a multicultural city but it's not reflected in the design industry and that's something I'm always trying to talk about a lot more within my design. I think there needs to be a lot more reflected within design or fashion or art, because that is what makes the city so special." Yinka's limited edition homeware collection is available at his online shop.
Alumna Jewellery designer Emefa Cole, whose work has recently been added to the V&A's collection, featured in an article called The Gold Standard in the Financial Times: How To Spend It. This focused on the creatives driving the diversity agenda in the jewellery industry. Seeking to improve BAME representation in the sector, Cole has collaborated with fellow designer Melanie Eddy and editors Rachel Garrahan and Annabel Davidson to launch a UK based scholarship and grant-awarding body called the Jewellery Future Fund. Although as she notes in the FT article, "The colour of our skin should not be the main reason to look at our work. I think it should be based solely on quality." She is also increasingly working with 11-16-year-olds, she says, "to help to grow a future generation of craftsmen and women and change their direction in life."
Finally, alumna Dr Mahtab Hanna, a UK designer of Persian heritage discussed her work in the realm of 'political jewellery' with trade publication Jewellery Focus this month explaining how all forms of jewellery including high-end fine crafts can carry political messaging which can be harnessed to address social and political issues using the language of protest. Her pieces in this area include a sterling silver chess set called 'Pawns' which considers the origins of war through pieces which allude to politics, religion, money, and natural resources. Mahtab was also recently the cover star and lead feature profile for Sassy & Co an international global style magazine.
Michael Upton, Head of Academic Portfolio for the School of Art, Architecture and Design said, "It is wonderful to see graduates of our 3D Design courses achieve this level of success and prominence in their respective industries, and particularly to see them actively engaging with the wider political and social context surrounding them."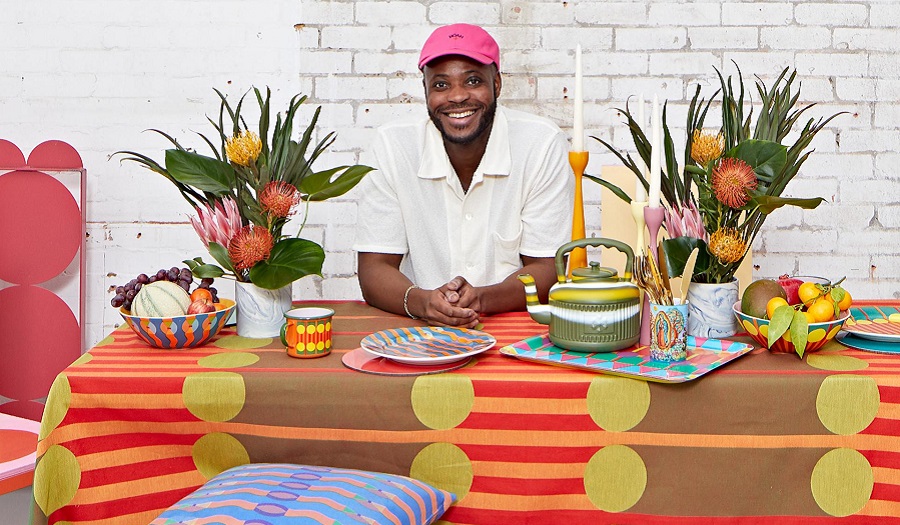 Visit the websites of the featured designers:
Photograph: Yinka Ilori with Homeware collection by Andy Stagg