London Met students return to Calabria
Innovative project bridges the gap between academic education and real-life issues.
Date: 24 November 2022
A group of seven undergraduate and postgraduate architecture students is currently living in the small village Belmonte Calabro in the South of Italy as part of a study-abroad programme, called "Studio South".
Paired with the London-based activities of Studio 3, this student-in-residence mode of study is a 9-week long field study experience funded by the Turing Scheme, offering the students to be embedded in the local community as part of their architecture studies while developing their design projects for the village.
Collaborating with the local non-profit organisation, Le Seppie, the programme represents a new form of university teaching, enabling students to apply their learning on world issues through immersive practices and building relationships which benefit society and students' transition into their professional lives.
Crossing Cultures since 2016
Studio South has been developed as a new pedagogical model as part of Crossing Cultures, a university-based research initiative of London Met's School of Art, Architecture and Design (AAD). Since 2016, a "fluid" timetable which consists of overlapping events and recurrent activities beyond the boundaries of the academic calendar has involved different student cohorts to apply peer-learning, teamwork, experimentation, and agency in Belmonte. As a result of the long-term engagement in the village, the students contribute to a growing body of work together with Le Seppie, building a new vision for the village.
The project bridges the gap between academic education and real-life issues. It provides an inclusive learning environment, facilitating intercultural relationships and group learning while equipping students with essential skills for a globally connected world beyond the subject of architecture.
As this region in Calabria suffers from depopulation, the student residency is also an opportunity for students to become agents of change by helping to rebuild the local community. Students add to social capital, population, and economic growth by temporarily becoming part of the village.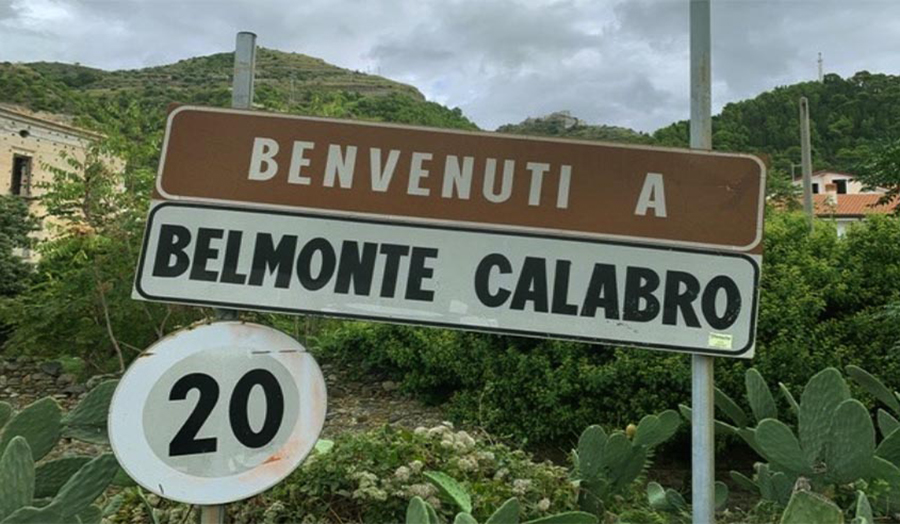 Welcome to Belmonte Calabro (Photograph by student Hannah Brückner, part of Studio South in 2020)