Unit 4: Building Lab; Living with Man-made Natures
Unit brief
"The earth is like a spaceship that didn't come with an operating manual" – R Buckminster Fuller
Unit 04 continues its quest to reach beyond the concept of sustainability towards regenerative building design that gives back more to the natural environment than it costs. According to the United Nations Environmental Programme (UNEP)'s Buildings and Climate Change, the building sector is still responsible for around 30% of the global emission of greenhouse gases, meaning that there is an urgent need for rethinking building design and construction. At the same time, there is precious little room to return to a simpler form of building technology because the global population and its affluence is continuing to grow. This means that the only way we can affect our environmental impact is by embracing new technology such as advances in food production, living materials, robotics, 3d scanning, 3d printing, digital manufacture, augmented reality and simulation techniques and use it proactively in the perpetual forward-looking evolution of man-made natures. Unit 04 aims to re-appropriate the post-industrial landscapes of the Metropolitan City of Messina and its manmade nature to see in which capacity it can be brought back into life in its former communities.
We are visiting both touristic sites such as Taormina and the Eolian Islands turned into a world heritage site in 2000 and manmade natures of the post-industrial landscape in Messina, Catania and Milazzo. We will be exploring the surreal Ghibellina and the complex Volcanic Landscape of an abandoned Pumex Societies Pumice mine on Lipari, the largest of the Eolian Islands where we are staying for a workshop in collaboration with the Mayor's office and a master's studio at Polytechnic University of Milan. This workshop aims to study the future use of the Pumice mine, 3d scan part of it, and make use of augmented reality for the study of this highly complex landscape. We are also producing a large-scale prototype that will be exhibited in Lipari.
The industrial sites in the urban landscape of Messina and the more rural landscape of Lipari are voids in the landscape of the city or of city and the island, and we are developing a strategy for a more sustainable development not centered around seasonal mass tourism but also for job opportunities for the full calendar year. We are also visiting and making a case study at the Eden Project as an example of a singular project situated in a post-industrial landscape that had an overarching effect on the local economy.
We are going to be working on a series of techniques including 3d scanning in Context Capture, digital design modelling in Rhino and BIM modelling in AECOsim Building Designer that export directly to Unity 3D for use in augmented reality using Google Cardboard or more advanced gear. As always, Unit 04 is interested in the relationship between design information and realisation and we are looking to large-scale prototyping and model building using a broad range of both digital and analogue techniques. We have three sites in the Metropolitan City of Messina, each offering different possibilities.


A: The Pumex Societies Pumice mine on Lipari
The focus here is to make the site a destination of its own, based around the extreme landscape augmented with an additional program capable of extending the season and providing job opportunities. We are proposing two strategies:
A joint research and teaching campus of earth sciences shared by University of Messina and University of Reggio Calabria, also including accommodation that can change its use over the different seasons using the manmade landscape of the mine both as a geological park and as an open-air laboratory.
A venue or a manmade park that would make the park a destination of its own, that on its own terms can spawn off different job, business and research opportunities, ie think the Eden Project
B: Cortina del Porto, Messina
The focus here is to make use of this strategically-located site in Messina offered to us by the Mayor's Office in Messina in close proximity to the railway station and to the ferries to the mainland. This area being an abandoned series of warehouses is central and could be bustling with activity with many people crossing the site:
This site being suitable for a medium to large-scale building is appropriate for a public venue in the vein of SESC Pompeia Factory by Lina Bo Bombardi.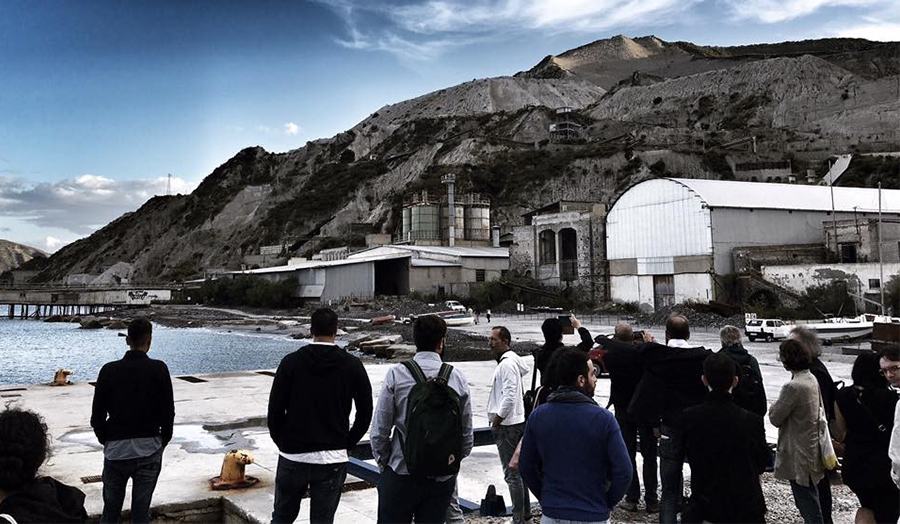 Details
Course
Professional Diploma in Architecture
Tutors
Andrew Grant
Elian Hirsch
Eva Diu
Jonas Lundberg
Where
Central House, fourth floor studios
When
Monday and Thursday
Professional Diploma in Architecture (RIBA part II)
Cass Studios archive by year