UG Architecture Studio 05: Existing/Proposed: Making the most of what is there already
Studio brief
In the aftermath of the COVID-19 pandemic we find ourselves amidst a period characterised by intense political and economic uncertainty and an inability to predict the impact of environmental change.
In this context, architect, writer and curator Ruth Lang, in her recent book, Building for Change, predicts that 80% of the buildings projected to exist in 2050, the year of the UN's net zero carbon emissions target, have already been built*.
The setting prompts us to consider how expensive and inefficient it is to build new buildings for our constantly-growing population, and how necessary it is, now more than ever, to develop good design strategies that deal with the building stock we have to hand.
Our studio throughout the year will be investigating how we can adapt existing spaces, structures and facades to facilitate current needs and contemporary performance requirements by adding or taking away existing building materials and space.
Our aim will be to do that in ways that acknowledge the architectural qualities found in existing buildings, the character of the places they are sited in and the needs of the communities they belong to.
There will be a choice of sites with existing medium-sized buildings for you to work with, all located in the town of Walthamstow, east London, a place of ongoing change, regeneration and community participation.
Part of the studio brief is for the building you choose to work with, to remain fully accessible by the public. We will be discussing and identifying together a range of possible new functions for your proposal, such as affordable workspace, education and primary healthcare facilities to be mixed as necessary to meet the needs of the communities already there.
Teaching will be structured around weekly individual and group tutorials and pin-ups and will be supported by studio lectures and seminars as well as drawing and model-making workshops. Reference will be made to artists, such as Rachael Whiteread, Gordon Marta-Clark and Heidi Bucher, who work with found structure to create new meanings.
To familiarise ourselves with the process of altering an existing building, we will begin the year by reworking an existing London terraced house. Learning through studying selected building examples, you will develop the skills and mindset to tackle the larger and more public buildings in Walthamstow.
For our three-day long field trip in November, we will visit contemporary and historical examples of reconstruction and reuse across London, but there will be many more opportunities to visit good working examples in the city throughout the year and meet with practising architects that have undertaken such work.
* Source: Wainwright O. 2022 'Demolition is an act of violence' The Guardian, August 16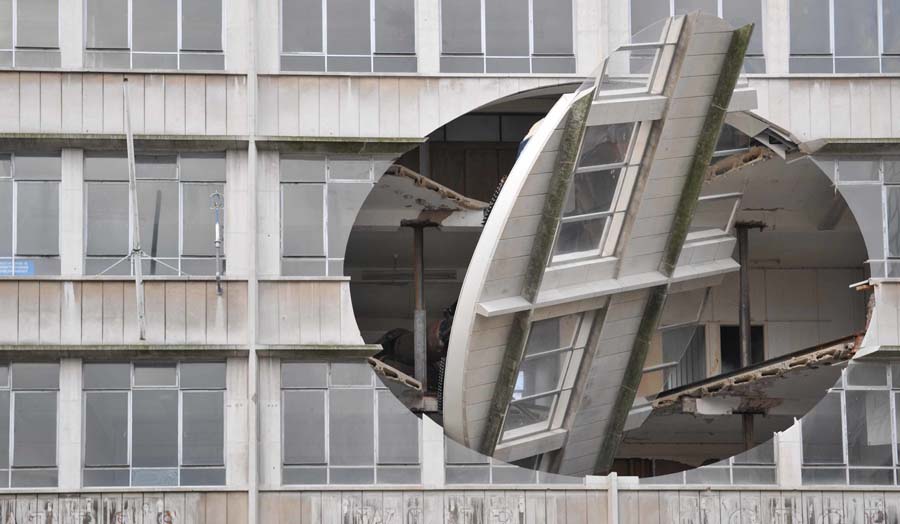 Richard Wilson, Turning the place over, Liverpool, 2008 ©Creative Commons, Julian Stallabrass, Image link
Details