UG Architecture Studio 02: After City 3 - Reversals
Studio brief
In 2018 Studio 2 travelled to Portugal to explore the potential of contemporary rural landscape. Working with ideas of assemblage, incrementalism and infrastructure, we looked for small adjustments and architectural strategies that accepted absence and slackness as a critical alternative to regeneration through completeness.
In 2022 we will return to Portugal but this time to examine changes to its second city. Oporto has felt the impact of wider change across Europe over the last six years with many young people returning to the city from abroad and changing the fortunes of its physical environment. Alongside this, there continued a movement of young people from rural areas to the city to find work and to study. Overall however, the population of Oporto and indeed of Portugal continues to decline. We will meet with architects and academics with whom we will discuss these phenomena.
In the wake of the global pandemic and our continuing efforts to understand its impact on our cities we will look closely at small adjustments and larger infrastructural change. You will propose small temporary structures and later, larger more permanent buildings that respond to your individual and collective findings.
Field trip
In November the studio will travel to Oporto and neighbouring settlements where we will undertake field work and where your projects will be sited for the remainder of the year. We will spend long days and evenings walking and recording. We will also visit work by Fernando Tavora, Alvaro Siza, Paulo Providencia and others and see how contemporary practice in Portugal is grappling with change.
Assemblage
Students are invited to consider assemblage as a form of map making and as a conceptual framework for proposals. The process of mapping, which includes reviewing through collaborative workshops, is on an equal footing to the artefacts made. In a sense, you will construct (pre-field trip) and reconstruct (post-field trip) the site in the studio, and as a group you will derive new insight into the location. This process will lead to your individual design proposals which will explore new spaces in relation to a wider and shared landscape.
You will develop your own techniques in making, capturing the qualities of a particular location. Through modelling, sketching, montage and writing you will begin to be propositional.  We encourage you to be more deliberate and conscious in this creative act, drawing out architectural interventions that offer something special to the locations you have been recording. With ideas and ways of working gathered from investigations in Oporto, you are encouraged to develop strategies of conglomeration and projects that allow for spaces to deliberately conflict and converge; propositions that have the capacity to absorb additions, creating a social architecture with the potential for activities to take place within and around a building. We promote an idea of intensity of activity and mixture of use heightening an 'urban' experience rather than singular, specific programme. These uses are likely to change over time and therefore tolerance should be designed into the architecture.
Studio 2 will continue its collaboration with colleagues at the Technische Universität Berlin (TU Berlin) and Architecture Unit H at UEL.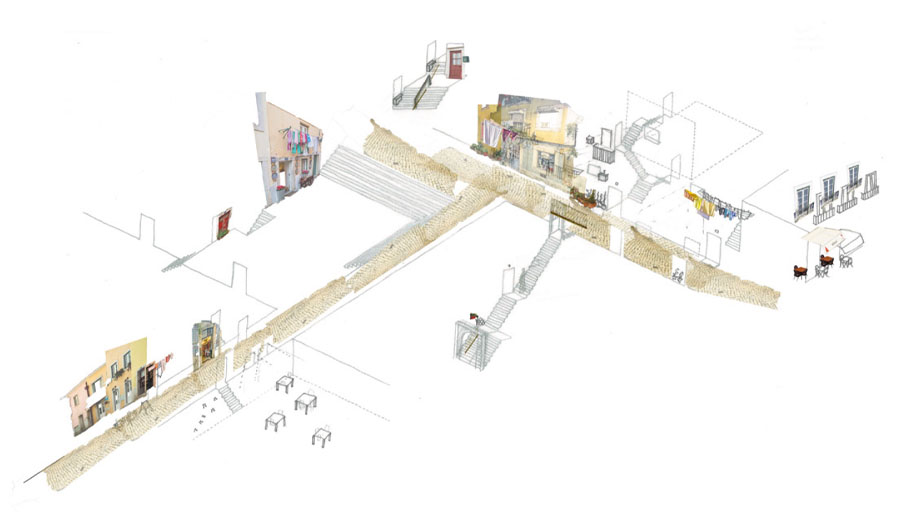 Details
Course
Tutors
Colin O'Sullivan
Charlotte Harris
Where
Goulston Street
When
Tuesday and Friday