UG Architecture Studio 01: Building for Goldilocks: The Hot, the Cool, and the Just Right
Studio brief
Studio One will work with old and new buildings to propose a thoughtful, adaptive architecture to serve an uncertain future.
The current fuel crisis across Europe makes one thing clear: we need to adapt. Drought and soaring temperatures across the world tell us that our environment can't sustain our needs through burning fossil fuels – war in Ukraine means that we can't afford to either.
Our behaviours and our buildings need to change.
We aren't the first generation of architects to deal with a crisis. Architects throughout history and across the planet have replanned entire cities after natural disasters, the destruction of war or the collapse of economies.
But rebuilding our cities isn't the answer. After the Great Fire of London in 1666, it is estimated that 300,000 tonnes of CO2 was emitted from firing coal to bake the half-billion bricks London demanded – a London far smaller than the one we live in today. As the Architects Journal's recent campaign made clear, the greenest building is the one that already exists – echoing a report published by the US National Trust for Historic Preservation in 2016.
London has moved power stations and slaughterhouses from its urban centre to its rural outskirts, pumping in energy and food to fulfil its appetite. Whilst today we live in cleaner, healthier cities, does this disregard for the source of our heat and meat disconnect us from the realities of our consumption? Would the length of our showers change if we had to burn the coal ourselves to heat the water?
To explore these questions, we will look to our buildings as they are today and as they could stand tomorrow.
The aristocratic class of architects in the eighteenth century would undertake a Grand Tour for at least three years, visiting cities such as Florence, Siena and Vicenza, where they would measure, study, observe and record antiquities under the guidance of their tutor (or 'cicerone'), as well as experience famous festivals and events, such as the Carnival of Venice or Holy Week in Rome.
This tradition of observing and documenting fragments of the classical world and the surviving cultural practices of their people would generate a means of building a formal vocabulary to their practice of architecture, and serve as the keystone to the education of architects from Sir John Soane in the 1760s through to Le Corbusier during the 1900s.
We will be undertaking our own Grand Tour – sometimes of buildings or streets around our School of Architecture, and sometimes beyond – at the seaside or in the mountains of the UK. As a studio, exploring buildings, people and landscapes will be key to how we develop how we think, describe and design for uses and users. We will consider the presence of architectural fragments young and old, their political and poetic legacies, and the cultural and behavioural practices they generate.
We will make interventions into historic buildings to forge new, surprising architectures that bring about cultural and built change. And by looking to the past to say something new about the future, we are excited to be proposing an adaptive architecture which looks to serve an uncertain future.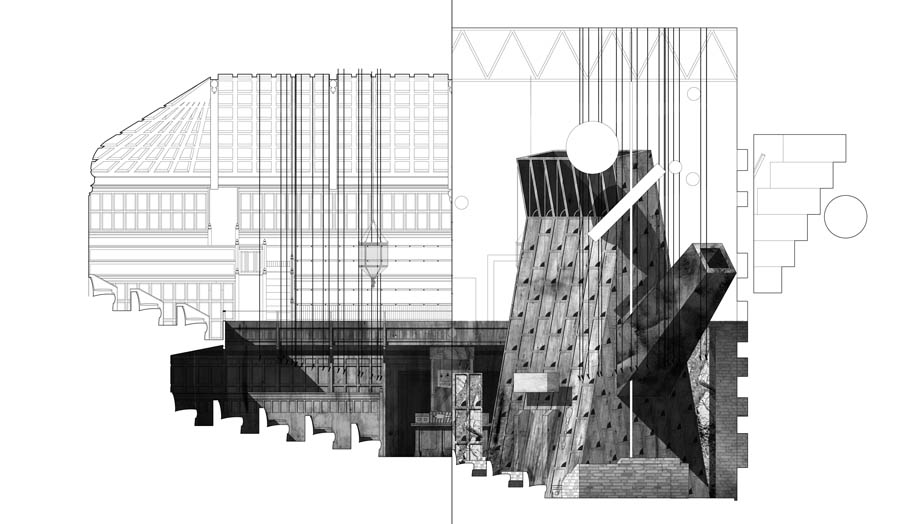 Details
Course
Tutors

Owen Williams
Holly Crosbie
Kieran Wardle

Where
Goulston Street
When
Tuesday and Friday