PG Architecture Unit 09: HOUSE AND GARDEN
Unit brief
This year Unit 9 will undertake live projects, focusing its attention on the remote hill town of Florac in the French mountains of the Cevennes National Park. Working with the local Mayor, we will design a cluster of houses, gardens and workshops.
We will continue our interest in thinking about how a modest but ancient settlement such as Florac can grow sustainably without losing its identity, urban morphology and architectural character. In studying its public spaces, the streets, lanes and squares, its urban and architectural fabric, their edges and thresholds, figures and forms, your projects will look to redefine a series of small infill sites, in ways that tell the story of this place, in a contemporary architectural manner.
The population of this town is growing and the demand for additional dwellings has become a priority for the Mayor. Whilst in recent years, towns like this have addressed housing growth by expanding their boundaries and pursuing loose patterns of suburbanisation, there is now a prevailing view that this is not a sustainable way forward. Instead, lessons from the past, observing urban forms of compactness, density and a closer proximity of dwellings brings with it interdependent economies, better community cohesion and the chance for an urban conviviality found in the old town. These are ancient ideas but are only part of the efforts we need to consider as architects today in seeking answers to our energy and climate crisis.
How we source materials and assemble our building fabric in the modern age is also critical as is a wider societal reflection upon and readjustment towards the global marketplace. We will consider the means to make things locally again and in particular the growing of food. As part of the design of housing we will look at the need and requirement of personal amenity space, gardens and terraces as having a role to play in the individual and collective production of food.
During Autumn Semester we will travel to the site, visiting interesting places of reference on the way. We will stay in the town of Florac and make observations, both urban and architectural, that will culminate in a series of drawings that capture the town's genius loci.
During Spring Semester we will select sites from our urban analysis and will work with the Mayor's office to make design proposals that will be presented to the town.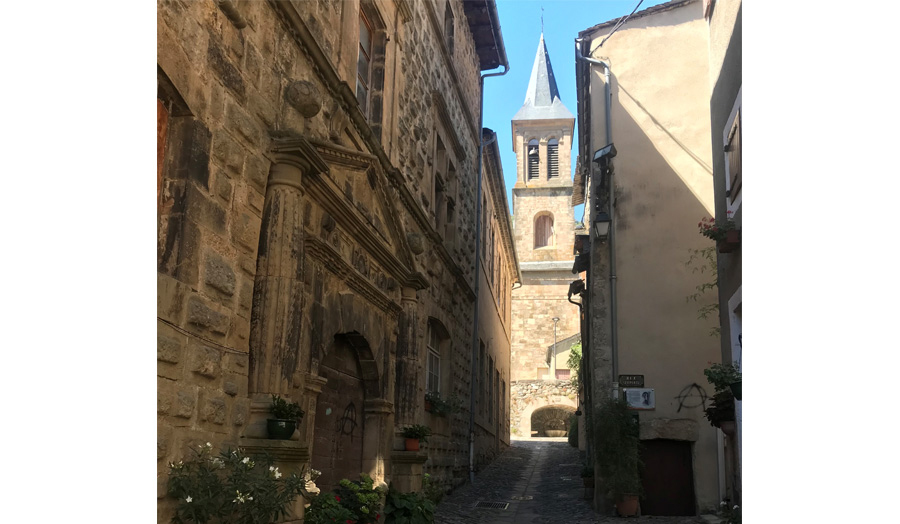 Image: Saint Germain de Calberte, aerial view
Details
Course
Tutors
Stephen Taylor
Giles Townshend
Where
Goulston Street
When
Monday and Thursday
Architecture Postgraduate Studios