PG Architecture Unit 04: The Palimpsest of Futures Past
Unit brief
"A false notion of the past prevents the present from happening." Bernard Cache, Earth Moves, The Furnishing of Territories, p15
We are at a time and place, at times referred to as the geological age of the Anthropocene where human activity has transformed our planetary destiny. We need to urgently imagine, speculate on, project, and design a time-based transcendental architecture. Current models of practice based on tradition, authenticity, craft, and the individual genius appear insufficient, anachronistic, and antagonistic in related to the complex challenges of our built environment, our current climatic predicament, and our common legacy in attempting to meet the UN Sustainable Development Goals.
You are asked to imagine, design, and develop a time-based architecture adding a layer to the historical palimpsest of an UNESCO world heritage site. An architect like Carlo Scarpa was a master of adding new design to historical contexts and this sensibility and agency of architecture has gradually been replaced by rigid ideas of conservation and preservation. Unit04 urges you to regain the agency of architecture as the harbinger of change, delight and vision adding equally precious layers to the present and the near future to the palimpsest of the site as the past.
New design techniques such as 3D scanning of both artefacts and contexts coupled with immersive media enables a seamless integration or seamless transition between the analogue and the digital, the real and the virtual, the narrative, and the lived experience as well as the landscape and architecture. This condition allows for experiences to be orchestrated and designed in first person.
We are working on several UNESCO world heritage in sites in Sicily as integral part of provincial and rural development in collaboration with local and regional actors. The wealth of archaeological finds with remains from the time of ancient Greece, and to the Roman, the Anglo Saxons, The Moorish and the Spanish rule are stupendous. Yet, these amazing places often in smaller towns and rural areas remain underdeveloped contributing little to the local economy and development.
The Palimpsest of Futures Past, does not only envision a new model of for the design and development of historically sensitive environments but is also centred around a different attitude to current practices, resources consumed and re-used, the tools, technology and the material fluxes deployed, and the way an architecture is adaptable to more extreme natural events of the future? We concurrently have the ambition for you to aim to reduce the ecological footprint, enhancing biodiversity without compromising an aspiring future of architectural delight and sensibility at the intersection between building and landscape, architecture, and experience.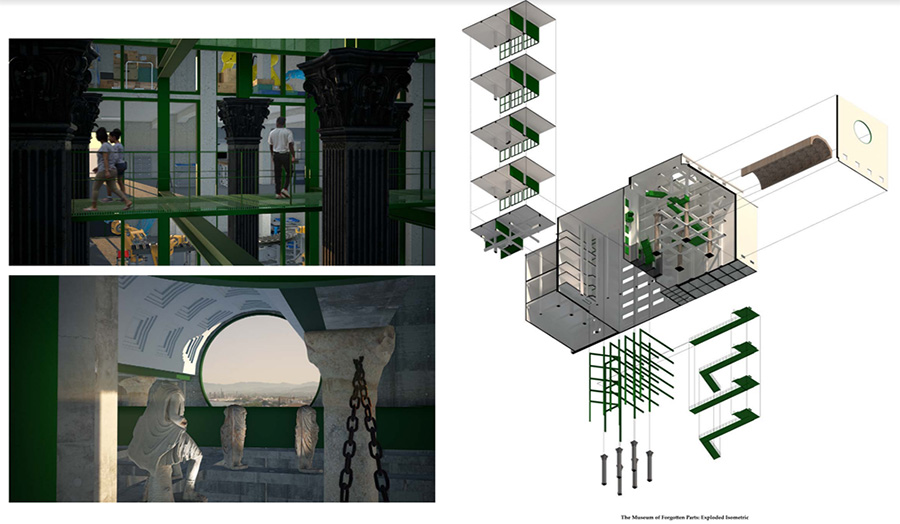 Architecture Postgraduate Studios