Our partners and projects
Members of London Met's Media, Culture and Creative Technologies Research Group have received external funding for the projects listed below:
Transn

ational Radio Encounters (TRE)

(2013-2016)

was

funded by the

EU

's

Humanities in the European Research Area (HERA

). Professor Peter Lewis was the Principle Investigator of

Independent Project 5

: Minority Radio: Social and Cultural Identities, i

n

collaboration

with colleagues in

Denmark, Germany, Netherlands and Sunderland.

Radio Garden, launched in December 2016, is an output of TRE that commissioned the Amsterdam-based Studio Puckey to produce a platform that would digitally express the transnational radio experience.

Professor Lewis is Co-Investigator in an application, led by the University of Sunderland, to the Arts and Humanities Research Council

(AHRC)

's Follow on Funding for Impact and Engagement

Scheme. If successful, the year-

long project,

Garden Paths: developing the impact of the Radio Garden

,

would start in November 2019

and involve collaboration with the BBC, the British Library and UNESCO.

Lost Trades of Islington

(2017-19)

was

funded by the Heritage Fund

.

Professor Jenny Harding

collaborated with

Age UK Islington, Islington Local Heritage Centre, colleagues and students from London Metropolitan University and older Islington residents

to

produc

e

digital oral histories reflecting on work in diverse local trades

from 1936-94

.

Worker W

riters

and Community Publishers

(

2014-

) has involved

Professor Jenny Harding

working with

colleagues from the TUC Library, Sheffield Hallam University, University of Syracuse

and

community writing groups

to

preserv

e

the history of a social movement

(1970s-2000s)

via the creation of

a digital archive and oral history interviews

.

Musical MC2

is a

research project on screen musicals,

involving Dr Karen McNally and colleagues

at

the

University of Paris.

Elephant Computer Interaction (2013-), involving Fiona French, is an investigation of how technology can be used to create innovative environmental enrichment for captive elephants.
ZooJam (2016-), involving Fiona French, is a collaborative design in Game Jam style workshops for international colleagues – aiming to extend the reach of UX design beyond human experience in order to become inclusive of other species and their interactions with technology.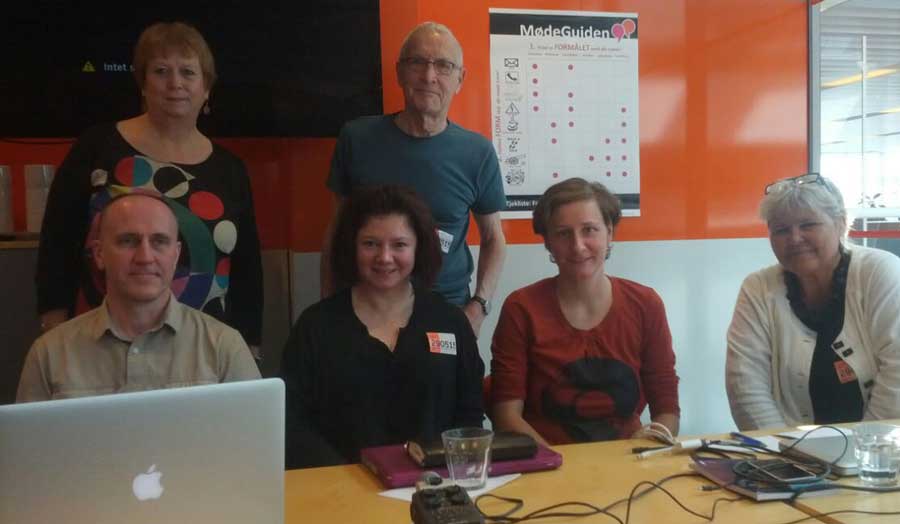 Transnational Radio Encounters workshop on community radio archives, Copenhagen, May 2015
Visit our other pages:
Partners and projects photo gallery
Perpignan workshop with Basque and Occitan radio broadcasters
Transnational Radio Encounters project team meet at the British Library