Celebration Week 2019: Thursday 21 February
Cass Architecture - Postgraduate
Students presenting work-in-progress from Architecture MA, Design for Cultural Commons MA, Architecture RIBA 2 – MArch, Architecture: Professional Practice in Architecture (RIBA 3) - PG Cert and MA by Project – MA courses.
Critics
External
Daisy Froud, Lecturer in History and Theory of Architecture (The Bartlett School of Architecture) and former director at AOC.
Daisy Froud is a strategist specialising in brief-development, community engagement and participatory design. In 2003 she was a founding director of architecture practice AOC which built a reputation for "committed engagement with communities, clients and parts of the city" (FT, 2008). The practice was twice shortlisted for the Young Architect of the Year Award, and in 2014 (a year before stepping down from AOC) Daisy was shortlisted for The AJ's Emerging Woman Architect of the Year Award. Currently a Teaching Fellow at The Bartlett School of Architecture she has been Visiting Professor in participatory design at Yale. She is on the advisory Design Panel for High Speed 2, a Built Environment Expert for Design Council CABE, an Academy of Urbanism Academician, and a Mayoral Design Advocate.
Zohra Chiheb, Architect and Commissioning Client at Croydon Council. Formerly a research practitioner in the Appropriate Housing inter-practice project team while at Levitt Bernstein.
Architect Zohra Chiheb works in Regeneration at Croydon Council. She is driven by a passion to create great places to live through high quality design and the involvement of the community. Prior to joining Croydon, she worked in architectural practice for eight years developing a specialism in housing, with particular expertise in technical design and modular construction. A passion for community-led housing positioned her for the role of Croydon's strategic lead in the field; as well as this she chairs the GLA London Community Led Housing Hub. She is an experienced housing association board member, driving change through collaborative working.
Vicky Thornton, Director at Allies and Morrison who has her own design and ceramics practice.
Vicky Thornton is a Director at Allies and Morrison (A&M) Architects. She is also a prolific maker – of things to use and things to eat: ceramics, fabric, recipe books and food! She has been a visiting critic at the University of Kent and is an active in-house mentor for staff in her office. Prior to A&M she worked for Herzog and de Meuron, primarily on Tate Modern and has gone on to deliver many cultural, educational and commercial projects over the last two decades. Amongst them, the Queens House, the Royal Festival Hall and Chelsea College of Art are perhaps the most notable.
Nan Atichatpong, Director of his own practice dNA.
Architect Nan Atichatpong runs his own practice dNA from shared workspace in Cowcross Street, Clerkenwell; the office boasts a lively portfolio of ongoing and completed projects in the UK and abroad. Following his Part 1 degree, he obtained formative work experience at offices in London and New York including Zaha Hadid Architects, Lehrer McGovern Bovis, Viñoly Associates and Pei Cobb Freed. He then returned to Cambridge University for Part 2 and graduated with Distinction, after which he spent years honing his craft at Eric Parry Architects where he was Project Architect for St Martin's in the Fields renewal completed 2007.
Ella Jessel, Architects' Journal.
Nikita Tokarev, Architect and Director of MARCH, Moscow (partner university).
Eugene Asse, Architect and Dean of MARCH, Moscow (partner university).
Xenia Adjoubei, Architect and Head of International projects, MARCH, Moscow (partner university).


Internal
Dr Jacek Scarso (Cass Theatre and Film).
Emeritus Prof. Phil Christou (Architectural Research Unit).
Philip Christou has worked with Florian Beigel Architects and the Architecture Research Unit (ARU) since 1985. Born in Alberta, Canada, in 1956, he studied at McGill University, Montreal, the University of Lethbridge and the Nova Scotia College of Art and Design in Halifax, Canada, before completing his architectural training at the Architectural Association in London. He is Professor Emeritus at the London Metropolitan University where he taught architectural design with Florian Beigel from 1985 to 2017. He has lectured in numerous schools of architecture internationally, and the work of ARU is widely published.
Prof. Peter St John (Caruso St John Architects).
Peter St John is a partner of practice Caruso St John Architects, founded with Adam Caruso in 1990. Caruso St John has since become known for its museum and galleries and collaborations with artists. Projects include the redevelopment of the Tate Britain, Nottingham Contemporary and the V&A Museum of Childhood, as well as a series of galleries for Gagosian. In 2016, the practice was awarded the RIBA Stirling Prize for the Newport Street Gallery in South London. With offices in London and Zurich, the practice undertakes a wide range of projects, from major urban developments and cultural projects, to intricate interventions in complex historic settings. Peter St John has taught throughout his career and Professor of Architecture at the Cass, London Metropolitan University.
Prof. Mark Brearley (Cass Cities).
Mark Brearley is an architect who has concentrated for 26 years on urban projects, nurturing the evolution of places. He led the creation of Cass Cities, a bold strengthening of the School's role in the shaping of cities, and has been closely involved with directing and teaching the Cass Cities Unit and the MA Architecture, Urbanism and Cities. In 1996 he established the urban strategy consultancy East, where he was a partner for six years, building a reputation for a patient and provocative role in regeneration and planning. He worked for the Mayor of London from 2001; firstly with Richard Rogers and the Architecture and Urbanism Unit, and then with Design for London where he led the team for five years until 2013. He has lectured widely in the UK, Europe and beyond, coordinated several publications and written lots of words, and has developed a collaboration with the V&A to assemble an archive of contemporary urban design in London.

Alumni Portfolio Workshop
Matthew Gregorowski (2017)
Part 2 Architectural Assistant at 6a Architects, and YTAA Winner 2018 (Unit 14, 2017).
Matthew Gregorowski studied at The University of Cambridge and The Cass where he was a member of Unit 14 in 2016-17. He has worked at 6a architects since 2013 where he is currently a Part 2 Architectural Assistant. In 2018 he was one of four international winners of the Young Talent Architecture Award – the first British candidate to win – awarded by The Fundació Mies van der Rohe and Creative Europe.
Arta Garanča (2017)
Part 2 Architectural Assistant at Simon Condor Architect, and 3dReid Drawing Prize nominee (Unit 10, 2017).
Arta Garanča graduated from her RIBA Part 2 degree in Architecture at the Cass in 2017 where she was taught in her final year by Signy Svalastoga, Edward Simpson and Jonathan Cook in Unit 10. Previous to this she studied her Part 1 at Kingston University. She is a YTAA and 3DReid student award nominee, and currently works in London for Simon Conder Associates.
Muneeb Ali Khan (2018)
Part 2 Architectural Assistant at Nicolas Pople Architect, commendation for RIBA Bronze Medal (Unit 6, 2017).
Cass Alumnus Muneeb Ali Khan was fortunate to study under the tuition of Signy Svalastoga (Unit 10) and Prof. Maurice Mitchell (Unit 6) graduating in 2018. He was awarded a commendation in the RIBA Presidents Medals (Bronze, 2016) and runner up in the Worshipful Company of Chartered Architects drawing prize (2018). His WAF Drawing Prize submission was selected for exhibition at Soane Museum (2018). In his role as Architectural Assistant at Nicolas Pople Architects he is currently working on a project for the new Christian Community Chapel in Stroud using a monocoque construction system with a folded plate CLT envelope.
Ross Kirker (2018)
Part 2 Architectural Assistant at Allies & Morrison Architects, AJ Student Prize and RIBA Silver Medal nominee (Unit 8, 2017).
Ross Kirker is a recent graduate from the School and an Architectural Assistant at Allies & Morrison. In his fourth year he was in Unit 12, taught by Peter St. John, Ben Speltz and James Hand, and in his final year Unit 8, with Takero Shimazaki and Summer Islam. His thesis project was nominated for the RIBA President's Silver Medal and – as the School's entry for the AJ student Prize – was featured on cover of the Architects' Journal in July 2018.


Public talk
Inaugural professorial lecture, Prof. Peter St John, About Practice and Teaching, at 6.30pm, The Wash Houses.
Peter St John is a founding partner of Caruso St John Architects.
"Since its foundation in 1990, Caruso St John has been pursuing an architecture that is rooted in place. The practice resists the thin-skinned abstraction that characterises much global architecture in favour of buildings that are perceived slowly over time and that have an emotional content.
Its work is enriched by an on-going dialogue with the European city and with history – that of architecture, art, and culture more widely – traditions that bring an accumulated richness of expression to the work. Ideas are elaborated in a manner akin to art practices that engage directly with the built environment and embrace the 'found' space. Caruso St John intervenes in sites carefully, valuing the humble and everyday as well as the more celebrated products of the architectural canon. It is the context that is the starting point for generating form rather than allowing the programme to dictate the architecture."
Caruso St John's have built in the UK and across Europe. They were architects for the British Pavilion at the 2018 Venice Biennale and have won numerous prizes in the UK and overseas, including the RIBA Stirling Prize for the Newport Street Gallery in London in 2016.
Peter has taught a RIBA2 Diploma/MArch Unit at The Cass since 2012–13 and was appointed Professor of Architecture in 2018.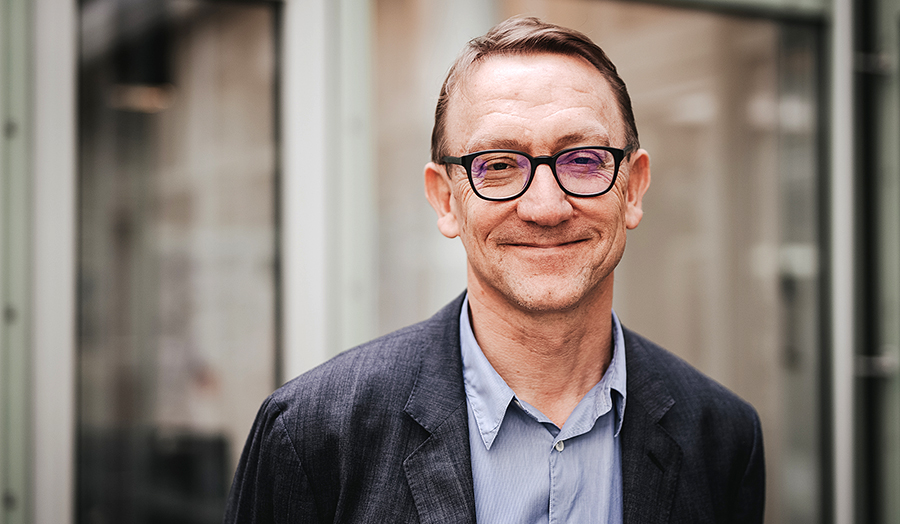 Celebration Week by weekday presentations