Student work
Gable ends and in between yard spaces by William Green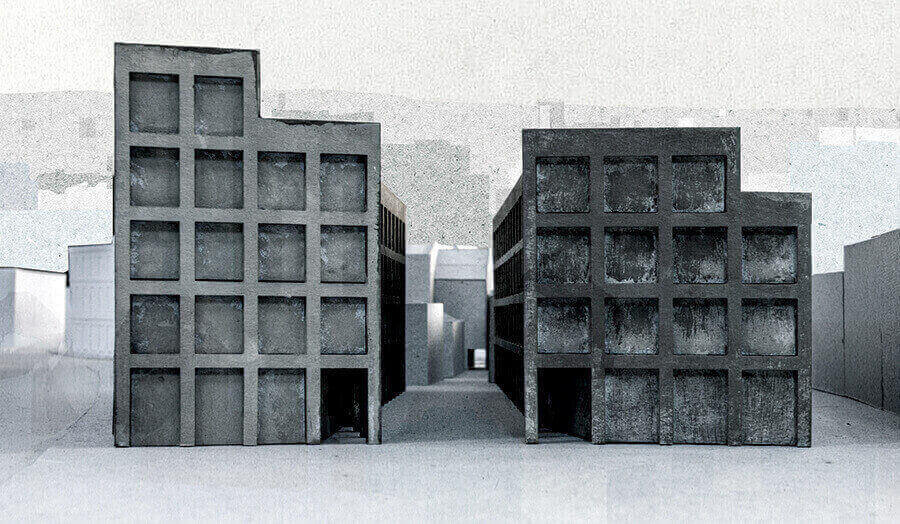 Corner view from Union Street by Alessandra Catello
Printers' Guild by Tai Pham
Civic space and public facade by Federica Ranalli
Cass Architecture – Undergraduate
Work from students of the Architecture BA undergraduate course.
Cass Summer Show: Thursday 20 to Sunday 30 June 2019
Private view on Wednesday 19 June 2019, 3pm to 9pm
You are invited to join us for this year's Cass Summer Show, where the outstanding talent of our graduating students is celebrated.
The Cass Summer Show 2019 will take place from 20 to 30 June 2019, opening with a private view on 19 June from 3 to 9pm.
The annual Summer Show private view event is the biggest in the University calendar and often attracts 2,000 people on opening night.
The private view on 19 June 2019

The private view on 19 June will open from 3pm to 5pm for friends and family, during which time there will be a prizegiving presentation and the launch of Anthology III, the collaborative publication by creative writing and visual communication students.
The show will be open to all from 6pm onwards.
The exhibition areas will be Goulston Street (architecture, interiors and visual communication courses), the Wash Houses (3D design subjects) and the Annexe (fine art and photography). There will be a cross-school making exhibition in the Atrium.
The main Summer Show exhibition
The main exhibition will see graduating students from all disciplines display their work across the school's Aldgate campus.
The main exhibition is open from Thursday 20 June to Sunday 30 June 2019, from 10am to 7pm during the week, and 11am to 6pm on Saturdays and Sundays.
Tickets to the main show are free and can be booked in advance.
During the Summer Show
During the show period there will be a variety of other events. The School will invite businesses, practitioners and gallerists to an employers' breakfast on Tuesday 25 June as an opportunity to speak with graduates about their work. A Livery Company awards ceremony for upholstery and furniture students will also take place on 25 June at 6pm.
On Friday 28 June there will be an Undergraduate Open Day for people considering a creative degree, offering a chance to both tour the show and to meet academic staff and students from the School.
If this packed schedule from The Cass isn't enough, students from games and animation as well as music and film courses at the University's School of Computing and Digital Media will present their work at the Summer Show on 6 and 7 June at our Holloway campus. Film production students will screen their work at Final Cuts 2019 held at the British Film Institute (BFI) Southbank on 14 June from 2pm.
Details
Private view
Wednesday 19 June 2019
Friends and family, prize-giving: 3pm to 5pm
Launch party: 6pm to 9pm
Book now
Eventbrite
Dates
Thursday 20 to Sunday 30 June 2019
Times
Monday to Friday: 10am to 7pm
Saturday and Sunday: 11am to 6pm
Venue
The Sir John Cass School of Art, Architecture and Design
London Metropolitan University
Old Castle Street
London E1 7NT
Follow
@TheCassArt
Get involved
#thecass
Related Architecture UG Studios