Student Works
Mixed media by Rhys Laird
Mixed media by Adam Oczkowicz
We All Look The Same When We're Dancing! by Gretel Warner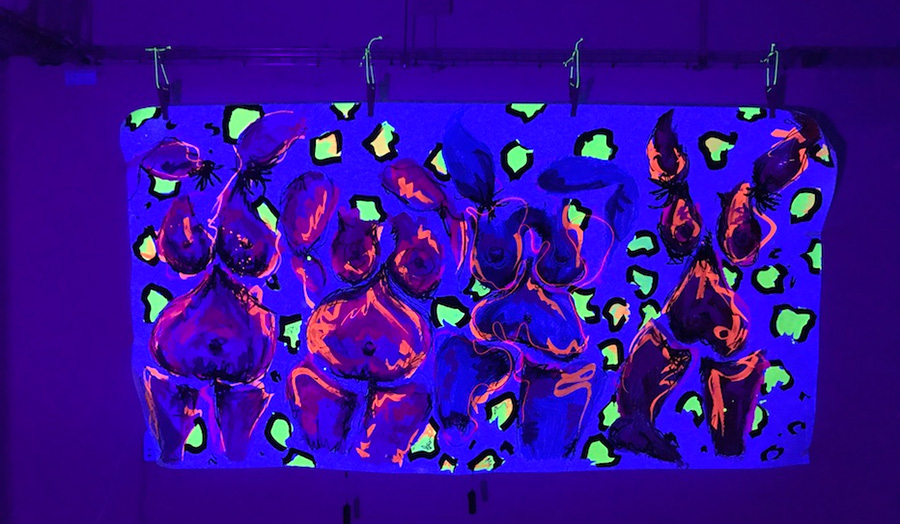 My Ribbon by Aimee Nicholls
Little Josh, Oil canvas (2018) by Tedi Lena
Unwanted (2018) by Evelina Sarupiciute
Beginning, A Midwinter Day's Dream, 2018 by Beatrice Moltani
Mythos, 2018 by Charlotte Rolfe
The Modern Male (2018) by Alvaro Lopez Gimenez
Rachel, from the 24K series (2018) by Emilia Joye
One: 7 Billion (2017) by Zsuzsanna Palmai
Workshop for Open Field by artists Will Peck and Smári Róbertsson
Video Walk workshop for Open Field by artist Jamie Jenkinson
Work from students of the Fine Art BA (Hons), Painting BA (Hons), Fashion Photography BA (Hons) and Photography BA (Hons) undergraduate courses.
Cass Summer Show: Friday 22 June to Thursday 5 July 2018
Private viewing on Thursday 21 June 2018, 3pm to 9.30pm
Students from all disciplines at The Cass will exhibit their work at The Cass Summer Show from 22 June to 5 July, with a private viewing on Thursday 21 June from 3pm to 9.30pm. The extended private view day will include a series of prize-giving ceremonies for art, architecture and design students, which begins at 3.30pm and leads up to the launch party at 6pm in the evening.
During the exhibition period, there will be a variety of other events, including a Livery Company awards ceremony for Upholstery and Furniture students on 27 June at 6pm, as well as performances, workshops and events for prospective applicants.
On Tuesday 26 June from 8am to 10am a special Employer/ Alumni Breakfast will offer a combination of guided tours of the exhibition and networking opportunities over coffee and croissants. If you would like to attend this event please email Anne Markey: a.markey@londonmet.ac.uk
Students considering joining The Cass in 2019 can visit the school on Saturday 30 June from 11am to 3pm, where they can meet staff and students and tour the workshops at an undergraduate and postgraduate Open Day. Book to attend.
Details
Private view
Thursday 21 June, 3pm to 9.30pm
Dates
Friday 22 June to Thursday 5 July
Book now
Eventbrite
Times
Monday to Friday: 10am to 7pm
Saturday and Sunday: 11am to 6pm
Venue
The Cass, Calcutta House
Follow
@TheCassArt
Get involved
#thecass