About the show
Studio 3 is the Live Projects Studio, which explores new ways of looking at the role of the architect and the practice of architecture whilst delivering a built project.
The Studio also acts as an umbrella for students with self-initiated Live Projects and social and entrepreneurial agendas. Matteo Blandford contributed to the Studio with a live regeneration project in Palazzo, Italy.
Other students in the Studio revisited a previous project, remade it and tested it in a new site, making links across two sides of London – Stratford and Hayes, both with real clients, stakeholders and community groups. This allowed us to consider the architect's continuing responsibility of projects in the public realm.
Through a series of events in both a Stratford Community Garden and Hayes Town, students learnt to self-initiate projects and about the diversity of the architect's skills that can be applied at different scales within spatial practice.
Each student designed and made a conversation kit as a tool to engage with local communities in a playful way. Conversation kits allowed for informal conversations instead of goal driven engagements, and allowed us to engage with the site and its users.
A previous structure initially built by Studio 3 students in 2008, was re-designed and rebuilt, to construct a new gift to the community. This new roaming structure allowed for the transfer of knowledge and secrets from a community garden in Stratford to a community aspiring to have a collective space in Hayes.
Whilst the second years designed a structure to hold and transfer the secrets and knowledge they gathered in Stratford and bring it to Hayes, the third years developed their own brief in Hayes based on their earlier studies.
The projects included: The Long Thin Pub, The Tea Arcade, The Vet, The Park as Spectacle, The Perfumery.
All projects will be presented to the community in Hayes, and provide the basis for a new community centre on a local housing estate.
Exhibition details
P.V.
Tuesday 25 June 2013, 6.30pm-10pm
Opening
Wed 26 June - Fri 5 July 2013
Mon-Fri 10am-7pm
Venue
Spring House (1st Floor)
Studio
Architecture Studio 3
Course
Architecture BA (Hons) RIBA Part 1
Students' work
Mobile Workshop in Aldgate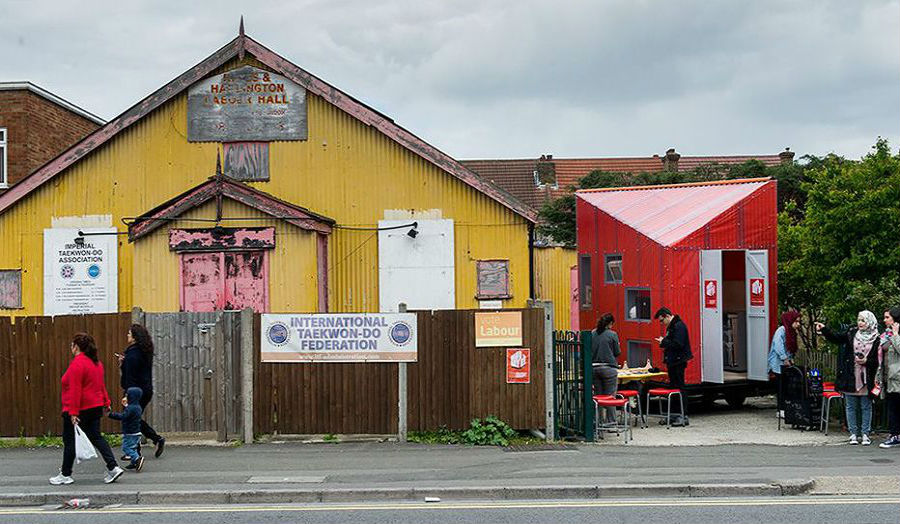 Regeneration in Palazzo, Italy
Regeneration in Palazzo, Italy
Regeneration in Palazzo, Italy
Proposal for Mobile Workshop
Conversation Kit: Hair Topiary
Regeneration in Palazzo, Italy
Conversation Kit: Bug Catching